Chris Trotter assesses the problems and options the Labour Party and Prime Minister Jacinda Ardern have with the SFO probing the NZ First Foundation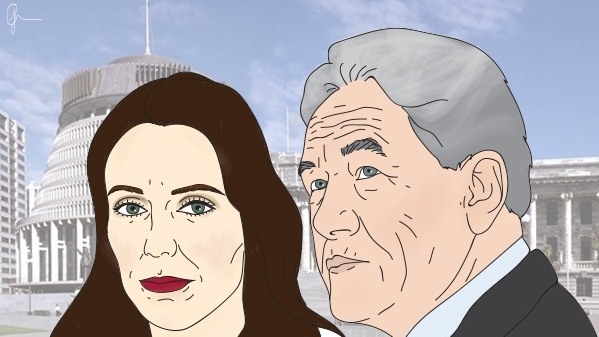 By Chris Trotter*
Poor Jacinda! With friends like Winston Peters, the all-too-real enemies she faces are increasingly difficult to distinguish from her troublesome coalition partner. But, what to do? If she intends to remain in her current job until 19 September, then the support of Winston Peters and NZ First is essential. On the other hand, if she intends to remain Prime Minister after 19 September, then Labour's relationship with NZ First needs to change – and quickly.
The big problem with Labour changing its relationship with NZ First is time. Is there enough time between now and the election for Labour to effect a clean break with Peters? Especially when a dirty break would almost certainly precipitate an early election? Is Labour up to attracting sufficient support to govern with the Greens alone? Would 4 or 5 weeks – as opposed to 7 months – be enough? Maybe – maybe not.
Everything would be a lot easier if the Greens were in a stronger position than the latest round of polling suggests. Hovering just above the crucial 5% MMP threshold is most emphatically not where Labour's crucial support party ought to be.
For one thing, the Greens have, historically, performed less well in actual general elections than they have in proximate opinion polls. So, sitting on 5% is a very precarious place for them to be. For another, the Greens have also been able to rely on (or is that saved by?) their "international" vote. All those young Kiwi graduates living the bohemian dream in Melbourne, London and New York have been amongst the most solid backers of the Greens since 1999.
But, will this tradition hold true in 2020? Or, will Jacinda's extraordinary performances on the global stage, combined with her ongoing love affair with the world's "woke" journalists, see the young ex-pat vote shift from the Greens to Labour? Would picking up an extra 1% of the Party Vote from young Kiwis on their Big OE be worth the consequent loss of a minimum of 7 Green Party seats? Probably not.
Which means, if Labour believes it has no choice but to "let Winston go", then it will have to toss the Greens a bone – most likely the seat of Auckland Central where, if Labour's vote swung in behind the Greens' most popular MP, Chloe Swarbrick, not only would her party be assured of making it back into Parliament, but Labour would also benefit from the ousting (by approximately 1,200 votes) of National's most liberal MP, Nikki Kaye. Which would definitely count as a pretty good "twofer" for the Left!
NZ First supporters would, no doubt, interject with considerable vehemence at this point. They'd say exactly the same argument can be applied to Northland, where, if Labour voters were tipped the wink by Jacinda, then NZ First's Shane Jones could expect to be returned with a majority of close to 7,000 votes.
Well, yes, that was definitely an option, and one Labour may well have taken, if NZ First and its eponymous "Foundation" hadn't ended up being found wanting by the Electoral Commission and then in the grim talons of the Serious Fraud Office. Seriously, Winston: to have lost one election by mishandling a donation might be forgiven as a political accident; but to now be at risk of losing a second, for the very same offence, goes way beyond carelessness!
Then there's that photograph: the one showing the former NZ First president, Lester Gray, chatting away amiably with RNZ's Guyon Espiner. If it was the intention of NZ First's campaign team to go "full Trump" on the news media (and what else could they have had in mind when they sent the image, forwarded to them by a random party supporter seated in precisely the right Tauranga café, at precisely the right time, to the successor of the notorious Whaleoil blog?) then it might have been an idea for them to let their coalition partner in on the plan first!
Had Peters copied Jacinda into the plan for publishing NZ First's very own "gotcha moment" involving the two journalists leading the NZ First Foundation story, then it's an absolutely safe bet that she would have told him "Don't you bloody dare!" No matter how much she, as a politician, might have enjoyed seeing one of the journalistic profession's sharper-toothed biters getting bit, abandoning her promise to run a "relentlessly positive" election campaign in favour of one dedicated to branding the news media "enemies of the people" simply wasn't an option. Not now. Not ever. Jacinda does "Jacinda" – she doesn't do Donald Trump.
It's done now, however, and Labour is left with the unenviable task of coming up with a way of dealing with Winston's mess that doesn't make the whole debacle worse. The temptation will be to simply ride out the storm – hoping that the Government's good news machine "Tax relief for low paid workers, anyone?", induces the requisite voter amnesia. Unfortunately, this time-honoured political response to "events, dear boy, events" may not be enough. Neither NZ First, nor Labour, can be sure exactly how much more embarrassing financial information Espiner and Stuff's Matt Shand still have to release. Relying on voter amnesia won't work if further details of NZ First's alleged financial mismanagement continue to be drip-fed all the way to Election Day.
The least bloody alternative (at least for NZ First) would be for the party to exit the Coalition and move to the cross-benches – with Confidence and Supply being guaranteed until the election – but not beyond. This solution would certainly take the heat off Jacinda and the Labour Party – a good turn which just might, providing NZ First is officially cleared of serious wrongdoing, elicit another, nearer to Election day, in Northland. Naturally, it would necessitate Peters, Jones, et al, relinquishing the considerable advantages of Cabinet rank, but that's the price they must expect to pay for stuffing things up so comprehensively.
Or, Jacinda could opt for a full-scale Jenny Shipley break-up. Pick an issue which NZ First cannot possibly afford to be seen supporting (Ihumatao?) and interpret its inevitable refusal to go along as a tacit admission that NZ First's relationship with Labour-Greens is no long politically tenable.
To the shock of the inevitable snap election, Jacinda and the Greens could announce the sort of "progressive" agenda they had always wanted to implement, but couldn't, because of their "handbrake" – NZ First. Part of that agenda could be a promise to lift benefits in line with the recommendations of the Welfare Expert Advisory Group. The prospect of a 30% pay-rise would definitely help to mobilise the beneficiary vote. And, who knows, coupled with the prospect of tax breaks for all wage and salary earners, that might just be enough.
---
*Chris Trotter has been writing and commenting professionally about New Zealand politics for more than 30 years. His work may be found at http://bowalleyroad.blogspot.com. He writes a fortnightly column for interest.co.nz.