Gareth Vaughan on Spain 10 days into lock-down, Sydneysiders' cocktails, shopaholics, Steve Keen's coronabonds and China's COVID-19 battle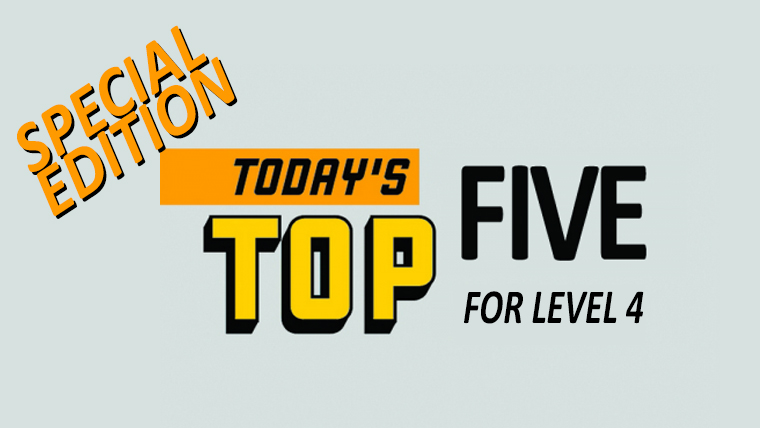 Welcome to our second COVID-19 lock-down Top 5 special. The first one is here. And all our previous Top 5s are here.
1)  More than a week into a lock-down, Spain waits for coronavirus to loosen its deadly grip.
This article's by a former London colleague of mine, Barbara Kollmeyer of MarketWatch. Originally from the US, Barbara lives in Madrid. It's an interesting look at life in day 10 of a coronavirus lock-down in what's normally a big, bustling city full of life. And it's a look into our short-term future...
As Spain rolls into its 10th day of a strict coronavirus lock down, the quiet on the streets of Madrid is both startling and eerie. Aside from birds chirping and church bells ringing there is almost nothing to break the deafening silence.

This is a country of talkers, and the absence of fast-spoken Castellano spilling out from the streets and apartments either side of mine has an end-of-the-world feel to it.
The loss of life and strain on the medical profession are both high.
Exhausted Spanish doctors and nurses — more than 10% have been infected — lost the battle to save more than 800 lives between Saturday and Monday. That toll rose another 514 on Tuesday to 2,696 and nearly 40,000 infections, as Prime Minister Pedro Sanchez warned the "worst is yet to come" for an already strained health care system that still lacks enough protective gear for workers.
Barbara also gives an idea of what we parents are in for.
On the home front, 10 days into the lockdown and my children are sleeping more and struggling with headaches, each other, online homework and aching for absent family, teachers and friends. Tutoring via Skype has become viable, and on Monday the government began televised classes for kids 8 to 16 years old, with different subjects each day for specific age groups, including physical education. But we lose the "school is in session" battle more days than not.
She also notes the initial lock-down period is likely to be extended, and those breaking the rules risk fines of up to €600,000 and/or the police chasing them on horseback.
We've gone from 0 to nearly 40,000 infected in just 24 days in Spain, and our home confinement will remain until that starts to slow, and maybe then some.
2) Sydneysiders get home delivered cocktails.
At the end of yet another day in lock-down what could be better than a refreshing cocktail? Well, people in Sydney will be able to order them from bars, The Sydney Morning Herald reports.
Small bars will be allowed to deliver cocktails directly to Sydney's doorsteps from Tuesday, as the NSW government lifted the licensing restrictions around supply of alcohol by licensed venues.

Customer Service Minister Victor Dominello signed an order on Monday afternoon allowing licensed venues in the state, including restaurants, cafes, pubs, and bars, to provide takeaway and home delivery services.

The move hands a potential lifeline to the small bar industry, which was effectively shuttered on Monday as the federal government ordered the closure of non-essential services – including pubs and clubs – to stop the spread of coronavirus.
Some bars are going the whole hog as they strive to survive.
Boutique parlour bar Dulcie's, in Kings Cross, is devising a delivery model that will potentially offer "patrons" not just cocktails but also takeaway shakers, rentable glassware and access to the in-house playlist for "the full Dulcie's experience" in your living room.

Owner Brandon Martignago says this model is not about profit but survival, as small bars grapple with the prospect of being closed for six months or longer under the shutdown.

"This door-to-door delivery service for us would be the difference between weathering the storm or not," Mr Martignago said.

"All of these cocktails would come with proper garnishes, proper descriptions, they would even come with coasters from the bar."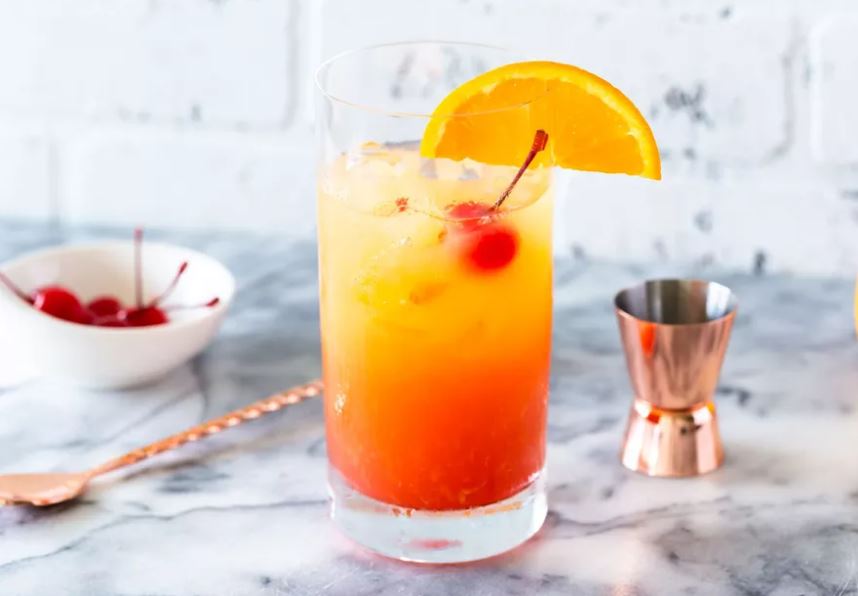 3) Shopaholics.
Kiwis shopped up a storm on Monday, the day the Prime Minister announced we'd be going into lock-down from tonight. Electronic payments processor Paymark has released some fascinating details.
Spending at Food and Liquor shops, which includes supermarkets, jumped sharply yesterday [Monday], reaching a total of $111 million and rising 157% on the same Monday last year. This level of spending in one day has only been surpassed on Christmas Eve 2019 when the total for this merchant group was $117 million.

Spending at pharmacies jumped 122% yesterday on the year before. Meanwhile spending at Accommodation providers (-59%) and Restaurants, cafes and bars (-44%) continue to decline.

This has been the pattern for over one week now, albeit the pattern yesterday was more extreme.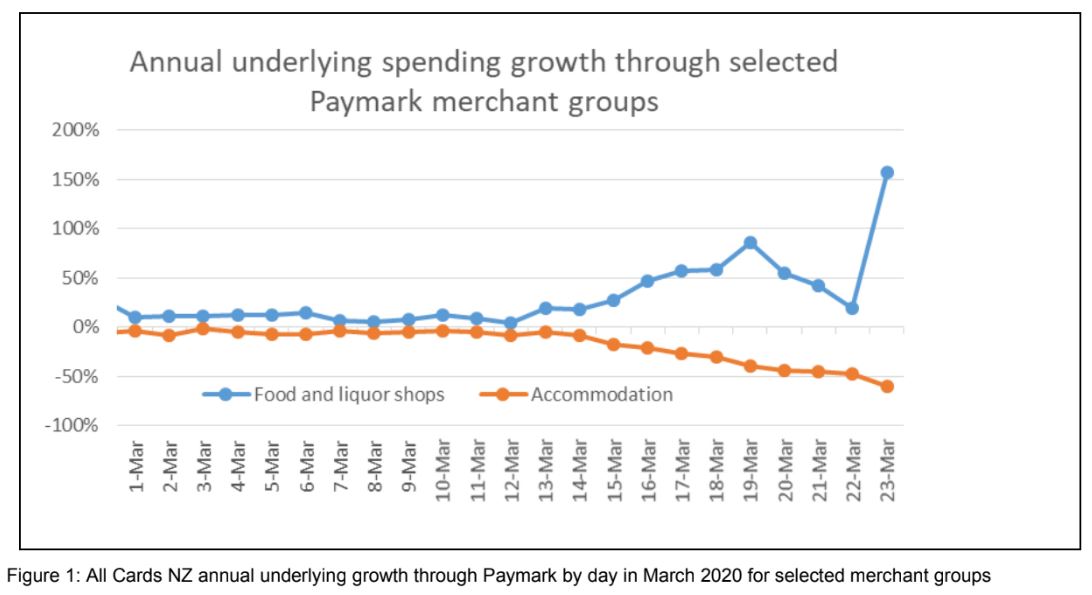 For the week ending Sunday, total spending through Paymark was $1.3 billion, up a strong 7.5% in underlying terms on the same week in 2019. Large percentage increases were recorded last week by Food and liquor shops (+51.8%) and Pharmacies (+81.0%). Spending growth had already been strong in previous weeks for these two merchant groups but accelerated on Friday 13 March.

4) CoronaBonds to hold the payments system together.
Long time interest.co.nz readers may remember Professor Steve Keen. Here's a video interview we did with him back in 2012. Back then, following the Global Financial Crisis, he was promoting the idea of a debt jubilee.
Currently hunkering down in southern Thailand, Keen has, of course, been blogging about coronavirus. One of his ideas is coronabonds, as explained below.
The coronavirus could cause the financial system to collapse unless something is done to enable basic payments to continue during the fight against it. While some businesses are doing very well out of it—toilet paper and hand sanitizer produces come to mind—many, if not most, could collapse as their sales collapse and/or their workers become unable to turn up to work. Workers—especially those in the jovially-named "gig economy"—will be unable to pay their rents and mortgages. If we insist on these payments being honoured, mass bankruptcy could result that could take viable companies down with it—even toilet roll producers.

So what to do?

The answer is fundamentally simple: the Treasury issues "Coronabonds" that raise a substantial sum—enough to cover say 3 months of standard mortgage, rent and food payments for an average family. These Coronabonds could be priced at zero percent yield: interest rates are at that level anyway, and given the current stockmarket carnage, financial corporations would jump at the opportunity to park their money in an asset that won't fall in value.

Using the US Economy as our template, let's say that $1 trillion of these bonds were issued. They would then be bought by the financial sector—raising $1 trillion to be spend by the government on tenants, mortgagees and firms. The cost to the Treasury would be zero because that would be the yield of the bonds. The public debt would rise, but it would be debt carrying no servicing costs.
5) China's progress against coronavirus used draconian tactics not deployed in the West.
This Wall Street Journal article looks at how China stemmed the COVID-19 tide. It says that US and European leaders looking to China's progress combatting the pandemic may be drawing the wrong conclusions.
What really turned the tide in Wuhan was a shift after Feb. 2 to a more aggressive and systematic quarantine regime whereby suspected or mild cases—and even healthy close contacts of confirmed cases—were sent to makeshift hospitals and temporary quarantine centers.

The tactics required turning hundreds of hotels, schools and other places into quarantine centers, as well as building two new hospitals and creating 14 temporary ones in public buildings. It also underscored the importance of coronavirus testing capacity, which local authorities say was expanded from 200 tests a day in late January to 7,000 daily by mid-February.

The steps went beyond what's envisioned in many hard-hit Western cities. As a result, many doctors and experts say the recent lockdowns in the U.S. and Europe may slow the rise in new infections—if properly enforced—but still won't be enough to stop it or prevent many hospitals from being overwhelmed, as they were initially in Wuhan.

"A lot of the lessons have been lost," said Devi Sridhar, professor of global public health at the University of Edinburgh. "A lockdown helps buy time: The only way it will work is if you actually backtrack and start figuring out who has the virus."
There's also some scepticism expressed about those in the West using Wuhan as a model.
Some foreign experts and officials are skeptical of Wuhan as a model. They cite local authorities' early efforts to cover up the scale of the problem, and the fact that more than five million people were able to leave Wuhan in the run-up to the lockdown.

Some also still have doubts about China's official figures. Wuhan's health commission said on Monday that asymptomatic cases were being isolated in quarantine centers but not included in the public tally of confirmed cases, even if they tested positive.

Others think China could suffer a big second wave of infections if it continues to relax curbs on travel and work, and that the Chinese approach would be too economically costly to replicate.