There is a need for COVID-19 serology testing to complement the current PCR testing with swabs. The current deficiency threatens good decision-making around the lockdown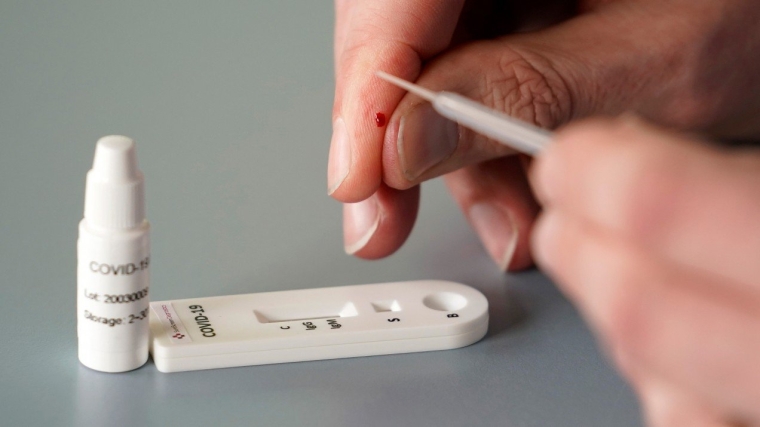 The fundamental problem facing COVID decision-makers is that they are flying blind owing to lack of testing data. This will become even more crucial as we head towards the end of the four-week lockdown and have to decide when and how restrictions can be gently lifted.
The first necessity is to work out exactly where we are. We won't get to that knowledge-point without some improvements to the monitoring equipment. The best but currently unused weapons are newly-designed quick-fire serology tests.
First, it is important to acknowledge that the latest (April 3) data gives scope for optimism. It is not only that the total number of new cases was only 71, with this being a decline from the previous day's 89. More important is that the number of positives has not tracked up with the number of tests being conducted.
A week ago, there were days where we were getting one positive test for each set of 20 tests conducted. The last number of 71 positives from more than 3400 tests is approximately one positive per 50 tests. That is definitely good news.
Another piece of good news is that the slope of the epidemic curve has not increased since we went into lockdown on 25 March. Essentially it has straight-lined rather than exponentiating.  If and when it starts to curve over and flatten then it will change into what mathematicians call a Gompertz curve. 
Apart from madmen and a few economists, no-one believes that exponential growth can continue indefinitely. It will eventually turn into a Gompertz curve. The challenge with COVID-19 is that left unchecked, the exponentiation can continue for a long time and this is what we are now seeing in many parts of the world.
The fact that in New Zealand the curve stopped exponentiating so quickly is encouraging.  It tells us that the pre-lockdown measures have already been having some effect. However, there is still a chance, albeit decreasing, of new super-seeding events emerging and another exponential wave occurring. Also, we don't really know at all what is hidden within the community.
We are now getting close to the date when we should see a clear declining trend in the number of new cases per day. The next three days will tell us if we are looking at a real downward trend or just being teased by volatility in the data. 
The risk has always been that the number of positives was being artificially lowered by lack of testing.  That risk is starting to lessen, but we are not in the clear yet.
A key message in all of this is that we are still stumbling around in the dark not knowing where we are.
Director of Health Ashley Bloomfield has said that he wants to see some movement toward surveillance testing. That means testing cases that don't necessarily fit all of the criteria. However, although Bloomfield has not stated it, the PCR test using swabs is an expensive and indeed clumsy way of doing this. The answer lies in serology.
Whereas PCR testing of swab material searches for the virus, serology (blood) tests look either for antibodies or specific proteins in the blood. At this stage it is the antibody tests that are ready to go and indeed are being used overseas.  A big advantage is that some of these new tests are cheap and can be rolled out at scale. For example, I have seen a quote from a New Zealand firm, already working with Government on another project, that can supply these at under $7 per test, with 100,000 tests delivered within a week.  One further week, and everything could be operational.
Because these antibody tests are new, some caution is appropriate at the level of individual cases. However, the validation tests that I have seen show excellent sensitivity and specificity. In other words, the levels of false positives and false negatives are very low. 
Of course, nothing is absolutely sure with new tests until they have been rolled out at scale, and so a little caution is appropriate. However, PCR tests also produce false negatives, indeed a great deal of them, and that is why we have a 'probable category' for cases where the test did not find the virus despite clinical evidence that it is present.
A big advantage of these new serology tests is that they are quick and, unlike the current PCR tests, can be undertaken without laboratory procedures. Any clinician can get a quick answer within 15 minutes using a spot of blood from a pin prick.
Accordingly, these serology tests are excellent as a filter of cases which are probably ordinary flu but for which there is uncertainty. They can also be used with close contacts to identify those that need to be quarantined more stringently. Even more important, they can be rolled out as a surveillance program at the community level.
Right now, we have some apparent hotspots in New Zealand. Taking Queenstown as an example, the whole population could be tested over a few days from a mobile testing station and anyone coming up positive put under quarantine.  One of the good things about these tests is that they have potential to pick up cases prior to symptoms and before it is possible to obtain positives from the swab testing.
If no-one comes up positive apart from those who have recovered from the disease (and will therefore have the antibodies) then we know there is minimal hidden community transmission.
Another potential use of serology is to test development of immunity at the population level. Alas, despite some media suggestions to the contrary, the international evidence is that we should not expect to see much evidence of antibodies and hence COVID-19 protection beyond those who have been infected with symptoms at some level. But we need to find out for sure.
To date, I have seen no mention from the Director of Health, nor any questions from the mainstream journalists, as to what New Zealand is doing in regard to serology testing.  I suspect the reality is that we are doing very little.
That situation may be linked to the reality that most Ministry of Health staff will be pre-occupied with operational issues. Ministry of Health is unlikely to have many staff with serology expertise. These types of people tend to not be found in the bureaucracy.
Accordingly, it is time for our Prime Minster to ask the Ministry of Heath to set up a group to report back within 72 hours as to the pathway forward. Alternatively, the Prime Minister's Chief Scientific Officer could be tasked to manage this.
Perhaps the best way forward would be to direct the request directly to Professor Sir David Skegg to organise, given that he has both the professional expertise and a long history of working alongside Government and bureaucracies. Professor Skegg has been appearing before Parliament's Epidemic Response Committee this week where he has called for greatly increased testing and contact-tracing.
Whoever is appointed, and whoever that person co-opts, this is something to be done urgently.
There are actually two parts to the what is needed. One part is to quickly evaluate the firms that claim to have suitable certified tests and who can supply now at scale and a reasonable price.  The second part is to design how serology and PCR testing of swabs can complement each other within an integrated program.
In New Zealand, we are in an internationally unusual situation in that we still have a realistic chance of stamping out this virus before it totally takes over. In that regard we are in a different position to almost all other countries. Accordingly, in finding the path from Level 4 to lower restriction levels we will have to do our own thinking and planning.
In recent weeks, comparisons have been made between ourselves and the East Asian countries of South Korea, Japan, Hong Kong and Singapore. There is no doubt that those countries all managed to flatten the curve. Unfortunately, it is also now clear that they have not stamped out the virus and that they now have to stamp harder as a new wave of exponentiation is building.
As for countries like Sweden, the Netherlands and Belgium, all of which have tried to minimise disruption to normal life, they are all in big trouble. Their trajectories are all consistent with Italy and Spain, and only about a week to ten days behind on a per capita basis.   The implications of those relaxed policies, now with rapidly increasing death rates, have become increasingly evident.
In recent days, our leaders have tried to deflect criticism of insufficient testing by saying that the international calls to 'test, test, test' do not actually apply to us as we are already doing lots of testing. Well, we are doing lots of testing but we need to do a lot more if we are to come out of lockdown as early as possible. That's where serology fits in. Let's do it!
---
*Keith Woodford was Professor of Farm Management and Agribusiness at Lincoln University for 15 years through to 2015. He is now Principal Consultant at AgriFood Systems Ltd. . He can be contacted at kbwoodford@gmail.com. Keith's previous COVID-19 articles are available here.