Chris Trotter argues Todd Muller's backers have rejected the radical conservatism of the evangelical Christian Right and reaffirmed the moderate conservative values out of which their National Party was born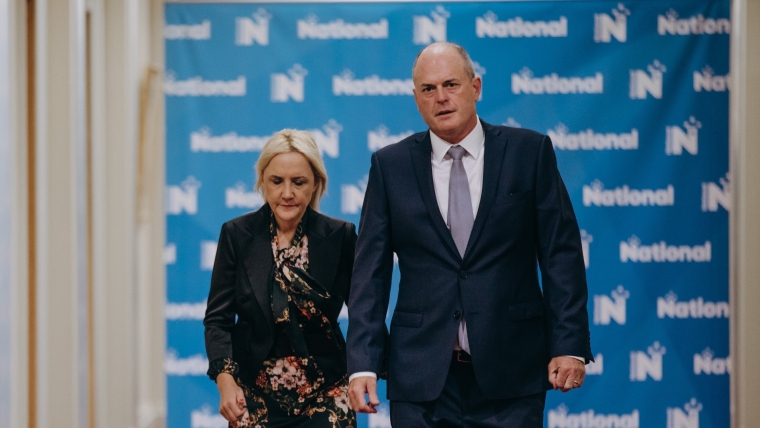 By Chris Trotter*
A grim measure of the challenge Todd Muller faces in rebuilding National is Bob Clarkson's comment to RNZ's Morning Report. With the Opposition leadership ballot only hours away, the former National Party MP for Tauranga quite unselfconsciously described Jacinda Ardern as "leader of the communists". So much of what is wrong with National, and a large part of its electoral base, is summed-up in Clarkson's absurd characterisation. That Muller emerged victorious over Simon Bridges last Friday, is unquestionably a hopeful sign for moderate conservatism in New Zealand. Even so, the task confronting the new Leader of the Opposition is a daunting one.
Crucial to Muller's electoral success will be the extent to which he is able to persuade National supporters that the September election is not a Manichean struggle between darkness and light, but a rational political choice between clearly divergent approaches to economic management and social reform. Given that the conventional wisdom in contemporary election campaigning valorises polarisation and demonisation, making the case for such rhetorical de-escalation and de-pressurisation will not be easy. Certainly, it would require a dramatic change in National's current campaign strategy – and Campaign Chair.
The re-introduction of sweet reason and civility to right-wing discourse is, however, critical to National regaining its competitiveness vis-à-vis the Ardern-led Government. It was Simon Bridges' singular failure to grasp this essential feature of the post-Lockdown political environment that necessitated his removal. Muller's problem is that his predecessor is very far from being the only figure on the Right who failed to notice how profoundly the Prime Minister had changed the rules of the game. In both the National Party Caucus and across the rest of the New Zealand political class there remains a solid core of right-wingers who look at Jacinda Ardern and see only "Princess Stalin".
It is difficult to pinpoint the cause of this delusion. Partly, it is exactly what the feminists proclaim it to be: misogyny. To a worryingly large number of men, the experience of living under a highly-effective woman leader is extremely disconcerting. These guys may understand that openly expressing their disdain for women in charge is unlikely to be career-enhancing, but that doesn't silence their inner excoriation of women wielding power. Moreover, the Internet offers these men multiple opportunities to voice publicly – albeit anonymously – their suppressed rage. This does nothing to lower the temperature in the political kitchen.
The parallels between the reaction of some New Zealand men to Jacinda Ardern, and that of some American whites to Barack Obama, are too strong to ignore. Both electoral outcomes appear to have induced a kind of political vertigo: as if the world had been knocked off its axis and True North lost. That women and blacks should be in control was seen as a violation of the natural order. Clearly, evil forces were at work in the body politic. In the United States these feelings gave birth to the Tea Party movement and Trump. In New Zealand they reinforced the claim that the Ardern-led Government was electorally illegitimate: something foisted on the New Zealand people by Winston Peters and who knows what dark influences behind the scenes.
Reinforcing these visceral responses here, in the United States, and across the world, has been the evangelical Christian Right. The power of the Christian Right in the United States is well understood, but in New Zealand's much more secular society its activities receive scant media attention. Most New Zealanders would be unaware of the slow but steady build-up of radically conservative Christian MPs in the National Party Caucus. Obviously – given Muller's victory over Bridges – not to the point of dominating the party but, as anyone who has studied the history of the extreme Left knows, a tightly organised and ideologically-driven minority can exert a degree of organisational influence out of all proportion to its numbers.
In his widely read blog post, "The Battle For The Nation's Soul", former Green staffer turned PR maven David Cormack puts it like this:
"There is a large bloc in National of Christians with some pretty extreme views. They're not traditional Christian National Party folk, but more fire and brimstone. Muller is a traditional National Party Christian, he voted No on the abortion bill's second and third reading, he voted No on all three readings of the euthanasia bill. But he is considered not right wing enough by the large Christian bloc."
According to Cormack:
"All of the highly conservative Christian MPs want to fight their very own culture wars here in NZ; think GOP level. Staunchly pro-Israel, really strongly anti-abortion, anti-women and gay rights. They want to fight the 'Marxism' that they believe has infested our schools, universities and even Labour (!)"
The alarm such extremism was bound to excite in a broad Centre-Right party like National is readily imagined. To the average voter, Bridges' tone deafness to the public's mood vis-à-vis the Covid-19 Crisis and Ardern's handling of it was merely perplexing. To the National Party's moderate conservatives, however, his statements would have had an altogether more ominous ring to them. They would have recalled Amy Adam's speech during the Third Reading debate of the Abortion Legislation Bill on 18 March, in which she warned:
"I think those who are voting against this legislation—their views are their own, but I think they are out of step with New Zealand. I think this House is in grave danger of becoming far more socially conservative than New Zealand, and we do a disservice to New Zealand when we get out of step with the views of New Zealand."
For that second-to-last reference to New Zealand it would be entirely excusable to substitute "The New Zealand National Party".
Some have criticised the role played by opinion polls in the demise of Bridges and his deputy. Such criticism is unjustified. Those within the inner circles of the National Party undoubtedly felt uneasy about the no-holds-barred GOP-style tactics on display. Their intuition would have told them that such ideologically-driven and uncompromising tactics were most unlikely to be well-received by voters who had just spent weeks listening to their Prime Minister and Director-General of Health tell them to be "kind". Muller and his backers needed to know whether their intuition enjoyed empirical backing. The leaked UMR poll, closely followed by the Newshub-Reid Research and the One News-Colmar Brunton polls, gave them all the evidence they needed.
Muller and his team deserve the hearty congratulations of the New Zealand electorate. The risk was real, and growing, that the National Party was heading down the self-same political trail blazed by the Republican Party in the United States. The journey begins with the purging of every party member deemed insufficiently committed to the holy mission of national redemption. As the trail descends deeper and more steeply into the darkness, that holy mission is held up as a sanctified end – for the achievement of which any and all means are justified. The trail ends in the monstrous moral vacuum that is Trumpist populism.
Muller and all those who voted for him at last Friday's emergency caucus meeting have done what the Republican Party refused to do. They have rejected the radical conservatism of the evangelical Christian Right and reaffirmed the moderate conservative values out of which their National Party was born. Muller's mission now is to uphold that notion of society which National has made its own for more than 80 years: a society which modifies and adapts its core institutions to accommodate the slowly evolving beliefs and aspirations of the individuals and families, enterprises and communities, that make it up.
Elections in such societies are not apocalyptic encounters between the Children of Darkness and the Children of Light. Rather, they are opportunities for the voters to render a judgement on which political party's policies are the most likely to succeed, and which are more likely to fail.
---
*Chris Trotter has been writing and commenting professionally about New Zealand politics for more than 30 years. His work may be found at http://bowalleyroad.blogspot.com. He writes a fortnightly column for interest.co.nz.