ACT Deputy Leader Brooke van Velden argues the Government is on the wrong track borrowing up a storm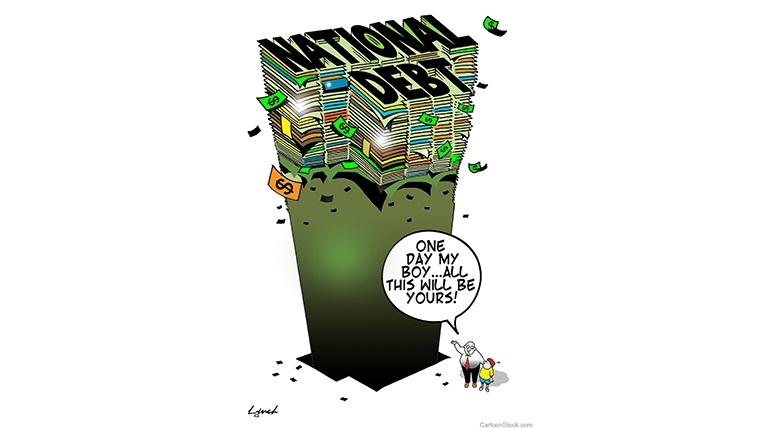 By Brooke van Velden*
The Government's mortgaging our futures by borrowing $140 billion. I get it, there has been a major crisis. But… have we really processed what that will mean next year, or in 10 years' time? Is all of the Government's spending necessary? For the spending that is necessary, who is checking that it is well spent?
The younger you are, the longer you will be paying taxes. It's not my job to tell you what to worry about, but if it was and if you still have more tomorrows than yesterdays, then I'd say the Government's recent debt splurge is definitely worth your attention.
By borrowing $140 billion, the Government is increasing total crown debt to a level this country hasn't seen in close to 30 years. Or, to put it another way, $300 million is being added to the books every day.
It's not cheap change. Borrowing for this year is set to be three times higher than the New Zealand Government has ever borrowed in one year before. By 2024, Government debt will sit at $200 billion or 54% of GDP.
New Zealand's economy has gone through a 1-in-100-year shock, but we need to be honest about debt. It's money that will need to be paid back.
Treasury tells us that by the end of the decade, the interest on Government debt will cost more than the Government education budget. The choices we make about debt now will take away choices in the future. We are making choices now for ourselves and those who follow us.
So, let's be honest about the debt. We need a well thought out economic plan, or people will rightly worry about how we'll pay the debt down and continue to pay for Government services like health and education.
Maybe we could live with those choices if we knew the money borrowed was really well spent. Here's the kicker, though.
During COVID-19, the Government actually cancelled the usual procedures for assessing policy. Good for the Government, maybe, but not so much if you're getting sent the bill. The Government's asking our generation to pay for a recovery with borrowing and spending to stimulate the economy that can't be properly scrutinised.
The Finance Minister says we shouldn't worry because other countries are worse. That's only because successive Governments have followed the principles of the Public Finance Act and reduced and kept debt at manageable levels. It placed New Zealand post-GFC in the strong and enviable position, compared to other countries, to be able to borrow for this crisis.
A responsible Government would leave room to borrow more in the future because of our country's small size and vulnerability to the changing moods of the foreign debt markets. We need to reduce and pay down debt now so there's room to respond to natural disasters. We'll never know when the next crisis will hit or what it will look like.
There's a better way to stimulate economic growth than a government-led recovery. It works without saddling our generation with debt. We can choose to be a low debt, low tax, high wage country with low regulatory barriers to growth.
We can let innovators, businesses, and people drive a bottom-up recovery.
When governments borrow, they're claiming that they can do a better job than what the private sector could do with that money. But they can't under normal circumstances. Making rushed decisions with limited oversight and an election looming, they're even less likely to do so.
We should be sceptical of big spending Government measures, because we've been here before and it was not pretty.
Think Big was a massive fiscal disaster. After New Zealand lost its main trading partner and faced an oil crisis, then-Prime Minister Robert Muldoon borrowed heavily and plunged New Zealand into debt. Taxpayers spent the 1990s and most of the early 2000's grinding it out to pay for that one. It was a tough time, and they were helped by a growing economy.
We have a choice.
We can keep going the way we are now. The Government is running up debt that will limit our choices in the future, but there's no focus on the quality of the spend.
Or, we can make different choices and change our future. We can run the ruler over existing spending that never added up, or may have added up before but doesn't add up now the world has changed.
That takes political courage. Some people might say, for instance, that if you talk about reducing any kind of spending, people who benefit from the spending won't vote for you. That's a hopeless situation.
I think we're ready for a more serious conversation about debt and what our strategy as a country is. I think the circumstances we face mean we can't afford not to have that conversation.
Then we can ask, how do we want people to remember us handling this difficult time? Head in the sand, foolish, procrastinating? Or should we be honest, decisive, and strategic? Sadly, right now we are on the wrong track.
---
*Brooke van Velden is the ACT Party's Deputy Leader and Wellington Central candidate. As part of an election series van Velden will be writing regularly for interest.co.nz between now and the September 19. Vanushi Walters, the Labour Party's Upper Harbour candidate and 23 on the list, will also be writing for interest.co.nz.