Gareth Vaughan on some cash with your toilet paper, UBI & wellbeing, 'delinquent' Aussie mortgage deferrers, Brazil's Manaus & herd immunity, vaccines & preventing symptomatic infections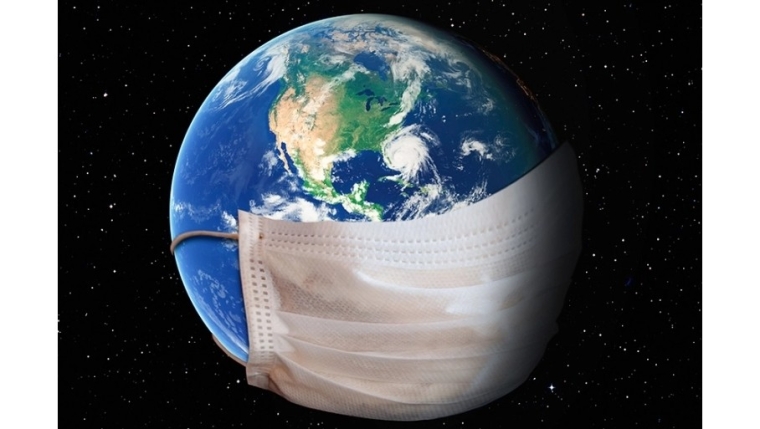 This Top 5 COVID-19 alert levels 1 & 2 special comes from interest.co.nz's Gareth Vaughan.
As always, we welcome your additions in the comments below or via email to david.chaston@interest.co.nz. And if you're interested in contributing the occasional Top 5 yourself, contact gareth.vaughan@interest.co.nz.
Fewer businesses were liquidated in the first 8 months of 2020, than in any year since 1999. pic.twitter.com/kRA4p85OWO

— Andy Fyers (@andyfyers) September 29, 2020
1) Universal basic income experiment provides a big boost to wellbeing.  
Against the backdrop of the economic fallout from the COVID-19 pandemic, McKinsey & Company's Tera Allas, Jukka Maksimainen, James Manyika, and Navjot Singh have taken a look at Finland's universal basic income (UBI) experiment. They conclude that while it may have only led to a small increase in employment, it significantly boosted multiple measures of recipients' well-being.
The two-year study involved a treatment group of 2,000 randomly picked, initially unemployed people. They received a guaranteed, unconditional, and automatic cash payment of €560 monthly instead of a basic unemployment allowance of a similar amount. Even with a housing allowance thrown in, which basic-income recipients were eligible for, this level of support was significantly below the incomes of most Finnish households. All other unemployed people, who continued to receive standard benefits, formed the control group.
The McKinsey authors note that people on the basic income were more likely to get employment than those in the control group, and the differences were statistically significant, albeit small. 
However you read the findings on employment, other effects were clear: people on the basic income reported significantly better well-being on multiple dimensions. Average life satisfaction among the treatment group was 7.3 out of 10, compared with 6.8 in the control group—a very large increase. To experience a similar lift in life satisfaction, we estimate that a person's income would need to go up by as much as €800 to €2,500 per month—60 to 170 percent of the average per-capita household income in the European Union. Indeed, the difference was big enough to erase the gap in life satisfaction between unemployed and employed people.

These significant positive findings on well-being are no mystery: the basic income seems to have improved all the major components of life satisfaction (Exhibit 2). People receiving the basic income reported better health and lower levels of stress, depression, sadness, and loneliness—all major determinants of happiness—than people in the control group. Recipients of the basic income also demonstrated more confidence in their cognitive skills, assessing their ability to remember, learn, and concentrate at higher levels than the control group did. And the basic income enabled people to perceive their financial situation as more secure and manageable, even though their incomes were no higher than those of people in the control group. Finally, basic-income recipients expressed higher levels of trust in their own future, their fellow citizens, and public institutions.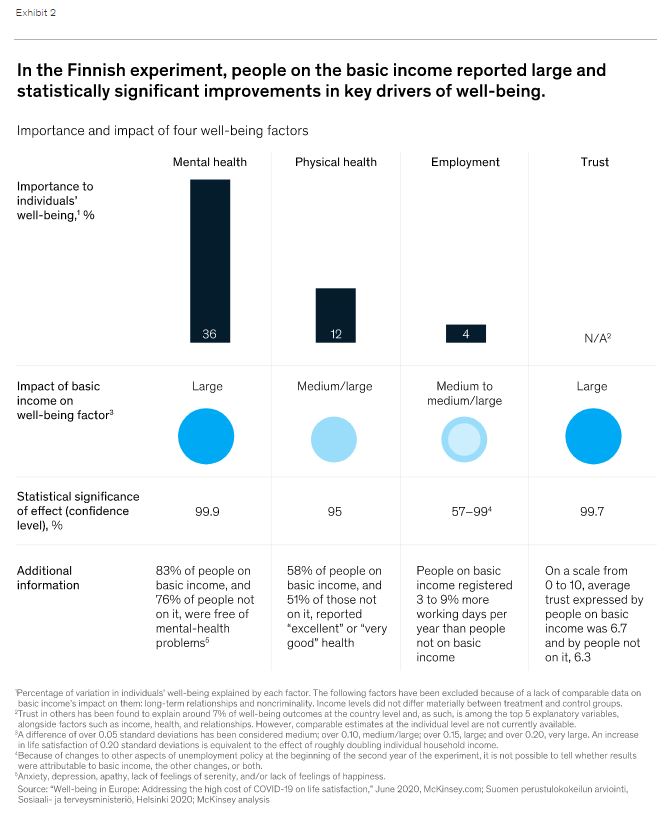 A key lesson from the Finnish experiment, McKinsey adds, is the complexity of implementing a UBI.
Policy makers need to decide how it should interact with a large number of other policies, such as child benefits, housing benefits, pensions, health insurance, and taxation; for example, in the Finnish experiment, basic-income recipients were eligible for housing allowances but not for basic social-assistance payments. Unless such linkages are streamlined, they could detract from a basic-income system's potentially considerable savings in administrative costs.
2) Reserve Bank ramps up cash in circulation.
The Reserve Bank issued its annual report on Thursday. It includes more detail on how, like toilet paper, cash was in demand during the early days of COVID-19. 
At 30 June 2020 currency in circulation was $7.9 billion – $7.5 billion in notes, $0.4 billion in coins, an increase of 18 percent on the previous year. Most of this demand occurred during the lead-up to the COVID-19 lockdown when banks and the public required cash, mainly for precautionary purposes
I hope people hoarding both toilet paper and cash didn't get them mixed up...
During the COVID-19 readiness and response stages, we ensured that sufficient cash was distributed within the system and arrangements were in place to meet the needs of the public. Cash in circulation increased by $1.2 billion (+18 percent) in the year ended 30 June 2020, with almost $0.8 billion of this issued in March, associated with the COVID-19 Alert Level 4 lockdown. Banks began returning excess cash in May and June, a trend that is expected to continue into the first quarter of 2020-21.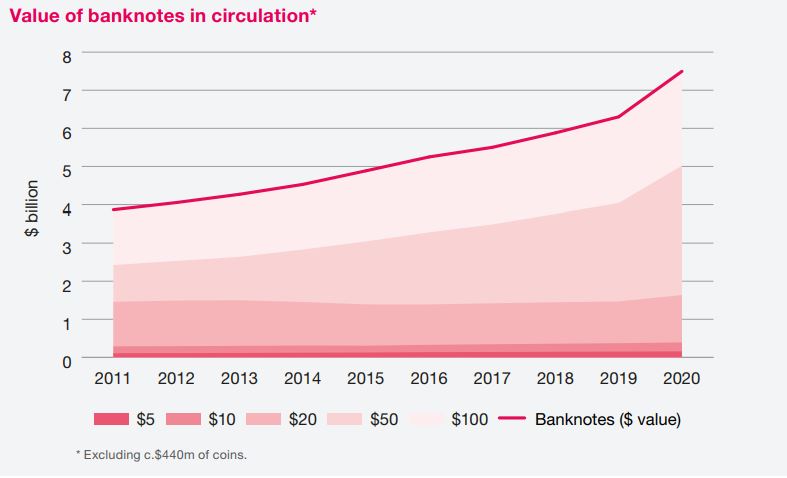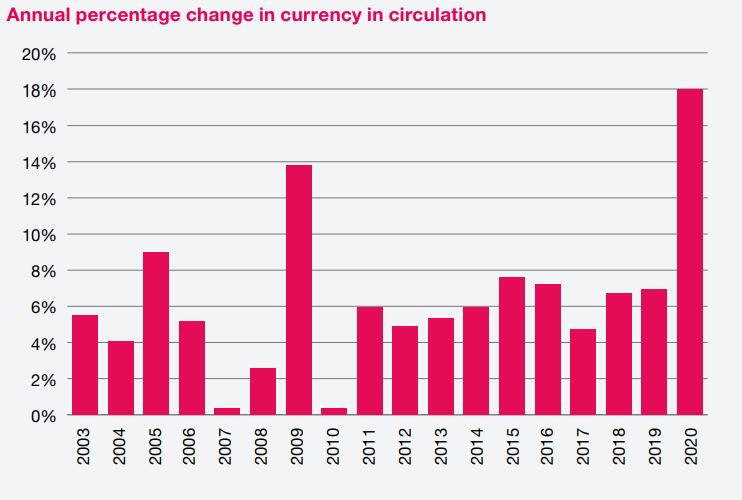 3) What will Aussie mortgage deferrers do when their time's up, and how many are delinquent borrowers?
UBS' Aussie banking analysts have issued the sixth annual version of their Australian mortgage survey. And appropriately for this COVID-19 dominated year, they've focused on mortgage deferrals. The firm surveyed 904 Aussies who had taken out a mortgage over the past 12 months.
Many of the borrowers surveyed anonymously admitted they hadn't been completely honest in their loan applications.
 
We found the credit quality of the home buyers ('front book') in the survey is weaker than data shown by both the banks and APRA ('back-book'). This is in-line with expectations as home buyers (survey excludes refi) are more likely to be younger and more highly leveraged than the book as a whole. Once again, we found 37% of the sample stated their mortgage application was not "completely factual and accurate", a level consistent with the previous five vintages. Of more concern, the credit quality of customers who misstated their mortgage were significantly weaker than truthful customers. We found that factually inaccurate mortgagors: (1) have seen household income fall an average of 13%; (2) 36% have deferred repayments; (3) 66% have a household member on JobKeeper/JobSeeker; (4) 71% withdrew Superannuation.
Meanwhile just under half of those with COVID-19 related mortgage deferrals plan to revert to normal payments when their deferral period ends.
As the bulk of mortgagors approach the end of their six month deferral period, we found: 47% of deferred mortgagors intend to revert to normal payments; 32% intend to switch to Interest Only (IO); 21% intend to ask to extend deferral. However, the credit quality of customers intending to ask their bank to extend their deferral is concerning. Of these customers we found: (1) 40% overstated their income in their mortgage application (by 21% on average); (2) 15% understated other debts; (3) 67% are on JobKeeper; (4) 25% are on JobSeeker; (5) They have seen their income fall 19% since COVID on average (in addition to the amount they overstated). Unfortunately, we found the financial position of those asking to move to IO is only marginally better.

The 2020 survey illustrates factually inaccurate mortgages are materially higher credit risk. APRA has stated mortgage deferrals should only be extended on a case-by-case basis. We believe the banks need to undertake significant due diligence before extending deferrals or moving deferred customers to IO, as a large number of these borrowers are likely to be under more stress than the banks perceive.  Many of these customers should be considered delinquent, in our view. Given this stress, a recovery in employment and house prices is critical to the banks' performance.
UBS says data from the major Aussie banks, who are the parents of the big four Kiwi banks, shows about 7% of mortgage customers, or 10% of mortgage balances, have deferred their mortgage payments due to the COVID-19 pandemic. However the UBS survey shows 26% of respondents have deferred their mortgages.
We believe this is likely to reflect the fact the survey contains only new home loan customers (front-book, ex refi) whom are likely to have larger mortgages and higher loan-to-valuation and debt-to-income ratios.
New Zealand's loan repayment deferrals were introduced for six months in March at the onset of the COVID-19 crisis. In August the Reserve Bank agreed banks can extend these deferrals for up to another six months, to March 2021.

4) Has the Brazilian city of Manaus reached herd immunity? 
In the MIT Technology Review Antonio Regalado has a fascinating story about COVID-19 in the Brazilian city of Manaus. The Amazon city was ravaged earlier in the year, and the suggestion is a form of herd immunity may have been reached now.
During May, as the virus spread rapidly in Manaus, the equatorial capital of the state of Amazonas, dire reports described overwhelmed hospitals and freshly dug graves. Demand for coffins ran at four to five times figures for the previous year. But since hitting a peak four months ago, new coronavirus cases and deaths in the city of 1.8 million have undergone a rapid and unexplained decline.

Now a group of researchers from Brazil and the United Kingdom say they know why—so many people got infected that the virus is running out of hosts.

In a report posted to the preprint server medRxiv, a group led by Ester Sabino, of the Institute of Tropical Medicine at the University of São Paulo, says it tested banked blood for antibodies to the virus and estimates that between 44 and 66% of the population of Manaus has been infected since the city detected its first case in March.

"From what we learned this is probably the highest prevalence in the world," Sabino said in a phone interview. "Deaths have dropped very rapidly, and what we're saying is that it's related."
Manaus may now be able to provide information on how long immunity to COVID-19 lasts.
Going forward, the Amazonian capital could now help public health officials better understand how long immunity to covid-19 lasts and how often the virus reinfects people. The blood survey clearly showed that with time, people's antibodies become harder to detect. That could mean individual immunity to the virus is not permanent. "Manaus may act as a sentinel to determine the longevity of population immunity and frequency of reinfections," the authors wrote in their preprint.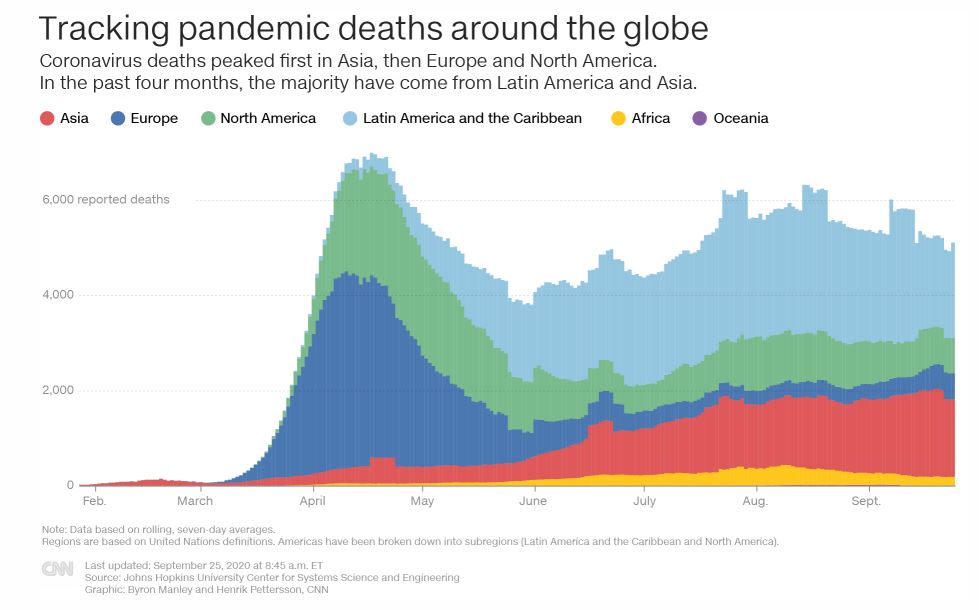 Chart: CNN.
In its non-paywalled COVID-19 coverage the Financial Times takes a look at progress in the race to develop a vaccine. The FT notes a pragmatic approach is being taken by most of the developers, and any vaccine will likely only provide temporary immunity.
While it is commonly hoped that a vaccine will completely prevent individuals from getting infected, this result is rare, and has never been achieved for other coronaviruses or strains of influenza. Instead, a more pragmatic goal, adopted by most of the vaccine developers, is the prevention of symptomatic Covid-19 infections. That is the stated objective of the AstraZeneca, Moderna, Pfizer/BioNTech and J&J vaccines.

"What we really want from a vaccine is to stop people being admitted to hospital, going to intensive care and dying," said Andrew Pollard, who is leading the AstraZeneca trials at Oxford university. "It is likely to be a much bigger hurdle to completely prevent asymptomatic infection."

Immunity, boosters and side-effects

Given the growing chorus of experts warning it is likely the vaccine will confer only temporary immunity, the capacity to "boost" the immune response at a later date with another shot is important.

"The assumption at the moment is that we'll be shooting to get to a year's immunity," said Kate Bingham, chair of the UK government's Vaccine Taskforce. Seven of the vaccine candidates in phase 3 are designed to be taken in two doses, to increase the chance they will trigger an effective immune response. Only J&J and CanSino are trialing single dose shots.

"Even if you have a vaccine with a second dose, you may need to boost every year," Ms Bingham said.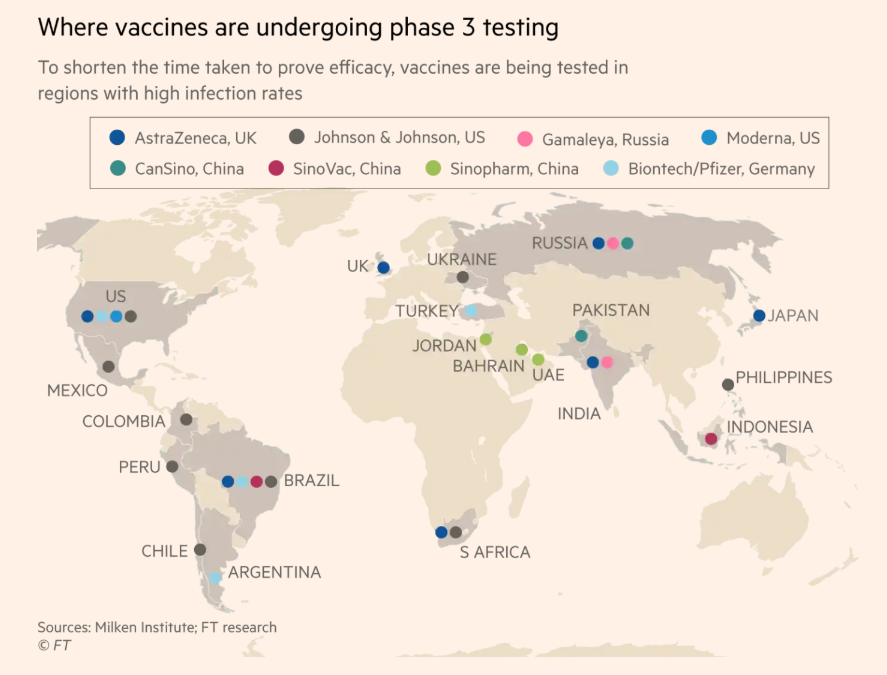 Map: The FT.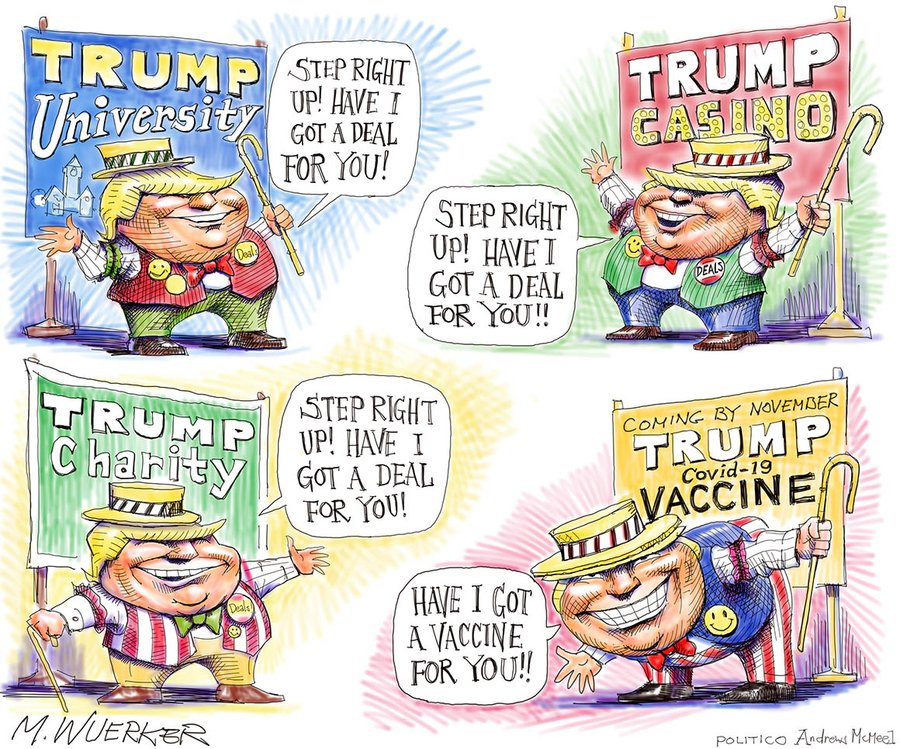 Cartoon: Matt Wuerker, Politico.