David Chaston updates our latest population data at September 2020 and looks at the forces behind our stable median age, a trend that helps keep our social contract affordable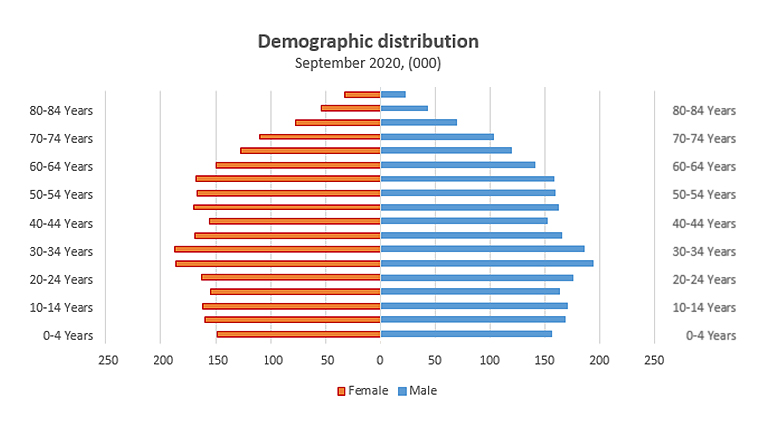 The latest update of our population data to September 2020 pegs the New Zealand population at 5,101,400. This is a 1.9% rise from the same period a year ago and up from the 1.75% rise a year ago.
The ageing of our population is tracked in this data, and it has become ingrained in general conversation that, like most other countries, "we are getting older".
In fact, the number of people 65 years and older is rising. But the general understanding and debate around this issue is clouded by the facts.
There are now 800,000 people who are 65 years and older, a record high. But then, so is the population generally.

The proportion of people 65 years and older of the overall population is still under 16%. A generation ago it was 11.5% and has been boosted over the intervening years by a steadily rising life expectancy.

But despite this rise, our median age has been generally stable since 2013. Of course, that is also when inbound migration rose in earnest and proportionately more young people moved to New Zealand.
That policy of opening the borders to more young migrants has seen the track of the median age taper off significantly. At the rate of increase in the 1991-2001 period we would have expected the median age to be 42 years by now. After the slower track in the 2003-2013 period, the median age would have risen to 40 years by now. But in fact, it is still hovering just over 37 years.

Such an achievement has considerable benefits, and especially to the over 65s themselves. Essentially, a younger workforce is the engine that can afford to pay the benefits the older citizens have voted for themselves, not only in terms of National Superannuation ($16.3 billion in 2020 alone and the largest single item in the Government's budget), but in terms of aged care support (and a significant part of the $20.3 billion 2020 Budget for health care).
If any group should be voting for increased immigration as a way to keep the median age at a sustainable level, it is the over 65s.
But that demographic bubble is about to fade. Those left paying the bills are on the rise and may have other ideas about this defacto migration policy. Their problem is that to change tack now will see the median age start to rise quite quickly and leave them with even higher per capita liabilities over the transitional generation. (The ageing continues without the commensurate rise in the working aged population.) It's a tough choice because it foretells higher total costs and lower total incomes, ugly arguments about social benefit distribution, lower national productivity, and eventually lower per capita incomes.
Essentially, New Zealand will get poorer if we let our median age rise too quickly.
A prosperous future may depend on keeping the median age under 40. And in turn that can only be done by continuing to welcome new younger workers from overseas.
And a final observation from Tuesday's population data. While there are now 34,800 more females in New Zealand than males, there is a change coming. In the 0 to 30 age group there are in fact 55,200 more males than females. It is only when you get above 45 years of age when our population becomes female dominant.

All data in this article is from the Statistics NZ Infoshare database.