David Scobie of Mercer Investments looks at what it means that for the first time in a generation investors need to seriously consider inflation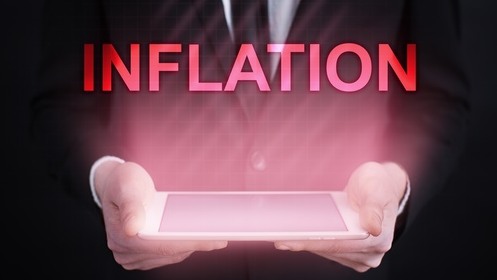 By David Scobie*
There's no doubt the last two years have been full of extraordinary challenges.
Following the outbreak of the pandemic, the lockdowns and restrictions imposed by governments around the globe hit economies and markets hard and fast.
What followed was unprecedented fiscal and monetary support to avert an economic meltdown not seen since the Great Depression. However, the short, sharp recession followed by the recovery has brought about another potential challenge - the re-emergence of an old foe, inflation. The question is whether the return of this "ole devil" will persist and, if so, how it will affect portfolios. 
Building a robust portfolio has got tougher
There is no shortage of opinions on the future trajectory of inflation. Most central banks around the world - New Zealand included - believe the current rise is transitory and inflation will fall back down to normal levels. However, inflation is notoriously hard to predict. It is driven as much, if not more, by collective psychology as any conventional mathematical formula. 
While inflation expectations remaining anchored is, in our view, most likely, it is far from certain and definitely less so than before the pandemic. Portfolio construction needs to reflect this increased risk.
Traditional portfolios, dominated by equities and bonds, have performed exceptionally well through the disinflationary environment over the last decade and longer. But in an environment of persistently higher and more volatile inflation, they would likely experience a negative impact.
Why are inflation worries resurfacing now?
Since mid-2020, inflation has risen markedly. As countries whose vaccination rollouts reached critical mass reopened their economies, the sudden release of pent-up demand boosted by stimulus and unconditional handouts ran into supply bottlenecks.
Consequently, goods shortages have arisen across the spectrum - from semiconductors and timber to household items and used cars. This has been compounded by the formula base effect - year-over-year inflation figures are still comparing to periods of lockdown or depressed economic activity. In the case of the US, as can be seen from the chart below, recorded inflation reached a three-decade high.
US Consumer Price Inflation (year-over-year)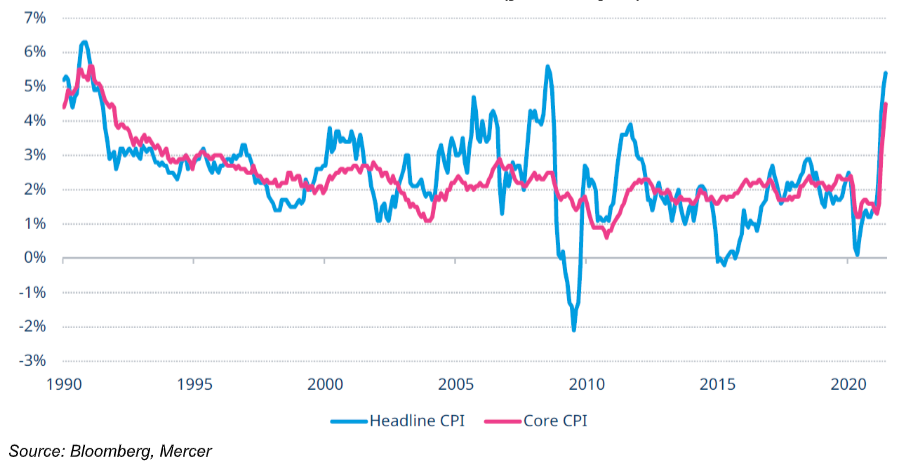 This spike, in itself, is not necessarily a structural reason to worry about inflation risk. As noted, we believe the recent rise in inflation is likely to level out and gradually fall back toward central bank targets. Supply shortages should gradually dissipate as production picks up, continued global vaccination efforts should reduce labour shortages and the formula base effect will disappear. This is exactly why central banks describe the inflation surge as being transitory.
This relatively sanguine base case is not the only possible future state of the world, of course. What fuels our concerns over higher inflation risk and wider tail outcomes is not so much the lift in inflation seen in 2021 as it is the weakening of long-term secular, disinflationary forces in the background. The near-term rebound in inflation is merely a potential catalyst to knock loose the psychological anchor formed by central banks' efforts of the 1980s and supported by globalisation and technology.
Central banks now appear to be putting as much or more weight on economic and employment outcomes as on inflation-fighting credibility. Fiscal authorities seem less concerned with the need for financial discipline and balancing budgets after periods of largesse, even though some countries have at least started to make an effort to reduce deficits.
More broadly, the populist renaissance over the last decade has seen globalisation, with its downward force on the prices of manufactured goods, under pressure. We expect technological progress to continue to provide a disinflationary impulse, but the push for energy transition and higher sustainability credentials in end-products will also likely prove inflationary.
Disinflationary and inflationary pressures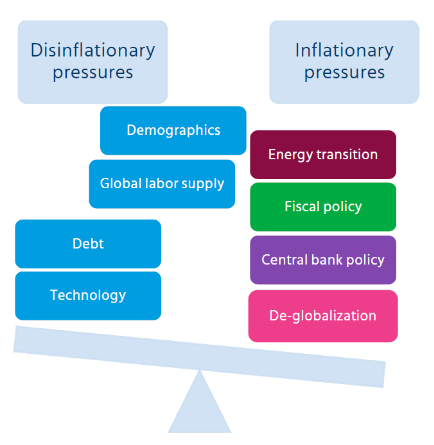 What implications would structurally higher inflation have for conventional portfolios?
Many portfolios have been constructed during, and for, disinflationary environments. Dominated by equities and bonds, perhaps accompanied by some diversification into asset classes like private equity, real assets and more aggressive credit-oriented fixed income strategies, such portfolios have performed strongly throughout the past two decades. The secular trend of declining yields increased discounted values of dividends and coupon payments.
Furthermore, portfolio efficiency was supported by the typically negative correlation between equities and duration, especially in major stress events, when it was needed most. With inflation low and cyclical, rising inflation was associated with economic growth that benefited equities and hurt government bonds due to central banks tightening policy pre-emptively and vice versa.  
However, the market reaction to rising inflation is far less positive when inflation is already high, and, at this point, just when investors do not want it, correlations can become positive again. Adding a less predictable inflation environment now increases complexity for portfolio construction as asset allocators need to think about inflation sensitivity ("inflation beta"), not just growth sensitivity ("GDP beta"). 
Scenario analysis is particularly useful at times like these, when the probability of a regime shift - specifically, a shift to a higher-inflation environment - has increased. History has shown us how frequently regimes have shifted between secular inflation and disinflation.
This informs our approach to allow for future inflation regimes to be materially different from that of the last four decades, even though a return to a benign disinflationary environment is also a possibility.
In Mercer's portfolio modelling we consider different scenarios of how economies and markets could behave under different conditions. They span inflationary and disinflationary conditions, cost-push and demand-pull drivers of inflation, and strong and weak growth, factoring in the influence of central bank and government policy.
Strategies to manage different economic environments
Many portfolios have some diversification into asset classes that are better positioned for inflation risk - for instance, via listed or unlisted real estate - but that protection is typically for longer-term scenarios and those more reliant on growth, such as under a "financial repression" environment.
A starting point is to diversify that inflation protection. There is no single asset class solution that deals with inflation as a "one-stop shop."
Even inflation-linked bonds, which may appear as the most intuitive solution given their contractual link to inflation, do not perform well in a range of short-term scenarios. This is because, in the near term, they are more exposed to changes in real rates than to changes in inflation expectations.
Over the longer term, the inflation linkage strengthens, but in many markets, investors are locking in negative real rates by investing in inflation-linked bonds. We see inflation-linked bonds as part of the toolkit, but more tools are worth consideration.
Investors could strengthen the growth-inflation relationship through strategies such as natural resource equities, active commodity strategies or core, monopolistic infrastructure, which thrive in a growth environment, where demand faces real resource constraints. 
Where portfolios are typically most vulnerable, however, is in the more bearish scenarios, in which inflation is not transitory and central banks need to respond. In a rising interest rate environment, such as an "overheat" scenario, floating rate strategies, such as structured credit (for example, asset backed securities and leveraged loans) or some private debt issues, could fare better than duration-heavy bonds. This upside is constrained, however, to the extent that rates increase with inflation - rates are clearly below inflation today.
The scenario few portfolios would be well-positioned for is "pandemic stagflation". Returns generated in this scenario by long-term assets like real assets or natural resource equities would be heavily dependent on the extent to which market fears of inflation translate into higher discount rates and lower valuations.
Commodity-related strategies or gold should provide more reliable protection. The former, because stagflation is often associated with cost-push inflation, of which commodity prices tend to be a key driver. The latter due to its safe-haven characteristics and higher sensitivity to inflation when accelerating from already-high levels.
Actively managed macro hedge fund strategies with a focus on commodities could also be well-positioned to pick up such momentum.
The devil is in the details
As no two starting portfolios look alike, and no single solution exists to protect against all inflation scenarios, investors and their advisors need to assess individual situations to determine appropriate action. In a generic sense, the mix of assets suited to the investor depends on specific criteria, such as:
• What inflation-sensitive assets already exist in the portfolio, such as equities and real assets
• Over what time horizon might these inflation-sensitive assets provide protection
• Under which economic scenario the portfolio is most vulnerable
• The type of inflation protection needed; that is, general CPI or specific types (education, healthcare)
• The liquidity budget and its impact on the ability to invest in private assets that have longer lock-up periods
• The governance budget and thus tolerance for complexity and monitoring of strategies
• The importance of responsible investment and non-financial considerations
To sum up, for the first time in a generation, investors need to seriously consider inflation. Although some disinflationary pressures remain, a number of factors have shifted in the past 18 months. The march of globalisation has stalled, governments are engaging in huge spending programmes and in some cases central banks have flexed their price-stability targets.
The range of potential inflation outcomes has increased. Traditional portfolios (dominated by equities and fixed income) offer limited inflation defence. Attaining exposure to a diversified blend of strategies, which seek to provide broad inflation protection in a number of different environments, offers investors the best chance of keeping the devil at bay.
---
*David Scobie is Head of Consulting (NZ) at Mercer Investments, a global wealth advisory and investment services business.
This article does not contain investment advice relating to your particular circumstances. No investment decision should be made based on this information without first obtaining appropriate professional advice and considering your circumstances.