Opinion: Global FX rate movements dominate the Kiwi dollar's track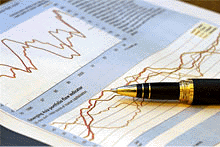 By Roger J Kerr
There has been plenty of talk over recent weeks about a double-dip recession in the NZ economy over the second half of 2010 and potential credit rating downgrades for the Aussie banks - factors that you would have thought would push the NZD lower in the FX markets.
Usual conventional wisdom is that "interest rates lower for longer" in NZ is negative for the Kiwi.
However these days the NZD/USD is not been driven by interest rate differentials; if we were, the Kiwi would be trading below 0.7000.
The movements of the USD against the Euro, Aussie $ and the Yen continue as the dominating influence over the NZD/USD rate, not domestic economic conditions.
Being categorised as a commodity currency in an environment of high hard and soft commodities helps keep the Kiwi up as well.
The continuing international macro themes of stronger US economic data, talk of interest rate increases in Europe (unlikely in my view) and tighter monetary policy in China not yet correcting commodity prices downwards are resulting in a whip-saw price action for the USD value against major currencies on global FX markets.
The EUR/USD rate back at $1.3700 is unlikely to be sustainable, particularly if there is a rush to safe haven currencies (that is, the USD) as Middle-East political tensions escalate.
Therefore, the NZD foray back above 0.7600 is viewed as being very temporary. To get NZD/USD rates below 0.7500 however will require Euro weakness well below $1.3500 against the USD.
The AUD/USD rate is back well above $1.0000 for the fifth time in recent months, the unrelenting gains in hard commodity prices and BHP's profits attracting AUD buyers. There is a swag of Australian economic data coming out over the next two weeks that appears as if the weaker than expected data could disappoint the markets.
On the basis of these data releases and a stronger USD against the EUR, the fifth AUD climb above $1.0000 to the USD should result in the same outcome as all the earlier attempts - a reversal back below $1.0000.
--------------------
 * Roger J Kerr runs Asia Pacific Risk Management. He specialises in fixed interest securities and is a commentator on economics and markets. More commentary and useful information on fixed interest investing can be found at rogeradvice.com