Why governments are looking for higher inflation and low interest rates to extinguish the unsustainable debt burden built up by generations spending more than they earned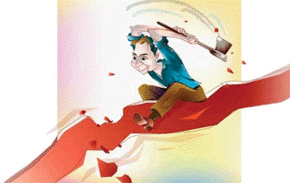 By Bernard Hickey*
It's time for me to commit heresy again by pointing out the dirty little secret of the developed world's economic policy makers.
They are trying to engineer a modest burst of inflation to quietly devalue the debt crushing the life out of their economies.
This strategy ever so delicately rewards borrowers and punishes savers.
It's not something central bankers and finance ministers will talk about openly, but behind closed doors this tactic is now being discussed and described as 'Financial Repression'.
It's a pretty sneaky trick and it goes something like this: the least disruptive way to get rid of debt is to reduce its real value by ensuring interest rates paid to term depositers and bond holders are lower than inflation.
This reduces the purchasing power of the savings by the time they are withdrawn and means borrowers can service the debt as their incomes rise in line with inflation.
Some savers might wonder how it's possible to ensure interest rates are lower than inflation rates.
There's a couple of ways central bankers and governments can do this and it's nothing new.
This strategy was successfully used during the 1950s and 1960s by the American and British governments to erode the real value of the debts they incurred from their own people during the Second World War.
At one end of the interest rate spectrum central banks cut official cash rates to zero or almost zero. That's what has happened since 2008 in Britain and America, despite consumer price inflation running at anything from 1% to 5%.
At the other end of the interest rate spectrum governments and central banks can force down bond yields through a variety of measures.
Central banks can print money and use that money to buy government bonds, which forces down bond yields. This is a process known as Quantitative Easing and is something the US Federal Reserve and the Bank of England have done to the tune of around US$2 trillion since 2008.
This week they both moved closer to fresh rounds of QE to help repress interest rates and boost inflation just enough to wash away the debt over the long run.
From the point of view of politicians and central bankers this strategy of printing money, repressing interest rates and rolling over the terms of existing debt is much more attractive than an almightly day of reckoning whereby debt is restructured, bank shareholders are wiped out and bank bond holders are forced to turn their bonds into shares.
The dramas convulsing the bond markets in Europe this year are a type of this 'day of reckoning' which is very disruptive for banking systems and financial markets. Many investors are calling on the European Central Bank and the 17 Euro-zone governments to enact their own policy of financial repression fueled by money printing to buy government bonds and boost inflation.
The debate about whether to use financial repression or to allow a massive debt restructure is a fascinating one because it often pits richer and more powerful special interests against the broader and poorer public. Increasingly, this debate pits an older generation of rich savers against a younger generation of borrowers.
Savers obviously want to be repaid in full and in a currency that allows them to buy the same or more when they do spend the money. They want borrowers to knuckle down and repay with interest.
But when borrowers have too much debt and are unemployed that repayment with interest can be impossible. At that point the two sides have to come to an agreement about how much of the debt needs to be written off to make it sustainable. That, essentially, is the predicament now facing Europe and America. How do they make the debt go away without crashing the system?
The least painless and simplest way is Financial Repression.
It avoids an ugly confrontation between savers and borrowers.
It also happens over such an extended period and in such an unobtrusive and insidious way that both parties can imagine they are sticking to their sides of the bargain.
So this is the solution the grown ups of the economics world have chosen and the events of this week confirmed that.
Ultimately though, a relatively timid period of inflation above interest rates may not be enough to wipe away debts currently ranging from 300% to 900% of GDP across America and Europe.
There's also the looming problem of unfunded healthcare and pension costs for a retiring swathe of babyboomers that will weigh on the young in the next 10-20 years.
The only solution that would reset the global economy and ensure the young are not crushed to death under these massive debts in years to come is a massive and almost immediate dose of inflation. It would wipe out a lot of the savings of an older generation, but do it in a way that didn't wipe out the economy completely.
This would be anathema to a generation of policymakers obsessed with lowering inflation to encourage saving.
But it may be the only way out the young will accept, if only they could vote for it.
----------------------------------------------------
This article was first published in The Herald on Sunday. It is reprinted here with permission.