By Roger J Kerr
The local interest rate market will be focusing on international events this week, particularly the annual central banker's bash at Jackson Hole, Wyoming where Fed boss Ben Bernanke will be delivering a major speech on "monetary policy since the GFC".
He will observe that the massive stimulus to the US economy he instigated has overall worked well and had the desired effect in terms of restoring economic confidence; however translation of that confidence into more jobs for the US economy has taken longer than expected.
Over recent weeks he seems to have convinced the Europeans to embark on the same level of monetary policy stimulus.
US 10-year bond yields increased to 1.8% from 1.4% following the stronger US economic data over recent weeks; however the more dovish tone to the FOMC minutes (for a meeting that took place on 31 July) has retuned bond yields to 1.68%.
The FOMC were looking for a significant improvement in the economy in the very short term to avoid the need for any further QE3-type monetary policy action.
The July jobs increase was a good start and the next employment number on 7 September for the month of August will need to be +150,000 as well to convince the Fed Governors that the US economy is improving under its own steam and does not need additional stimulus.
Local 10-year bond and swap interest rates increased in tandem with the US bond yields.
My view is that Asian central banks and sovereign wealth funds will be somewhat less keen to be aggressive buyers of NZ Government bonds over coming months compared to the lumpy investment inflows from them witnessed earlier this year.
Commodity prices have turned down and they would consider our currency toppy above 0.8000 to the USD as a result.
Swap end-users and traders are more likely to be on the fixed rate pay side of the market if US economic data continues to print solidly - that is, US and NZ long term interest rates higher.
As the chart below depicts, the NZ 10-year Government bond interest rate has broken above its downtrend line that has run since late 2010.
The US 10-year yields reached the downtrend break point of 1.8% a week ago, however they have bounced lower again after the FOMC minutes last week. US GDP growth for the June quarter this Thursday, plus the Bernanke speech Saturday morning our time and the 7 September US employment data will determine whether US yields threaten the 1.8% level again in a move upwards.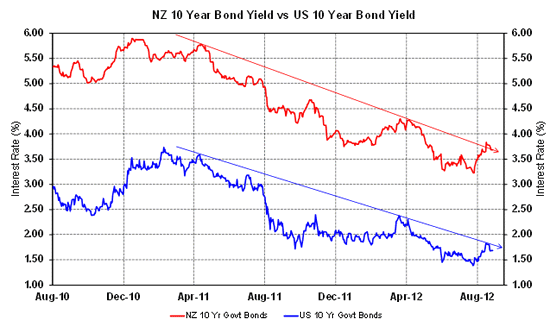 ------------------------------------------------------------------------------------------------------------------------------
To subscribe to our daily Currency Rate Sheet email, enter your email address here.
------------------------------------------------------------------------------------------------------------------------------
* Roger J Kerr runs Asia Pacific Risk Management. He specialises in fixed interest securities and is a commentator on economics and markets. More commentary and useful information on fixed interest investing can be found at rogeradvice.com