Friday's Top 10 with NZ Mint: Efficiency of services; Trojan Horse; suburban malls; Gerard Depardieu; housing stress; Fed minutes; P.J. O'Rourke; Dilbert, and more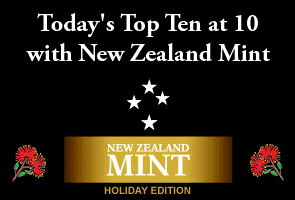 Here's my Top 10 links from around the Internet at 10:00 am today in association with NZ Mint.
Bernard is on his summer break and will be back on January 22, 2013, from Wellington.
As always, we welcome your additions in the comments below or via email to david.chaston@interest.co.nz.
See all previous Top 10s here.

1. Avoiding US-style tax/spend gridlock 
Through relentless and unforgiving price competition, both agriculture and manufacturing have become lean and efficient. They deliver most of what allows us to 'enjoy' our current standard of living. However, most of us actually work in service industries.
Unless the same pressure applies to services, we will face the exact same unsustainable debt pressures the US is facing - and that is because the most costly 'services' are government sevices - health, education, social welfare. We can see the future in the US. It is not something to look forward to.
We are living in age of wealth transfers to very high income health professionals, and moderately high income educators. I think their individual incomes can rise, but some modest efficiencies will be required over an extended time-frame. (And they will squeal. Remember the teachers unions own the Labour Party.)
Ken Rogoff has written about the need to urgently find a way to increase the pressure to innovate in services. In my view, it may be the banks who could show the way - they are big service providers who locally understand the problem, and are starting massive efficiency projects. They know lending growth has evaporated and are under threat from non-bank payments innovators like Google and telecom companies, and they only way they will save their businesses is through organisational efficiency. They have a real sense of urgency in these projects; and no-one will give them any sympathy if they fail.
How come government services can't adopt that same drive and imperative? Without it, taxes will rise and rise. Here is the Rogoff worry: the full piece is worth reading, and thinking how these issues will play out in New Zealand.
Without more ideas about how to innovate in the provision of government services, battles such as one sees playing out in the US today can only become worse, as voters are increasingly asked to pay more for less. Politicians can and will promise to do a better job, but they cannot succeed unless we identify ways to boost government services' efficiency and productivity.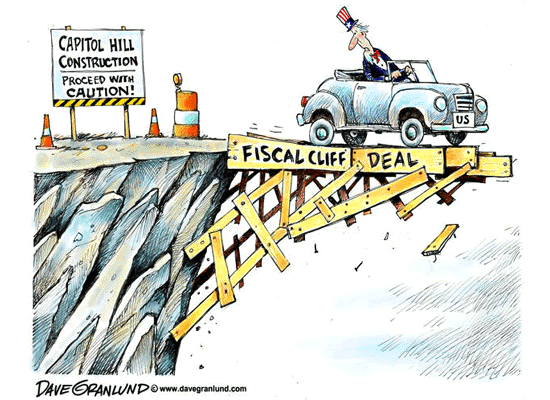 2. China services
Growth in China's increasingly important services sector accelerated in December at its fastest pace in four months, adding to signs of a modest year-end revival in the world's second-largest economy. More from Reuters:
The official manufacturing PMI survey in December matched November's seven-month high of 50.6, the NBS said on Tuesday, while a complementary survey with a greater focus on the private sector reached 51.5, its highest since May 2011.

China's fast-growing services industry has so far weathered the global slowdown much better than the factory sector, with the PMI consistently signaling healthy expansion and hitting a 10-month high of 58.0 in March. That's partly due to a maturing economy as well as a historic shift in the last decade leading a majority of Chinese to live and work in cities rather than the countryside. China's services sector generated 43 percent of China's GDP in 2010 and by 2011 provided nearly 36 percent of new jobs, exceeding the agricultural sector for the first time.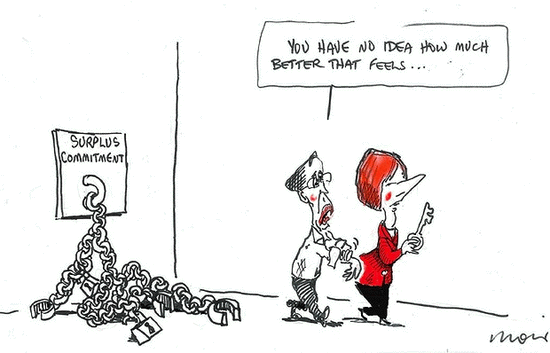 3. Is Huawei a Trojan Horse?
Almost a third of the planet is thought to be using its products and yet few know much about the highly secretive Chinese telecommunication equipment company Huawei. Should customers be concerned about the company founder's military background or the security vulnerabilities of its products? Spiegel Online investigates:
Do you own one? Are you concerned?
The first problem is just saying the company's name. Huawei is pronounced wah-way. It means something like "China acts!"

The second problem is its patriotic swagger. The telecommunications networking equipment and mobile phone supplier, based in the southeastern Chinese city of Shenzhen, is accused of secretly spreading high-tech spying devices around the world, having close ties with the Chinese military and supplying products to pariah states like Iran. A recent report by the Intelligence Committee of the United States House of Representatives warned against using the company's products for critical telecommunications infrastructure. The Australian government has also blocked the company from bidding for contracts related to the construction of its national broadband network.

It would appear that Huawei cannot be stopped, though.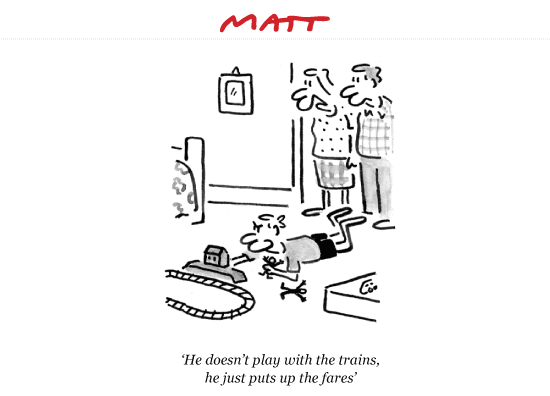 ​
4. Today's raw market data ...
A quick holiday update:
as at 11:10am

Today


9:00 am

Jan 3
Four
weeks ago
One
year ago
 
 
 
 
 
NZ$1 = US$
0.8284
0.8335
0.8289
0.7771
NZ$1 = AU$
0.7909
0.7938
0.7929
0.7624
TWI
74.58
74.77
74.00
69.36
 
 
 
 
 
Gold, US$/oz
1,663
1,688
1,615
1,613
Dow
13,395
13,320
13,066
12,408
Copper, US$/tonne
7,915
7,915
8,021
7,661
Volatility Index
14.73

15.31

16.58
22.97
5. A trend NZ retailers should worry about
US malls are in trouble. Vacancy rates are rising and effective rents are falling. They say they are now 'overbuilt'. The reason? So much retailing is going on-line. Maybe there is a place for a few premier malls, but the future looks bleak for most suburban malls, if the US trends are a precursor. America has too many malls.
When will the trend show up here - or is it here already? Be careful if you are attracted to a syndication as a property investment - the yield may not last. More from AtlanticCities: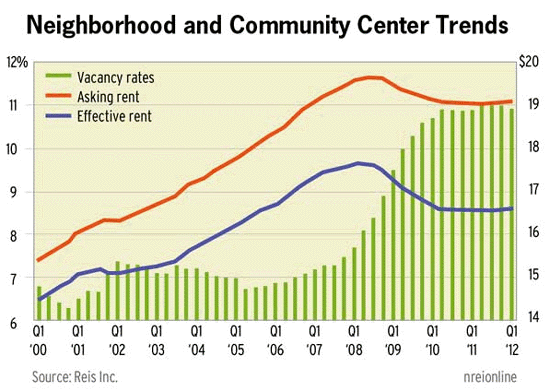 ​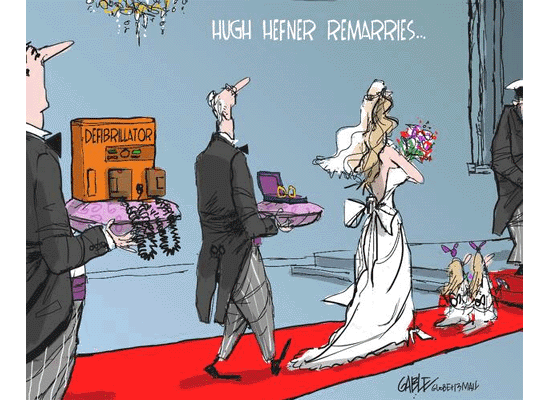 6. Odd stuff 
Politicians usually forget (or ignore) that most people will respond to the incentives offered. France's attempt to impose a top tax rate of 75% is no exception. If you want changed behaviour, change the incentives. Expecting people to do otherwise is naive. There are consequences to every incentive, many of them unintentional, some of them quite odd, like this one reported by Reuters:
Russian President Vladimir Putin has granted citizenship to Gerard Depardieu, the French movie star who is quitting his homeland to avoid a tax hike on the rich, the Kremlin said on Thursday. The "Cyrano de Bergerac" actor bought a house across the border in Belgium last year to avoid a new tax rate for millionaires in France planned by Socialist President Francois Hollande but said he could also seek tax exile elsewhere.

Kremlin spokesman Dmitry Peskov said Depardieu had applied for citizenship after Putin told reporters last month the actor would be welcome in Russia. "The citizenship could not have been granted to him without (such an) appeal," Peskov added. Russia has a flat income tax rate of 13 percent, compared to the 75 percent on income over 1 million euros ($1.32 million) that Hollande wants to impose in France. Asked, whether Depardieu had plans to move to Russia, Peskov said it was up to him and was "absolutely not mandatory". Putin did not speak to Depardieu before taking the decision, he added.
​
7. Sovereign bond issuance falling
The world's leading economies will have US$220 billion less sovereign debt to refinance in 2013, according to a Bloomberg survey. Somewhat surprisingly, even Japan's 2013 refinancing will be lower than 2012. But the big bond hog is the US. The survey is of the G7 nations, plus the BRICs.
The US is expected to refinance 39.3% of all 2013 refinancings in this group. On a GDP basis the US has 'only' 31.9% of the economic ctivity of the eleven nations.
| | | | | | | | |
| --- | --- | --- | --- | --- | --- | --- | --- |
| Sovereign bond refinancing |   | 2013 | % | 2012 |   | GDP | % |
|   |   | US$ bil |   | US$ bil |   | US$ bil |   |
| USA | + | 2,900 | 39.3 | 2,600 |   | 14,991.3 | 31.9 |
| Japan | - | 2,600 | 35.2 | 3,000 |   | 5,870.4 | 12.5 |
| Italy | - | 414 | 5.6 |   |   | 2,195.9 |   |
| France | - | 357 | 4.8 |   |   | 2,775.5 |   |
| Germany | - | 283 | 3.8 |   |   | 3,604.1 |   |
| Brazil | - |   |   |   |   | 2,476.7 |   |
| UK | - |   |   |   |   | 2,429.2 |   |
| Canada | + |   |   |   |   | 1,736.9 |   |
| India | + |   |   |   |   | 1,897.6 |   |
| China | + |   |   |   |   | 7,203.9 |   |
| Russia | + |   |   |   |   | 1,857.8 |   |
| ------------------- |   | ---------- | ------- | --------- |   | ------------ | ------- |
| G7 + BRICs |   | $7,380 | 100.0 | $7,600 |   | $47,039.2 | 100.0 |
| World (per UN) |   |   |   |   |   | $70,201.9 |   |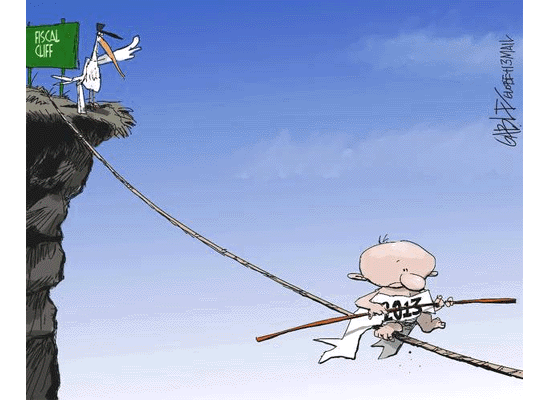 8. Fed minutes move markets
The release today at about 8:00am of the US Federal Reserve's FOMC minutes for its December meeting moved the markets noticeably. Gold fell, the US dollar rose, but US stocks took it in their stride. What surprised was the level of discussion around ending its lates round of asset purchases. You can read these minutes here ». Here is an early summary from the NY Times:
Federal Reserve officials spoke at a December meeting about ending a new round of asset purchases by the middle of 2013, less than a year after the start of its latest effort to drive down unemployment. The members of the Fed's policy-making committee did not settle on a timetable. Some argued that purchases should continue until the end of the year, and others said it was too soon to make a judgment, according to a brief account of the meeting that the Fed published Thursday after a customary three-week lag. But the support for an early end date reflected uneasiness among Fed officials about the effectiveness of asset purchases in stimulating the economy and about the potential costs, including the disruption of financial markets.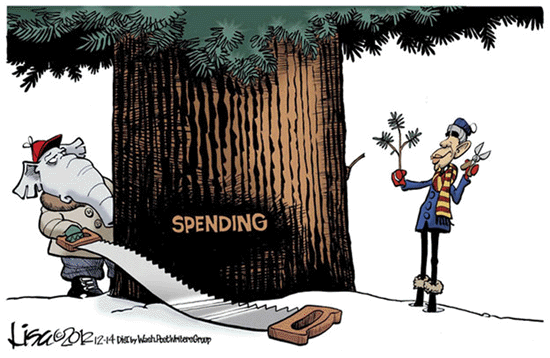 9. Housing stress relief
We monitor the number of mortgagee listings on TradeMe and realestate.co.nz each Monday morning, and have noticed a sharp decline in them during December. Normally, the low point in the year occurs at the end of February. Terralink publish data on the actual number of mortgagee sales but this data lags considerably - the latest is for June 2012.
However because the data from our records and Terralink's goes back many years, we can correlate it reasonably well and this enables us to estimate the Terralink series through the end of December 2012. And that confirms the listing trend.
Mortgagee stress is evaporating in our housing markets. We expect the number of houses sold as mortgagee sales in December to be about 100 and this will be the lowest in more than four years, since mid 2008. We expect this level to keep declining until February.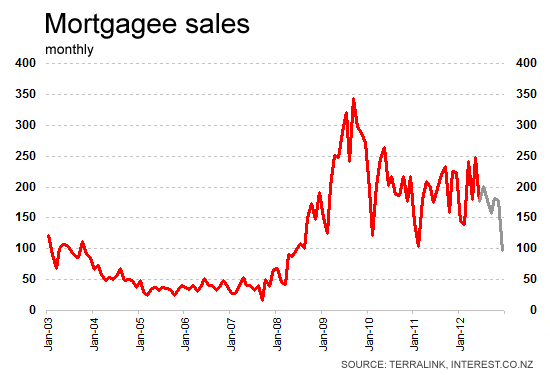 10. Today's quote
"Giving money and power to government is like giving whiskey and car keys to teenage boys." P. J. O'Rourke