Complex, misunderstood regional economies range from triumphant to troubled, says NZIER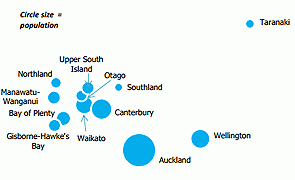 Content supplied by NZIER

Once-prosperous New Zealand provinces are falling into the economic doldrums as politics and policies focus on the urban powerhouses of Auckland and Wellington.
"Regional considerations need greater prominence in the political and economic debate," says New Zealand Institute of Economic Research (NZIER) principal economist Shamubeel Eaqub.
"As the country heads towards a general election, Auckland's and Wellington's views and needs are well-heard. But what about Taranaki, which has the highest GDP per capita in the country? What about Northland and Gisborne-Hawke's Bay, which rank near the bottom on many economic measures?"
Eaqub and his colleague John Stephenson are authors of a new NZIER report, Regional Economies – shape, performance and drivers. The report, released on Saturday 12 July, is a stock-take of New Zealand's regional economies. It warns future social and demographic trends – such as continued urbanisation and ageing populations – will favour complex, urban centres to the detriment of regional communities.
A typical Auckland family has an income of around $77,000 a year, compared to $60,000 in the Waikato and $47,000 in Northland. These gaps will widen if economic prosperity in provincial economies does not improve.
The interplay between regions and the main centres is complex. For example, proximity to Auckland can be a boon (as it has been for the Waikato) or bring limited benefit (as is the case for Northland). In terms of policy, each region has unique needs. While the Waikato requires innovative and effective transport policies, Northland urgently needs better outcomes from education, training and welfare.
Eaqub says measures of success must be fluid, depending on the aspirations, resources and capabilities of each province: "Every region can't boom on every measure."
Regional prosperity will be the focus of Local Government New Zealand's annual conference on July 21 in Nelson. Eaqub is a keynote speaker and will be drawing on the new NZIER report and his upcoming book on regional economies, titled Growing Apart.
Eaqub says he will encourage conference attendees to better understand their regions. "The regional conversation can quickly turn into one of envy, blame or benign neglect. We are a deeply connected country needing to work together. But there are too many differences to apply the same solutions to different problems."
You can download the Report here.