Kirdan Lees on the skills to pay the bills, 7 reasons why Aussie house prices are so high, blast off for US interest rates? Dude, where's my inflation?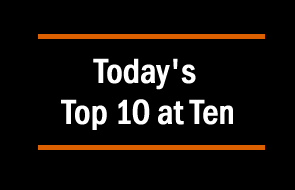 Today's Top 10 is a guest post from Kirdan Lees, principal economist at the New Zealand Institute of Economic Research.
As always, we welcome your additions in the comments below or via email to david.chaston@interest.co.nz.
And if you're interested in contributing the occasional Top 10 yourself, contact gareth.vaughan@interest.co.nz.
See all previous Top 10s here.

1. Engineering – the skills to pay the bills
Choosing what to study is hard work. There can be lots of objectives and the uncertainty is massive.
But better information is always real handy. FiveThirtyEight looks at the American Community Survey that shows the job outcomes of recent US graduates.
From an economic perspective, Engineering – and petroleum engineering – pays the big money… (Some relevant New Zealand data from Careers New Zealand is here.)
The typical recent college graduate with a full-time job earns about $36,000 a year, according to the American Community Survey. But graduates with a degree in petroleum engineering, the highest-paying major, earned a whopping $110,000. That's five times the $22,000 median salary at the bottom end of the spectrum, library science. And that's just for graduates lucky enough to land full-time jobs.

2. Learning from the classics
Jeff Guo at the Washington Post reports on recent research that uses the careers of classical composers to quantify the agglomeration benefits that come from working near other like-minded individuals.
Turns out the gains are pretty big – almost one-third of the output of key composers could be attributed to locating in a city where composers clustered together.
Whatever the spillover benefits to the host city, clusters arise because people in the same industry see an advantage to working and living in proximity. It's easier to share techniques and become exposed to more diverse ideas. These are the same reasons why classical music composers liked living in the same places, Borowiecki says. Beethoven moved from Bonn to Vienna to study with Haydn; at 21, Chopin packed up for Paris, where he became frenemies with Liszt.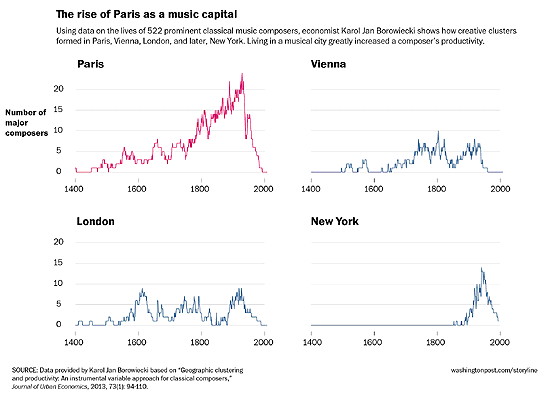 3. Seven reasons why Australian house prices are so stubbornly high
I love Australia and we can learn a lot from an economic game of spot-the-difference.
Housing markets are driven by national, regional and local factors that make a cross-country comparison ripe for learning.
Ross Guest at the Conversation points to seven reasons why Aussie prices remain overvalued: (1) negative gearing, (2) CGT discounts, (3) concessions for the wealthy, (4) cheap money, (5) rising household incomes, (6) inner city living and (7) supply, well, population growth outpacing dwelling approvals.
The value of Australia's residential houses has increased dramatically in the past two years…though negative gearing was designed to stimulate new housing construction, since it was reinstated in 1988; investment in existing dwellings has far outpaced investment in new housing.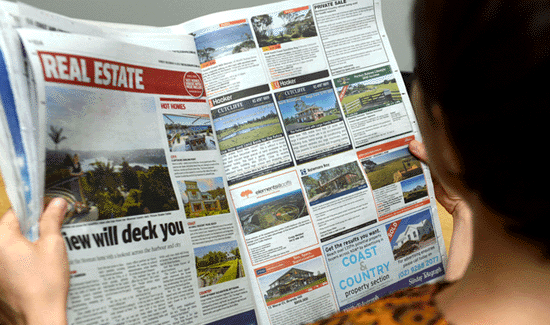 4. Aussies macroprudential policy: fit-for-purpose or ambulance at the bottom of the cliff?
And with house prices at dizzying heights, more questions are being asked of Australia's macroprudential framework and what can be done to deal with the potential fallout from sky-high prices.
The Wall Street Journal suggests the RBA will keep talking up the risks but is unlikely to press the trigger on macroprudential reform any time soon.
The alerts on property prices have turned attention to the release next week of the central bank's Financial Stability Review, a wide ranging report card on the health of banks and the efficiency of the financial system. The RBA publishes the review twice a year.

Next week's review provides a natural platform for the RBA to lay the groundwork for a macroprudential step such as additional mortgage lending clamps.

But the bank is more likely to maintain that the current prudential regime in Australia is working well and interest rates are set appropriately. It will also argue that the housing boom is mostly confined to Sydney and, to a lesser extent, Melbourne. Tailoring new regulation to target the problem in Sydney is improbable.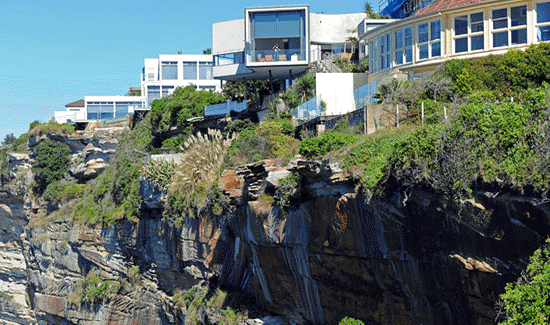 5. And the bubble might not just be in housing…
The Guardian notes a couple of leading tech investors are getting scared at the rate of risk and investment into gleaming new start-ups. Is there a bubble in start-ups brewing? They look closely at Evan Spiegel's Snapchat (below) – now valued at $10 billion in spite of not yet turning a profit.
Bill Gurley, partner at Silicon Valley-based investor Benchmark, sounded the horn of doom on Monday warning that "Silicon Valley as a whole or that the venture-capital community or start-up community is taking on an excessive amount of risk right now."

In an interview with the Wall Street Journal Gurley, whose investments include OpenTable, Uber and Zillow, said start-ups were taking on risks in a way "unprecedented since 99".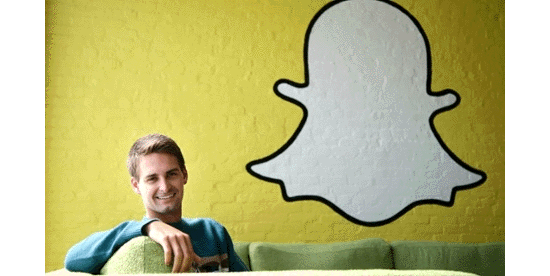 6. Would you like fries with that new condominium?
The US construction sector is powering away – more builders see favourable conditions that ill-winds.
But new to the street is the practice of extending a range of extras from cheaper financing to upgrading the flooring to make the sale. Will we see similar practices in New Zealand? Free yukkas with a good home?
Builders are so giddy that the National Association of Home Builders' monthly index of home-builder confidence rose by four points in September from August to 59, the index's highest reading since 2005. Any figure exceeding 50 indicates that more builders consider market conditions favourable rather than bad.

One hitch amid the hoopla, though, is that the increase in sales volume likely will cost investors while it benefits home buyers. The reason: Builders increasingly are goosing sales by using more sales incentives. Those can include free upgrades of amenities like premium flooring and financial assistance for the buyer such as covering closing costs. That helps the buyer, but it crimps builders' profit margins.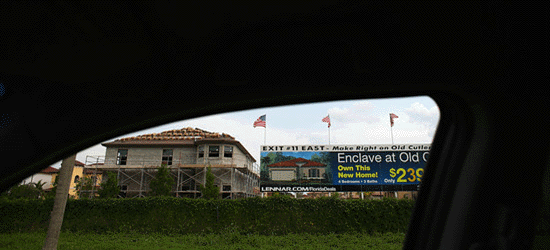 7. US Interest rates ready for blast-off?
The latest rhetoric from the Federal Reserve points to interest rates going up – eventually. Of course, we've been here before. Francesco Columba and Jarkko Turunen at the IMF think that it might be a while longer before the Federal Funds Rate gets back up off the floor.
After more than five years of exceptionally low interest rates, the U.S. Fed is getting closer to the point of managing a lift-off of policy interest rates from close to zero. As of today, lift-off is expected to take place by around mid-2015.

But this is not set in stone. The Fed has repeatedly emphasized that the timing will depend on the state of the U.S. economy. If things look better, policy rates may increase earlier. Conversely, weaker than expected data may well mean that interest rates will move up later.

In our view, based on our most recent economic projections, there is some scope for policy rates to stay at zero for a little while longer than mid-2015, given the remaining slack in the labor market and still low inflation.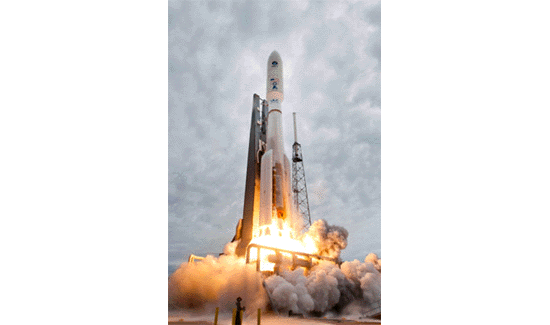 8. Can Auckland learn from 5 innovative cities?
Ex-New York mayor Michael Bloomberg has just handed out the innovation gongs for five cities with the most creative ideas for improving city life including "youth unemployment, ageing populations, civic engagement, environment and public health and safety".
Barcelona came top with a support network for the elderly but not sure how the judges went past the Kirklees social capital model for sharing assets. Maybe breaking out the communal lawnmower could be the solution to who takes care of the berm?
Cities were challenged to come up with creative solutions to critical urban issues, such as youth unemployment, ageing populations, civic engagement, environment and public health and safety.

Barcelona's project focused on improving the quality of life for its growing elderly population with the creation of a support network that would include relatives, friends, social workers and volunteers.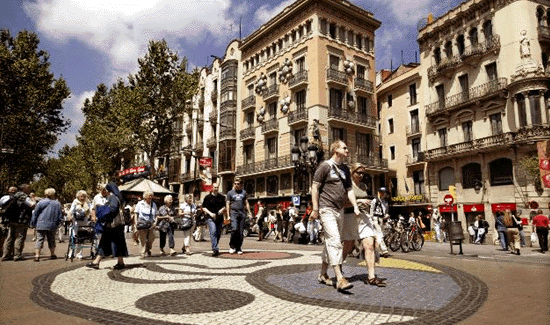 9. US Poverty falls – yes really
Well, maybe a little. The numbers just out from the Census Bureau show a decline and a small fall in the fraction of the US population in poverty. The usual caveats abound in their report available here.
The poverty rate declined last year for the first time since 2006, the Census Bureau reported on Tuesday. But at the same time, it said, there was no statistically significant change in the number of poor people or in income for the typical American household.

The report showed significant improvements for children. The poverty rate for children under 18 declined last year for the first time since 2000, the bureau said, and the number of children in poverty fell by 1.4 million, to 14.7 million.

Over all, the bureau said, 14.5 percent of Americans were living in poverty last year, down from 15 percent in 2012.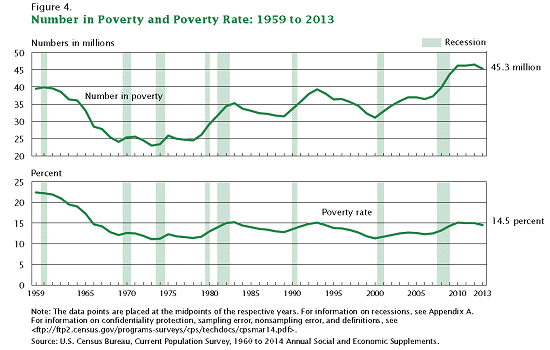 10. Dude, where's my inflation?
Globally, inflation has been much lower that most analysts predicted a couple of years back.
That's been particularly true for the ECB where the Wall Street Journal report inflation plumbed an eye-watering (well, for central bankers) 0.4 % on an annual basis in August.
Many firms are struggling to pass on price increases to consumers and not just in the euro area; inflation has been anaemic in a whole host of countries.
Little wonder interest rates are so low.
The annual rate of inflation in the 18 countries that use the euro was unchanged at 0.4% in August, as the European Union's statistics agency revised a previous estimate that recorded a decline to 0.3%

However, the annual rate of inflation in the eurozone remained at the lowest level since Oct 2009.

The latest figures released by Eurostat also showed that the annual rate of inflation across the 28-member EU fell to its lowest level since Oct. 2009 in July, and was unchanged in August, an indication that very muted price rises threaten the economic recovery beyond the borders of the eurozone.