Jenée Tibshraeny digs beneath the glitz of ANZ's controversial new GAYTMs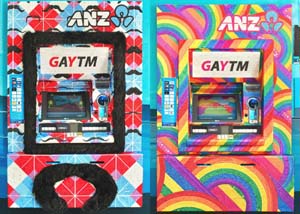 Why do you bank with your bank?
Were you lured by the social values it markets, or did you make your decision after considering its interest rates and policies before doing some number crunching?
Are you ditching the bank that leaves you with the most money in your pocket, and opening an account at ANZ because it's supporting the gay, lesbian, bisexual and transgender (GLBT) community by decorating its ATMs with glitter and diamantes?
I doubt it.
This begs the question, are banks taking their advertising campaigns too far, providing social commentary on the likes of sexuality, gender equality and cultural diversity?
After all, home loans and term deposits have little to do with who you get into bed with.
Yes, banks are out there to make a profit, and it would be naive to think consumers aren't swayed by branding.
If banks are seen to understand our personal lives, we're more likely to trust them with our personal finances, right?
Like choosing Fairtrade coffee over regular coffee for example, consumers are increasingly keen to support businesses with a "social conscious".
And like choosing to "open happiness" by opening a Coca Cola, consumers have always been swayed by the lifestyle advertisers connect to a product.
Why should we expect banks to be different, and base their advertising on their services alone?
As a consumer I would rather my bank instill confidence in me that it's taking care of my money, than get distracted trying to win over the masses by taking a higher moral ground on a social issue.
If I want to express my support for the GLBT community, I'll attend the Pride Festival, not open an account with ANZ.
Furthermore, I find ANZ's way of advocating acceptance of GLBT people counter-productive.
Separating this community out, only exaggerates its difference, and portrays it as different to the norm.
I can't speak for a GLBT person, but using a pink ATM for example, isn't going to make me feel more comfortable or accepted as a woman. If anything, it would make me feel inferior as I'd be distinguished from the status quo.
ANZ's GAYTMs welcoming customers with the line, "Welcome Petal", manipulates a gay stereotype to a point I believe is a bit over the top.
You could argue it's all just a bit of fun and people need to stop being so politically correct, but ANZ's set a new precedent that's worth discussing.
I maintain a better way for banks to express their GLBT friendless, is by depicting gay couples, alongside heterosexual couples in their mortgage ads for example.
Portraying something as normal, or mainstreaming it, shows real acceptance.
A 2012 Westpac ad did this. The Advertising Standards Authority dismissed a complaint suggesting it promoted what was then interpreted as 'illegal' gay marriage.
Advertising campaigns aren't the only ways banks are promoting their social conscious.
ANZ, Westpac and ASB have been awarded a Rainbow Tick, by completing an external audit and quality improvement programme designed to help organisations be welcoming and inclusive of people of diverse gender identity and sexual orientation.
I accept society isn't going to accept GLBT people overnight.
Sadly some people are still getting used to seeing women or immigrants in business leadership.
Some work undoubtedly needs to be done to even the playing field for minority groups, and ANZ has done Matariki and Diwali themed ATMs.
But GAYTMs… come on ANZ! As New Zealanders, I thought we'd moved beyond this.