Bernard Hickey cites new research showing that bank leverage for mortgage lending has increased dramatically since new Basel rules in 1989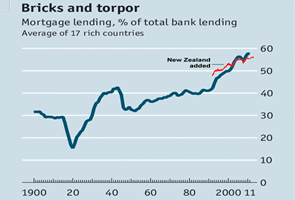 By Bernard Hickey
Why are house prices so ruinously high in New Zealand?
It is the question everyone asks every day in one forum or another. Is it too much migration or to few controls on foreign buying?
Bank executives certainly mused this week in a KPMG report that these foreign cash buyers were pumping up asset values.
They seemed most disappointed that this surge in demand did not involve a loan from a bank.
Is it not enough houses built in Auckland?
Reserve Bank Governor Graeme Wheeler made that conclusion in a select committee hearing this week when he concluded that a lack of new dwelling units, particularly in high rise apartment blocks in the leafy suburbs of Grey Lynn, Ponsonby, Parnell, Mt Eden and Epsom were responsible for the dangerous over-valuation.
He said NIMBYs (Not In My Back Yard types) should be put back in their boxes.
Is it way too many discounts from banks on fixed mortgages or Is it the lack of a capital gains tax?
Andrew Little has concluded the mere mention of a capital gains tax is too politically explosive to be associated with when asking for the right to govern and John Key certainly leapt on the opportunity to paint such a tax as an un-New Zealand death duty that most New Zealanders would reject as an unpatriotic attack on a sacred New Zild right of wealth creation.
So New Zealand's policy makers have decided that even if a lack of a capital gains tax is the reason, it's too sensitive to touch.
All of these reasons for over-valuation may be true and are certainly part of an intense political and economic debate New Zealand has had for years.
But what if the reason was closely connected to a bizarre European city that is about the size of Hamilton that no-one has heard of?
Maybe the astonishing valuations of Auckland houses have nothing to do with the fundamentals of supply of housing and demand of incomes. Maybe they're all about the ability to borrow more money to bid up prices.
That's the deeply disturbing conclusion of a an explosive new academic paper by economists from the US Federal Reserve and the Universities of California and Bonn.
They argue that banks have been lending much, much more to buyers of houses since 1989, which has contributed to the amazing doubling and trebling of house prices since then in most developed countries. It's the 'blame it on Basel' theory.
This Hamilton-sized city is situated at the point on the European map where Switzerland, France and Germany conjoin. It's the place in the world of financial diplomacy where bankers of the world get together to decide the rules on how much capital banks must put aside to back loans they make to all sorts of customers.
In 1989, the Bank for International Settlements (BIS), which is based in Basel, ruled that mortgages were the least risky form of borrowing and therefore banks had to put aside the least amount of capital for these loans.
The argument was that home owners would of course pay their mortgages first, which meant these loans would be repaid first and therefore banks could leverage up for mortgages. The end result of this piece of financial bureaucracy was an in-built bias in favour of mortgages.
It meant that banks were biased in favour of loans to home buyers, rather than business builders.
They offered lower interest rates and friendlier terms to home buyers rather than business builders.
The result was a sharp increase in the proportion of lending to home buyers, rather than business borrowers, since 1989.
The ratio of mortgage lending to GDP rose from two times GDP in the developed world in the late 1980s to about six times GDP now. Think about that for a moment.
Banks were prepared to lend three times as much for the same piece of property and the same income attached to that property as before 1989. Nothing had changed apart from the signal from the regulator and lower interest rates. New Zealand is part of this trend.
Reserve Bank figures show the proportion of lending linked to mortgages has risen from close to 40% of lending in the early 1980s to closer to 60% now.
This is a crucial piece of financial arithmetic and will no doubt factor in the thinking of the Reserve Bank as it considers new Macro-Prudential measures to slow mortgage lending, on top of the high LVR speed limit.
All around the developed world, central banks and financial regulators are grappling with this historical accident linked to the city of Basel. Many are trying to unwind the Basel experiment.
We will find out in the months to come if the Reserve Bank is as committed to reducing the leverage in New Zealand's banking system to mortgages.
Meanwhile, the debate about housing should include the questions around how much money banks pump into property.
-------------------------------------------
A version of this article was first published in the Herald on Sunday. It is here with permission.