Observations from Brazil, the pitfalls of having more money than sense, living frugally, the Chinese-sounding name debacle, creating ethical robots and more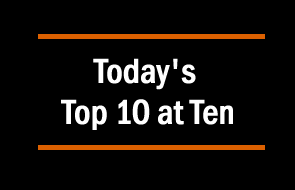 Today's Top 10 is a guest post from Laura McQuillan. Laura is a freelance journalist, who's gone from working as a Newstalk ZB political reporter, to freelancing in Brazil since the beginning of the year. She's currently covering the lead-up to the Rio 2016 Olympics, between Caipirinhas at Copacabana Beach.
We welcome your additions in the comment stream below or via email to david.chaston@interest.co.nz.
If you're interested in contributing the occasional Top 10 yourself, contact gareth.vaughan@interest.co.nz.
See all previous Top 10s here.
1. The Olympics are on Rio's doorstep, but the place is a mess. I, for one, am fascinated to see how they manage to clean it up in time. Parallels have been drawn with Greece's shambolic hosting effort in 2004 - and the Games are, at least in part, to blame for the ancient country's current woes. Politico reports:
"There is no better place to contemplate ephemeral human ambition and a crumbling national economy than a ruined building … Athenians have plenty of choice. They can, of course, climb up to the Parthenon, but perhaps a better choice would be the overgrown Olympic tae kwon do, beach volleyball or softball stadia or the waterless Olympic swimming pools and canoe and kayak facilities."
From The Guardian's photo series on the abandoned venues.
After the 2012 World Cup, many of Brazil's dozen new stadiums were left to ruin, but Rio 2016 officials promise there'll be no repeat of that after next year's Olympics.
2. Meanwhile, Brazil's economy is in a tailspin, with the country's rich and powerful implicated in the widening Petrobras corruption scandal. Among those recently arrested is billionaire businessman Marcelo Odebrecht, whose company is building the biggest Rio 2016 projects here: the athletes' village, Olympic Park, sports venues, a new metro line, a new airport runway. The spiralling scandal couldn't come at a worse time for Brazil's embattled government, amid mounting speculation President Dilma Rousseff could be impeached, and after her predecessor was formally placed under investigation in the Petrobras saga. On Friday, the Real hit a 12-year low against the US Dollar, and there's chat of a downgrade in the near future. 
3. My new city may be the home of Carnival, but when it comes to cerveja, the options are pretty terrible. But craft beer is slowly starting to take off and New Zealand's own Moa is looking to capitalise on that growth. Despite many Brazilians thinking Nova Zelândia is in Europe, they're huge fans of the All Blacks, Maori tattoos and, it seems, our beer! 
4. If, like me, you're a terrible, nervous driver, this will make you want to retire from the road: Fiat Chrysler launched a mass recall of Jeep Cherokee vehicles after hackers figured out how to "wirelessly carjack" drivers. Wired's Andy Greenberg was driven into a ditch in the name of journalism.
5. On a related note, it's only a matter of time until sentient machines kill us all. The Wall Street Journal asks if we can create an ethical robot. 
Should your car swerve to save the life of the child who just chased his ball into the street at the risk of killing the elderly couple driving the other way?
"Thinking robots" are pretty high up on my "most terrifying things" list. My favourite podcast station, Radiolab (which has taught me almost everything I know), has a fascinating episode on just this, where a reporter sat down for an interview with the world's most sentient robot. 
6. Giving up my day job has really taught me a thing or two about living frugally: here in Rio, a month's rent costs almost exactly the same as a month's wages for many people. Like many people, I've never bothered to keep track of my spending, and I've frittered away plenty of my income.
I found this article - about a young woman who lived on just 51% of her income – an interesting experiment. You won't find me making my own cleaning products, though.
7. Look up "hot mess" in the dictionary, and you'll find a recent photo of Donald Trump. The mogul illustrates the pitfalls of having more money than sense. Fingers crossed he'll ditch the Republicans and make a third-party run for the presidency, as TIME suggests. Our future depends on it. 
Donald Trumps hair piece fleeing to the Mexican boarder. pic.twitter.com/PmjPwOHvtg

— You had one job (@_youhadonejob) July 23, 2015
8. I can totally relate to China's recent economic issues: I get paid, go completely nuts clothes shopping, panic, then cut up my credit card. Luckily, I'm not an emerging economy.
Experts everywhere are weighing in on what on earth the Chinese government is up to, and what it means to folks at home – both in China, and around the world.
Meanwhile, politicians and corporations inside China are offering somewhat nutty explanations:
Lin Zuoming, chairman of the Aviation Industry Corporation of China, said recently that the market crash was the result of a scheme by hostile foreign investors to undermine the country's reforms and overthrow the party.
9. Why are we Kiwis so afraid of Chinese-sounding names? It seems nothing in New Zealand is safe:
Overwhelmingly Chinese surnames in that list of pie award winners. How dare they come here and make delicious food for us to eat?!?

— Alexia Russell (@AlexiaRussell3) July 21, 2015
10. While most Kiwi government agencies and ministers seem to think social media exists only to share links to their latest boring press releases, Nasa has set a new standard for good government social media engagement. The space agency has more than four million followers watching every mind-blowingly-beautiful post, and did an exclusive deal with Instagram for the first photo from New Horizons' Pluto fly-by:
Nasa also has a mobile app, a service that sends you alerts when the International Space Station is flying over your house, and soon it'll invite us all to move to a new planet!