Siah Hwee Ang says China is taking aviation matters into its own hands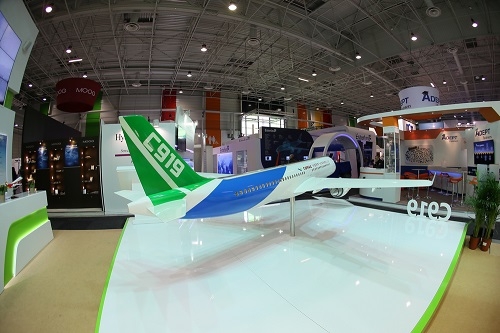 By Siah Hwee Ang*
Internationalisation, urbanisation, clustering, city developments and strategies—what's the common thread among these catch phrases in China's development?
Transportation infrastructure, and especially aviation, is no doubt central to the above.
China is not willing to sit back and allow any potential aviation bottlenecks to occur.
Hence the introduction of the prototype of its first commercial passenger plane—the C919 earlier this month.
The C919
The C919 can seat 168 passengers and has a range of up to 3,444 miles, which is about the flight distance from Auckland to Perth, Australia.
It is expected to take its maiden voyage in 2016. As the model rolls out over the next few years, it will bring competition to the lucrative market currently dominated by Airbus A320 and Boeing 737.
Interestingly, while the C919 is manufactured in China, all the parts are outsourced from international suppliers. Domestically, more than 100,000 people from more than 200 companies in 22 provinces have participated in this seven-year project to date.
Why aviation for China?
For many years, the airplane manufacturing sector has been operating as an oligopoly—where there are many buyers (airline companies) and few sellers (airplane manufacturing companies).
So why now? Why would China be interested in this market?
Some view this market entry as China's challenge to the dominance of the European consortium of Airbus, and Boeing from the U.S.
Maybe. But China has just recently agreed to buy another 300 planes from Boeing and another 100 from Airbus, worth a total of about US$48 billion. So the theory about challenging dominance seems increasingly unlikely.
Another view is that for a large aviation market like China, it does not make sense to rely on international airplane suppliers alone.
This view is fair to a greater extent.
But a third explanation—that there's a bottleneck somewhere in the airplane manufacturing sector—seems the most plausible. And this bottleneck might in fact cause a major slowdown in China's development and growth.
Boeing has an incredible US$490 billion order backlog—the equivalent of five years' worth of revenue at 2014 levels. At a production rate of 12 per month, the backlog of 850 orders for the latest plane, the Dreamliner 787, means that the planes are sold out until the year 2020 at least.
Airbus' backlog now totals more than 6,300 commercial planes, or more than 10 years of production at its current pace of around 625 new jets a year. Its backlog is worth around US$1 trillion.
So China's recent orders are going to take a while to be operational.
Meanwhile, the aviation market in China is undergoing fast development. Monthly growth in air traffic in China averaged around 10.51 percent in 2014, as compared to the global growth rate of 5.84%.
There are around 28 airlines that provide purely domestic flights and 13 that fly both domestically and internationally.
The number of regional airports in China rose from 111 in 2005 to 160 in 2013, and the number of routes to regional airports grew from 568 to 1,512 in the same period. Overall, in the period 2011-2015, China has built 82 new airports and upgraded 101 existing ones.
Given the backlog faced by international airplane manufacturers, it is no surprise that by the time it was launched there were already 517 orders for the C919, mostly from domestic players. Among the foreign buyers were PuRen Airlines (Germany) and City Airways (Thailand).
Visitor numbers from Hong Kong, Macau and Taiwan are on the increase—they are likely to exceed 120 million in 2015. Urbanization should also see more domestic travel within Mainland China.
Without enough planes to handle regional flights within China and across to neighbouring countries, internal developments and growth targets for the next decade may be at risk. That's where the C919, and the higher-capacity C929 which is still under development, will come in handy.
---------------------------------------
*Professor Siah Hwee Ang holds the BNZ Chair in Business in Asia at Victoria University. He writes a regular column here focused on understanding the challenges and opportunities for New Zealand in our trade with Asia.