Ron Pol compares one part of NZ's foreign trusts regime to a criminal getaway car manufacturing industry and asks whether the PM will take action or double-down on offshore trusts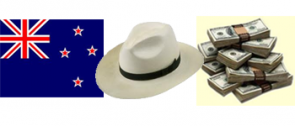 By Ron Pol*
As public disclosure of some of the so-called 'Panama Papers' nears (assuming that the International Consortium of Investigative Journalists (ICIJ) will ignore Mossack Fonseca's last ditch "cease and desist" demand), a flurry of activity again forces the Prime Minister to make a choice. 
Will John Key continue doggedly defending New Zealand's foreign trusts industry, holding the Shewan review up his sleeve to assert that "the Government has always said it will consider any issues raised" if later forced to change tack? Or will he now choose to do so on his own timing? 
New revelations increase pressure 
A series of new revelations has added to the pressure. It seems that John Key's "trusted lawyer" Ken Whitney – who had used the PM's name to successfully lobby for Inland Revenue's proposed review of foreign trusts to be shelved – hasn't been a lawyer since February. 
It was also reported that the High Court had earlier found a trust Whitney helped set up for a bankrupt property developer described as "a prolific user of trusts" – for whom Whitney was also "a trusted advisor" – had been a "sham trust". Justice Wylie said that "the intention from the outset was to mislead, to conceal [Whitney's client's] identity, and to enable him to carry on business in this country, notwithstanding his bankruptcy."
The judgment itself contains more disturbing findings.
On the political front too, seemingly contrary to assurances the Prime Minister received that Whitney had never worked or dealt with Mossack Fonseca, it emerged that Whitney had given the Panamanian firm a professional reference for another Auckland law firm. 
In the New Zealand Listener on Thursday I said that the very design of New Zealand's offshore trusts "enables and facilitates serious crime". The article also noted that despite most of the media focus on a controversial Overseas Investment Office ruling, there was already evidence of the potential misuse of New Zealand corporate vehicles, and outlined a series of such cases. 
The following day, The Australian Financial Review, with full access to the ICIJ documents, provided more detail about some of those cases and others, and shared the story soon after with Stuff, in The Panama Papers New Zealand link revealed. 
Interest.co.nz reported that the whistleblower 'John Doe' mentions John Key personally, the only world leader called out, for remaining "curiously quiet" about New Zealand's role "in enabling the financial fraud Mecca" (although curiously referencing the Cook Islands). This was widely reported throughout the weekend.
Not content to await the ICIJ release, Canadian tax authorities obtained a court order requiring that country's biggest bank to hand over details of customers with "relationships or connections" to Mossack Fonseca. 
Even a so-called 'lame duck' President nearing the end of his term, and without Congressional support, decisively used executive powers to start forcing transparency in US corporate vehicles. Amongst a series of co-ordinated initiatives targeted at US company incorporation and beneficial ownership transparency, the Obama administration said it was also "closing a loophole" enabling foreigners to hide behind anonymous entities formed in the US. Like New Zealand's foreign trusts, vehicles with no local tax and disclosure obligations could be used to shield the foreign owners of overseas assets and bank accounts. Simply acknowledging the reality, new rules were designed to help "prevent criminals from using companies to hide their identities and launder criminal proceeds." 
On TVOne News tonight (Sunday), Andrew Little said that Labour would "get rid of" New Zealand's offshore trusts industry. The Greens adopted a more nuanced approach, focused on a distinction between legal and illegal uses (Newshub 8 May). TVOne also announced tonight that a group of New Zealand journalists led by Nicky Hager had been given access to the Mossack Fonseca documents, and would start to release their findings on Monday morning.
Action here too?
Will the pressure of these events prompt the Prime Minister to take more affirmative steps, and face the week on his own terms? 
It might make sense politically, helping cauterise the political pressure of the past few weeks, and better position the government to answer anything significant that might come out of the Hager and ICIJ releases on Monday and Tuesday mornings respectively.
 "That was then, we've fixed it, move on, nothing to see" is a time honoured tactic. It may also help reduce any reputational impact affecting Helen Clark's bid for the UN top job. 
Beyond the political arena, in terms of the economic and social impact of any solution which might be proposed, policy effectiveness then becomes the yard-stick. The question is not simply whether "something" has been done, but "will it work?" 
In a general sense, here are a few questions that might help test whether any proposed solution is meaningful and effective. 
1. Will it actually help stop criminal misuse of New Zealand's offshore trusts regime? The United Kingdom's new requirements for corporate beneficial ownership, for example, excludes trusts, and inadvertently allows criminal misuse to continue. 
2. If it does stop criminal misuse, will it be effective immediately? A US Treasury crackdown requiring beneficial ownership data for real estate purchases in New York and Miami was announced months in advance, and limited to specified transactions, enabling all but the dumbest criminals to avoid it with ease. 
3. Will it lock in criminal assets to prevent and reduce flight, effectively enabling existing criminal misuse to be uncovered, prosecuted and criminal proceeds seized and forfeited?
4. Will New Zealand share information multi-jurisdictionally to enable effective seizure and forfeiture (and if we're smart, share any proceeds)? 
It's likely that relatively little criminal proceeds will be held in New Zealand, because Kiwi offshore trusts are designed, in effect, more like a criminal getaway car than a bank for criminal proceeds. As well as their legitimate uses, New Zealand offshore trusts are perfectly suited as part of the secrecy and ownership web enabling criminals to hide assets and profits wherever in the world they actually want to invest. 
So, if say a Mexican cartel has $1 billion invested in Manhattan, Miami, Vancouver and London real estate, held by a string of Nevada and Wyoming LLCs and a clutch of BVI entities, in which Kiwi offshore trusts alongside Belize, Panamanian and Seychellois corporate vehicles are listed as shareholders, will we co-operate to facilitate seizure of criminal funds anywhere in which New Zealand offshore trusts are involved? 
Doubling-down on the status-quo?
Early indications today (Sunday) suggest however that the government might double-down on its bet, in effect hoping that the issue will blow over. Key denied that Whitney's provision of a reference constituted "working with" Mossack Fonseca, ignoring the obvious implication about whatever form of association Whitney may have had for the reference to carry any weight.
The Prime Minister also batted away the whistleblower's reference to him as "confused", adding that New Zealand is responsible for the Cook Islands' foreign policy and defence, not tax. He suggested that Europeans may be confused because the Cook Islands shares New Zealand's currency.
He also repeated (in video) his earlier assertions about the OECD's high rating of New Zealand's tax system, without mentioning that the OECD had pointedly exposed gaps in our offshore trusts and companies regime, such as allowing nominees and not maintaining beneficial owners' details, or the "serious deficiencies" noted by the OECD and Financial Action Task Force in other reports (as noted here earlier).
Likewise, extolling recent changes requiring resident directors, the PM didn't mention that in the most celebrated case, involving arms trafficking by a New Zealand registered company, it had a New Zealand resident director with no idea about the transaction or who was really behind it.
Before tonight's announcement that New Zealand journalists may now have access to the full set of Mossack Fonseca documents, the Prime Minister may have been briefed that there are likely to be relatively few 'smoking guns' in the ICIJ release on Tuesday. For a series of reasons seemingly overlooked by some media outlets anticipating a vast treasure trove of easily reportable illegality, the ICIJ release seems more likely mostly to expose smaller pieces of many puzzles, requiring painstaking investigation to follow the criminal trails. 
Only a limited tranche of documents will be released, mainly company incorporation data, without many of the emails and personal identification material. The ICIJ have indicated that they will also seek to balance not breaching the privacy of innocent people and focus on what's in the public interest. That's easy enough with politicians, but any 'unknown' people excluded may be either innocent or criminal users of corporate secrecy vehicles. Even if their corporate vehicles are exposed, without all the supporting 'personal' documentation, criminals not known by journalists may remain hidden. 
Likewise, journalists with access to all of the documents may be unable to differentiate between innocent and criminal 'unknowns', which may help explain why most coverage so far has focused on the use of opaque structures by politicians and other famous people, with less focus on criminal use. Law enforcement agencies with greater capability for identifying criminal misuse have not had access to the files, and the forthcoming release may involve limited materials even in relation to those included. 
Moreover, the ability to use the documents evidentially to base prosecutions will in many countries be limited, due to the nature of the documents, the manner in which they were obtained, and the form in which they are released. Intelligence, evidence and enforcement capability are materially different. This fundamentally affects the value of any documents released. Many of the documents that will be released will also have company and nominee 'owners' listed, with further details held in registries and incorporation firms elsewhere, making tracing the real owners impossible. 
Mossack Fonseca themselves don't even know the beneficial owners of many of the firms they established, and many will involve legitimate transactions (such as the Disney example noted earlier on Interest) and innocent people. 
Nor will their files contain details of criminal transactions undertaken by the corporate vehicles established by Mossack Fonseca, after their involvement ended. 
As a wholesaler, the Panamanian firm established companies for some 14,000 law firms and other intermediaries worldwide. Those other firms will better know who the real clients are than Mossack Fonseca, and neither may know what criminal activities hundreds of thousands of shell companies and trusts got up to after they were established. 
For these and other reasons, the limited release of documents may not meet the heightened expectations in some newsrooms and elsewhere. 
From a political perspective, it is possible that the Prime Minister's advisers observed common misperceptions permeating the media and opposition discourse suggests that dashed expectations of some vast treasure trove of immediately reportable tax evasion (a widely reported misperception regarding New Zealand offshore trusts, eg Newshub 7 May and TVOne 8 May) may allow the Prime Minister to sit back and watch as ardent supporters and a disappointed media do the rest. Distraction and confusion in some media outlets and opposition parties may be enough for the dominant discourse to turn. So, 'staying the course' remains a viable option. 
New Zealand journalists with access changes the dynamics
Tonight's announcement that New Zealand journalists have access to the full dataset changes the dynamics. The Mossack Fonseca documents will still be limited by most of the factors noted above, but until now only overseas journalists had access to the full dataset, with much of the New Zealand coverage led by a single Australian journalist. Local journalists with local knowledge will inevitably have more impact. 
My guess is that the kiwi journalists (Nicky Hager, Radio NZ and TVNZ) only got access to the papers fairly recently. They uncovered what they claim, and has long been known (as here and here), likely tax evasion by foreigners not paying taxes due in their own countries. New Zealand unlike other countries has chosen not to tax offshore trusts, so there is no criminality involved, at least in relation to Inland Revenue. (There may have been misuse of other corporate vehicles by New Zealanders, yet to be uncovered, but all those using Kiwi offshores trusts will be foreigners).
The issue in relation to tax evasion is that New Zealand's foreign trusts regime, whilst useful for legitimate transactions, is also the perfect getaway vehicle for criminals elsewhere (such as those evading taxes due to other countries, and other criminal activity). 
Is New Zealand a tax haven? 
Of course it is, as pointed out in Interest on 11 April: "For ordinary kiwis then, New Zealand is no tax haven. All New Zealanders pay tax, comprehensive details are collected, and information is shared with other countries. But one special group may well regard New Zealand as a tax haven, as the IRD informed the government a few years ago. Foreigners who set up offshore trusts pay no tax and enjoy complete secrecy on their ownership and activities." 
"The problem with the current model is not that foreigners pay no tax on offshore trusts. That's a matter for government policy (although it would be good at least to align such policies with other countries to stop people taking advantage of the different rules and avoid paying tax entirely)."
"Nor is it inherently a problem that secrecy is afforded to such corporate structures…. Offshore trusts and companies also serve many legitimate purposes, such as for joint venture partners in different countries working on confidential transactions." 
"The issue for policymakers is… to base policies recognising that these attributes, especially secrecy, are as attractive to some of the world's worst criminals as for legitimate businesses. The policy response is therefore not simply to retain the blanket secrecy status quo or to replace it with wholesale transparency. Neither may be optimal." 
Although some might say it's not our job to support other countries' tax bases, as I said before these latest revelations that "that's exactly the role of reputable countries and the rationale of information-sharing… We can't expect help from others sheltering those ripping off our tax base if we give them two fingers. Likewise, extolling a corruption-free reputation, while selling corporate vehicles enabling corruption. We can't have it both ways.
Core issue remains unaddressed
Whatever option the Prime Minister selects over the coming days, however, if the underlying policy goal is to detect and prevent serious crime – including tax evasion and money laundering enabling the continuation and expansion of drugs and human trafficking enterprises, corrupt officials looting their countries, and other serious crime – the real issue remains unaddressed, more than a month later. 
The core issue, it seems to me, is not whether the selected Mossack Fonseca files that ICIJ choose to release demonstrate obvious criminality, nor if local journalists can tease out more examples than their overseas counterparts. Apart from a crop of new cases, the ICIJ release might be expected primarily to show some of the corporate structures involved. In most cases, more detailed specialist investigation into the corporate vehicles and activities they actually undertook will be needed to identify criminal misuse. 
This suggests that for New Zealand policymakers, the question is not whether Kiwi offshore trusts were used for illicit activities. Establishing that comprehensively will require political resolve, and considerable resources and determination over several years. (Although access to the full dataset by New Zealand journalists may escalate this process). 
The real question – from a crime prevention perspective – is whether Kiwi offshore trusts can be used for illicit activities. Certainly, they are used for many legitimate purposes, but their design also makes them an almost perfect vehicle for undertaking criminal transactions undetected, and for hiding vast amounts of criminal proceeds. 
In short, the design of New Zealand's foreign trusts regime enables and facilitates crime, so the policy choice is as stark as it is simple.
We could wait until any number of reviews, inquiries and years of investigations reveal the full details of some of the ways in which New Zealand offshore trusts have been used as criminal getaway vehicles. 
Or, originally intended for legitimate purposes, if New Zealand has inadvertently created a criminal getaway car manufacturing plant, and if the government still wants to be in the offshore trusts business for legitimate purposes, we could simply bolt on an effective criminal immobiliser. President Obama didn't wait for the results of a review, or what the 'Panama Papers' might reveal, or years of investigations to find out exactly how similar vehicles were misused. He frankly recognised that the design of similar corporate vehicles can be misused by criminals, and sought to close it down. Some gaps remain, but decisive leadership sought to close the most glaring holes. We have a similar choice. And whether we do it now, or later, we're back to the set of questions outlined above. At least, that is, if the goal is crime prevention, and if we want any solution to actually be effective.
The design of our foreign trusts regime doesn't prevent crime. It enables and facilitates crime.
As Peter Dunne rued, the system was probably created with honest intent, and most service providers are scrupulous. But if we wanted to create a vehicle for drug dealers and organised crime groups to protect and expand their operations, it would be almost identical to the one we have.
Other options are available, including at least one that could conceivably prevent criminal misuse and deliver competitive advantage to a "clean" trusts industry [as outlined here and here]. Recalibrating other policy settings might also recover significant criminal proceeds, with international co-operation boosting our reputation and government coffers. 
Selecting good policies requires frank assessment of the status quo, examining policy options and choosing the most effective.
-------------------------------------
*Ron Pol is a crime prevention specialist with AMLassurance.com. A former lawyer, and legal business consultant, Ron has devoted more than two years to conducting in-depth doctoral research in policy effectiveness, policy outcomes and anti-money laundering crime prevention.