Xero's Lena Hesselgrave on the future of Bitcoin post Panama Papers, concerns around housing consents issued in Auckland, the spectrum of crazy in the US election, how to hike productivity, why smartphone growth is dwindling & more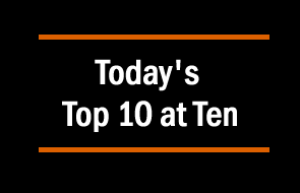 Today's Top 10 is a guest post from Lena Hesselgrave, Xero's automation manager.
As always, we welcome your additions in the comments below or via email to david.chaston@interest.co.nz.
And if you're interested in contributing the occasional Top 10 yourself, contact gareth.vaughan@interest.co.nz.
See all previous Top 10s here.

1. Ivy League economist interrogated on flight and why in America today, the only thing more terrifying than foreigners is…maths
On an American Airlines flight, young Italian economist Guido Menzio was escorted off and questioned as a potential terrorist threat, after the woman sitting next to him alerted a flight attendant to Menzio's "cryptic notes, scrawled in a script she didn't recognise". The decorated Ivy League economist, known for his technical work on search theory, later returned to his seat after confirming to authorities the scribbles weren't Arabic, or another foreign language, or some form of secret terrorist code. They were differential equations. The Washington Post reports:
Rising xenophobia stoked by the presidential campaign, he suggested, may soon make things worse for people who happen to look a little other-ish. "What might prevent an epidemic of paranoia? It is hard not to recognise in this incident, the ethos of [Donald] Trump's voting base," he wrote. In this true parable of 2016 I see another worrisome lesson, albeit one also possibly relevant to Trump's appeal: That in America today, the only thing more terrifying than foreigners is…math.
2. Learning to be a more productive nation
Labour productivity grew just 0.3 percent in the year since March 2015 and the Productivity Commission found that in the 2000s New Zealand had "one of the lowest growth rates in GDP per hour worked among OECD countries". These results seem at odds with a nation that prides itself on ingenuity and a strong work ethic.
World Bank consultant, Kinley Salmon, suggests that a focus on learning by individuals and firms as the primary objective of policy making would help to create sustained productivity growth. This could be achieved by increasing R&D spend (currently 1.17% of GDP), challenging tax policies which incentivise investment in 'minimal learning sectors' and ensuring there is adequate support for those launching new start ups. He says:
Take tax policy for example. Returns on housing in New Zealand are taxed more lightly than returns on financial assets. This contributes to the fact that our savings go overwhelmingly into the overheated housing market. According to Treasury, as much as 90 percent of household wealth is held in the form of housing in New Zealand, compared to 50 to 75 percent in other OECD countries. Yet real estate is a classic learning-free cul-de-sac. Taking learning seriously would mean asking how tax and financial policy can channel savings to productive sectors with higher learning potential.
3. How to get more grit in your life
Alongside policies that incentivise learning, perhaps what we really need more of as a nation is grit. In this week's Freakonomics podcast Angela Duckworth defines the quality of 'stick-to-itiveness' and how it directly relates to levels of success. This might seems obvious in itself, but then why are some individuals so disproportionately successful? Duckworth refers to such individuals as 'paragons of grit' (think the Mozarts and chess grandmasters of the world) and looks at how anyone can learn and apply the techniques that enable them to excel in their fields.
Let's start with the first thing I think that gritty people develop in the order in which they develop it, which is interest. So one thing that I found about paragons of grit, you know, real outliers in passion and perseverance, is that they have extremely well-developed interests. They cultivate something which grabs their attention initially, but that they become familiar with enough, knowledgeable enough that they wake up the next day and the next day and the next year, and they're still interested in this thing. And I think that is something that we can actually intentionally decide: "I want to be the kind of person who stays interested in something." And so that passion really does have to come first.
4. How a bus driver's son defeated a billionaire's son to become London's first Muslim mayor
In the past week Sadiq Khan was elected as London's mayor after defeating Conservative opponent Zac Goldsmith. The new face of City Hall is the first Muslim, non-white mayor, especially significant during a tumultuous time for Europe as it grapples with terror threats and political populism. The key challenges the new mayor faces are how to build affordable housing in one of the world's most expensive cities, numerous transport headaches, and how to integrate a city that is increasingly pulling away from the rest of the country. If Khan can help fix any of those issues, I sure hope Auckland's mayoralty candidates are keeping tabs. The Economist says:
The big theme of Mr Khan's campaign was a pledge to build 80,000 affordable homes a year, half of which he wants to be at a "genuinely affordable" price. Given that Mr Johnson, who cultivated a close relationship with house builders, never managed to deliver more than 24,000 new residences a year, this target looks wildly ambitious.
5. NZ at heart of Panama money-go-round
A collaborative report from RNZ News, One News and investigative journalist Nicky Hager, unravels New Zealand's links to Mossack Fonseca after 61,000 documents were leaked from the Panamanian law firm. Known for offering extremely private, zero-tax foreign trusts to wealthy individuals, the law firm's practices bring to light many questions around our nation's tax policies. According to IRD the number of foreign trusts has more than tripled to 10,697 this year from 3,311 in 2008. RNZ reports:
Mossack Fonseca wasted no time setting up the local Auckland branch in December 2013 and from then on enthusiastically chased business, particularly from Mexico, but also from Uruguay, Chile, Brazil and Ecuador. New Zealand's tax-free status, high levels of confidentiality, and legal security are seen as the virtues, but a common thread through Mossack Fonseca is the need to avoid any structure or involve people who will attract attention from our authorities.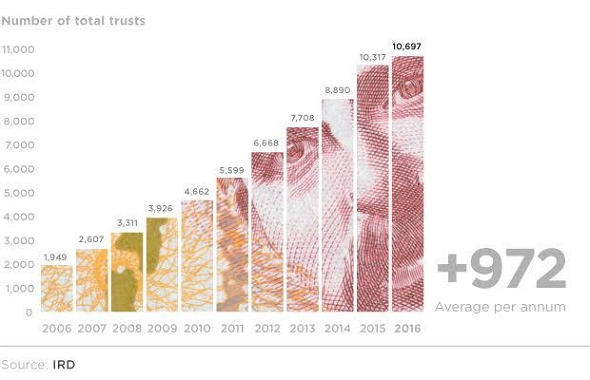 6. In the age of the Panama Papers, is Bitcoin technology the future?
The debate on how to balance privacy and transparency could in part be solved through the adoption of Bitcoin technology. Although currently more widely known for its illicit associations with The Dark Web, Blockchain advocates believe that the technology behind Bitcoin is the future of transparency, not secrecy. The distributed public ledger, known as a "blockchain", removes the reliance on a single trusted source to a decentralised network of computers. Strong cryptography and a decentralised system mean that the technology is being heralded as "transparent and tamper-proof". PBS reports:
This model of distributed trust offers a solution to the many social problems caused by a lack of open, trustworthy and agile record keeping. At a recent event hosted by the MIT Center for International Studies, Blockchain expert Michael Casey noted that automating trust through public ledgers will streamline business and government transactions, destroying information bottlenecks and improving transparency and efficiency.
7. Are smartphones doomed to the same fate as personal computers?
After almost a decade of enviable growth, the US$423 billion smartphone market last week showed a clear sign of slowing down. Apple Inc. reported its first quarterly sales decline in 13 years and Chief Executive Officer Tim Cook acknowledged that nine years after the iPhone's game-changing debut that the market had "stopped growing." Many smartphone manufacturers are seeking to diversify into adjacent markets such as smart devices including cars and drones, while others remain optimistic that the market will eventually revive. Bloomberg reports:
With consumers upgrading smartphones less often and first-time buyers harder to find, handset makers seem doomed to endure the same years-long sales decline as PC manufacturers. The industry has yet to identify and market the next big idea to take the place of smartphones, the way the iPhone and its ilk did when PCs fell from favor. The industry is hard at work developing everything from robots, cars and virtual-reality headsets to the grab-bag of connected gadgets and software known as the Internet of Things. Yet it may be years before many of these technologies enter the mainstream.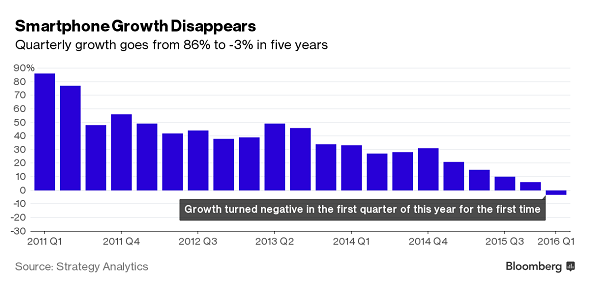 8. Why are Auckland housing consents falling?
Take a walk around the streets of Auckland and you can't help but notice the much-needed construction of new housing developments around the city. However since September 2015 the number of consents for new dwelling units has actually been falling - from 812 in September last year, to the most recent data available, 766 in March this year. No doubt a concerning trend for a city struggling to keep up with current demand and streaking ahead in the most unaffordable housing rankings. Economist, Donal Curtin, says:
It's certainly a very odd development. It seems at variance with what you see on the ground in Auckland. Sure, there are lags between consents and construction, and a lot of the current activity could be down to the higher levels of consents issued earlier last year, but if there was a genuine drop-off in the housing consent pipeline over the past six months, you'd think you'd be seeing some slackening off in actual construction activity by now.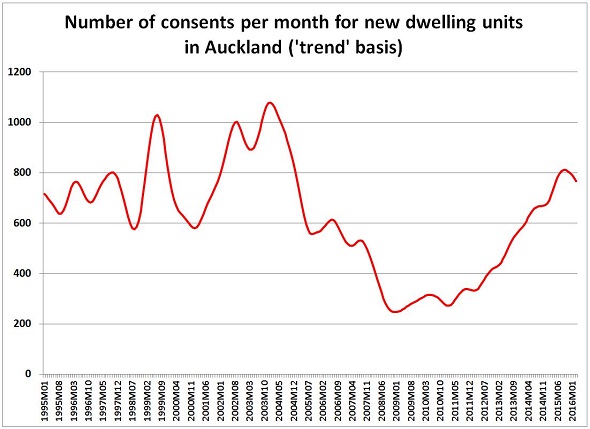 9. The economy is rigged, and other presidential campaign myths
When looking for reliable information on the economy, the current crop of US presidential candidates are probably the worst source. The New York Times dispels six particularly egregious claims about the economy as touted by candidates including claims that "we don't make things anymore" and tax cuts will unleash "stupendous growth".  
All candidates like to offer themselves as panaceas. "Vote for me and the economy will skyrocket, the poor will see riches without bound and that annoying wart on your foot will finally disappear." Yet the power of the president — or even the entire government — is more limited than is often acknowledged.

Yes, there are things that can be done. A better education system, for example, would both promote growth and ameliorate inequality. But there is no magic bullet to improve our schools, and even if we succeeded, the economic impact would be felt slowly over many years.

Just once, I would like to see a candidate with a platform of humility: "Vote for me. If elected president, I won't make a nuisance of myself.
10. U.F.O.s: What does the government know?
The antics from the US presidential campaign continued this week with Democratic front-runner, Hillary Clinton promising to give wider access to government records related to U.F.O.s and extra-terrestrial life.
In the context of this year's election, some say it's on the saner end of crazy #thetruthisstilloutthere