The NZX's Mandy Simpson on the case for the RBNZ to issue digital currency, KiwiSaver fees, robots taking our jobs, blockchain being used for AML, cyber security and more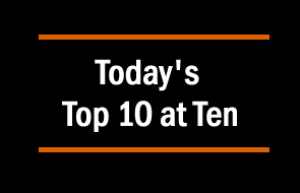 Today's Top 10 is a guest post from NZX Chief Operating Officer Mandy Simpson. Mandy is also on the board of NZ Tech.
As always, we welcome your additions in the comments below or via email to david.chaston@interest.co.nz.
And if you're interested in contributing the occasional Top 10 yourself, contact gareth.vaughan@interest.co.nz.
See all previous Top 10s here.

1. Lifelong learning
Will robots take our jobs? Perhaps. As technology gets smarter and artificial intelligence advances, we can certainly see the writing on the wall for some jobs. In the near future we'll learn what really needs face to face interaction and what can be done by a machine. Do we need human lawyers, accountants, financial advisers? What about doctors, carers, teachers?
Earlier this year the World Economic Forum Future of Jobs Report identified five million jobs that wouldn't exist by 2020. It stated that 65% of children starting primary school this year would enter into completely new job types that don't yet exist. Kevin Kelly, author of "The Inevitable: Understanding the 12 Technological Forces That Will Shape Our Future", argues that many jobs will be touched by change, and the ability to learn, and retrain will become fundamental survival skills.
2. Technology for good
Rather than being overwhelmed by change, what if instead we were able to use exponential technologies (e.g. AI, Robotics, Nanotechnology, 3D Printing, Solar Energy) to address the big challenges facing humanity? That's the rather impressive mission of Singularity University based in Silicon Valley. Kaila Colbin, a graduate of SU's Executive Programme, is bringing the SU New Zealand Summit to Christchurch later this year. In her view "everything about the way we live and work is touched by these exponential trends, and we can't afford to not pay attention". If you can't wait till November, Singularity Hub makes great reading in the meantime.
3. Teaching tech to kids
Perhaps then it's time to reconsider how we teach our kids about technology – and it turns out we already are. In July the government announced the inclusion of digital technology into the New Zealand curriculum. This was also followed by a funding announcement for digital technology specific curriculum projects. It's a great start, although ideally we'd see digital technology taught in its own learning area, instead of being grouped with other technology subjects such as materials, food or metals technology. In the meantime, kudos to those working to fill the gap – The Mindlab, OMG Tech and Code Avengers among others.
4. NZ CERT
As our reliance on technology increases, cybersecurity is front and centre of government and company concerns. Communications Minister Amy Adams recently announced the establishment board of NZ CERT (Computer Emergency Response Team), which brings together nine senior executives in the cyber risk space, including Wynyard Group's Chief Information Security Office Michael Wallmannsberger, who will Chair the board. NZ CERT is expected to be up and running by Q1 2017 and aims to provide local leadership in the cybersecurity area. The government has allocated $22.2 million for NZ CERT, including set up and four years' operating costs.
5. CERT Division – Software Engineering Institute, Carnegie Mellon
Another organisation with a big mission is the CERT Division of the Software Engineering Institute at Carnegie Mellon, which is tasked with, "Anticipating and Solving the Nation's Cybersecurity Challenges". The CERT Division has been operating for 25 years, and was a significant partner in the creation of the US CERT 13 years ago. I'd hope to see NZ CERT leveraging its world class research, processes and tools.
6. KiwiSaver
Last month saw the launch of a new KiwiSaver provider, Simplicity. It's great to see a new provider taking the low fee, passive approach, to investing. Recent Treasury research indicated New Zealanders aren't paying much attention to fees or returns when selecting their KiwiSaver provider. As KiwiSaver balances become a more significant proportion of net worth for many New Zealanders that will no doubt begin to change. In the meantime, hopefully the publicity surrounding Simplicity will kick start this conversation, and increase New Zealanders' engagement in their retirement savings.
7. Money Week
Money Week 2016 is doing its bit to get this conversation started. This year's theme "planning for your future" looks at how the costs of everyday items can add up over 30 years of retirement. Money Week ends on 11 September and is run by the Commission for Financial Capability. Its aim is to get New Zealanders talking about their finances.
8. Blockchain for capital markets
Over the past year blockchain discussions have exploded, but it can be difficult to find good and in depth coverage of the issues. Chris Skinner's blog The Finanser does an excellent dive into various use cases, in clearing and settlement, payments, digital identity and trade finance.
9. Digital currencies
A key question when looking at the potential for blockchain's success in capital markets is access to digital currencies. In July the Bank of England published research on "The macroeconomics of central bank issued digital currencies", indicating that the issuance of digital currency may lead to an increase in Gross Domestic Product by up to 3%. Here in New Zealand, we recently heard from Xero's Head of Government Relationships, Grant Anderson on the case for our own Reserve Bank to issue digital currency. Anderson believes a digital currency would boost the local economy, attract international interest and investment, and reduce our import and export costs.
10. Digital identity
As the rest of the world embraces technological changes, anti-money laundering compliance is stuck in an age of paper identification and physical certifications. While some institutions are moving to offer electronic verification, the introduction of widespread digital identities is some way off (except in Estonia). It may be worth watching Australia Post, which announced research into blockchain based digital identity back in March. Progress seems to be being made – some interesting roles have started appearing.
I'm also looking forward to hearing from the digital identity guru David Birch, who is giving the international keynote at the Payments NZ conference in Auckland this November.