Gareth Vaughan on Trump rallying scientists, Trump & fascism, the most effective anti-left president, economic warfare, books revived by Trumpism, Dutch, Arab takes on Trump & more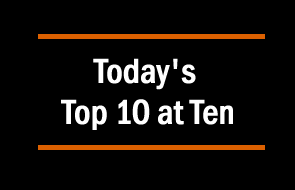 This week's Top 10 is from interest.co.nz's own Gareth Vaughan.
As always, we welcome your additions in the comment stream below or via email to david.chaston@interest.co.nz.
And if you're interested in contributing the occasional Top 10 yourself, contact gareth.vaughan@interest.co.nz.
See all previous Top 10s here.
Yes, it's another Top 10 from me. However, our range of new and returning outside contributors will be back in action from next week.
I contemplated making this one a Trump free Top 10 but I just couldn't do it. Donald Trump's first week as US President has been the big news of the week and it's just too compelling to ignore.
1) Scientists rally to combat Trump. 
Some American scientists are being spurred into political action by the Trump Administration, The Atlantic reports. They've formed a group called 314 Action. It's named after the first three digits of pi, and is a political action committee created to support scientists running for office. At this stage 314 Action will only back Democrat candidates and is said to have over 80,000 donors and mentors.
For American science, the next four years look to be challenging. The newly inaugurated President Trump, and many of his Cabinet picks, have repeatedly cast doubt upon the reality of human-made climate change, questioned the repeatedly proven safety of vaccines. Since the inauguration, the administration has already frozen grants and contracts by the Environmental Protection Agency and gagged researchers at the US Department of Agriculture. Many scientists are asking themselves: What can I do?

Early signs are promising. In just two weeks, more than 400 people have signed up to the recruitment form on the organization's site. They include Jacquelyn Gill from the University of Maine, who studies how prehistoric climate change shaped life on the planet. "If you'd told me a year ago that I would consider running for office, I would have laughed," she says. "I always fantasized about serving an administration in an advisory capacity, but we now have explicitly anti-science people in office and in the Cabinet. Waiting passively for people to tap me for my expertise won't be enough.

"I think government works better when we have people with lots of professional backgrounds," says Kate Knuth, who trained in environmental science and served three terms in the Minnesota House of Representatives between 2006 and 2012. "Scientists bring a unique perspective in how they look at data and think about problems. They're trained to value evidence, and to change their minds in the face of evidence. Right now, in a lot of our governance, we have people who just say this is the way it is, in the face of huge evidence to the contrary. That makes it hard to make good policy."
2) Is Trump a fascist?
One of the labels Trump's opponents, including some in the media, are giving him is calling him a fascist. So is Trump really a fascist?
Writing in The Washington Post Michael Kinsley says he is.
Not in the sense of an all-purpose bad guy, but in the sense of somebody who sincerely believes that the toxic combination of strong government and strong corporations should run the nation and the world. He spent his previous career negotiating with the government on behalf of corporations; now he has switched teams. But it's the same game.
So does Chauncey DeVega writing for Salon. His "insurmountable" evidence includes the following:
Donald Trump does not believe in freedom of the press.
Donald Trump threatens his political enemies with violence and/or prison.
Donald Trump uses ethnocentrism, bigotry, nativism and racism to mobilize his voters.
Donald Trump does not believe in standing norms of democratic governance or tradition.
Donald Trump is a misogynist.
Donald Trump is obsessed with "strength" and his own "virility."
Donald Trump promises "law and order."
Donald Trump is a militant nationalist.
Donald Trump traffics in conspiracy theories and lies.
Donald Trump admires authoritarians and political strongmen.
Donald Trump's most recent press conference was modeled on the way Vladimir Putin manipulates Russia's news media.
Donald Trump has surrounded himself with a cabal that consists of family members and self-interested Cabinet appointees, who — like him — stand to enrich themselves through the agencies they are supposed to administer in the public interest.
However, William Watkins writing for The Independent Institute disagrees.
Trump is undoubtedly a nationalist and protectionist and proudly declared during his inauguration address that he would put "America First." Inasmuch as nationalism is a critical ingredient of fascism, it is indeed present. But notably absent from the Trump agenda is cartelization of American business, planning boards, or control of economic activity or consumption. Instead, Trump seeks to reduce government regulation, has imposed a hiring freeze on federal agencies, and advocates cutting taxes–the lifeblood of the state.  

While there are many criticisms one can raise about Trump and certain of his policies, fascism is not one of the them.
But does Trump's brow-beating of companies via Twitter override Watkins' point about the absence from the Trump agenda of "catelization" of American business?
3) "He may be the most effective anti-left president in modern US history."
Former Speaker of the House and Trump supporter New Gingrich cannot conceal his glee and excitement at the potential of a Trump presidency. In an interview with Fox News he compares Trump to President Lincoln, describing Trump's inauguration speech as "very patriotic."
The historic importance of his inaugural is that he has stuck to who he is.

He may be the most effective anti-left president in modern US history.

He's anti-P.C., he's anti-left, he's anti-stupidity and he's deeply pro-America," Gingrich said. "Now, which of those values shouldn't make a conservative happy?
4) "The guy perched on the next stool over at the local sports bar."
Last week's Top 10 featured an article from David Cay Johnston who has investigated and reported on Trump and his business activities for nearly 30 years. Among other things he described a Trump answer to a question in an interview as "the kind of nonsense expected from a random blowhard on a bar stool."
Whilst this is clearly a bad thing from Johnston's perspective, it's a good thing for others. Writing for Breitbart News about how Trump won, John Hayward explains.
A good deal of Trump's reputation for crassness — and a major reason he was able to connect with so many people, to the astonishment of the political and media classes — is his tendency to talk the way normal people talk. He doesn't use the sterile linguistic discipline of the professional politician. He sounds like the guy perched on the next stool over at the local sports bar.
(Steve Bannon, a former Goldman Sachs investment banker and ex-executive chairman of Breitbart, was Trump's campaign manager and is now Trump's chief strategist).
At The Daily Beast Matt Lewis, a Trump critic, is fed up with liberal celebrities speaking out against Trump. This "Trump Derangement Syndrome" is not helping, Lewis argues.
Here's the problem: The more Hollywood liberals produce condescending videos, the more pretentious and preachy celebs like Madonna (or replace her with Lena Dunham or Meryl Streep… they're basically interchangeable) lecture us at rallies and awards ceremonies, and the more protesters with signs and placards with the word "p*ssy" on them—the more I find myself liking Donald Trump. 

And this is saying a lot. I've dedicated the last couple of years to speaking out against Trumpism. But if his adversaries are so odious as to drive me (an infamous Trump critic) into thinking maybe he is the lesser of two evils (or, at least, the less annoying!)―what do you think it is doing to working-class Americans?
Lewis has also got some advice for the media.
Something else for all of us to do: Spend some time thinking about people you might not normally rub elbows with—people who go to church on Wednesday nights, people who drive pickups, and people who shop at Wal-Mart. No, you shouldn't gear all of your coverage toward these Americans; but yes, if you want to remain relevant and credible to them, you can't ignore them.
6) A declaration of economic warfare.
The Financial Times' Martin Wolf notes China's President Xi Jinping made a speech on globalisation at the World Economic Forum you would have expected to hear from a US president. In contrast Trump's comments on trade at his inauguration you would never have expected to come from a US president. 
Wolf is not impressed with Trump's stance. He sees huge geopolitical consequences.
Beating up Mexico will overturn three decades of reform, probably delivering power there to a leftwing populist. Beating up China may poison an essential relationship for decades. Abandoning TPP may hand a number of the Asian allies of the US over to China. Ignoring World Trade Organisation rules might destroy the institution that provides stability to the real side of the world economy. 

The rhetoric of "America First" reads like a declaration of economic warfare. The US is immensely powerful. But it cannot even be confident it will get its own way. Instead, it may merely declare itself to be a rogue state. 

Once the hegemon attacks a system it created, only two outcomes seem at all likely — its collapse or recreation of the system around a new hegemon. Mr Xi's China cannot replace the US: that would take co-operation with Europeans and other Asian powers. The more likely outcome is collapse into a trade policy free-for-all. Mr Xi's vision is the right one. But, without Mr Trump's support, it may now be unworkable. That would benefit nobody, including the US.
Drawing on a paper by Hunt Allcott of New York University and Matthew Gentzkow of Stanford University, Bloomberg's Leonid Bershidsky concludes fake news didn't decide the election between Trump and Hillary Clinton. Bershidsky also argues that because most Americans still get most of their news from TV, Trump's attempt to bypass the media by tweeting is unlikely to work. That's because many Americans will hear about Trump tweets on TV, with spin added by their favourite station, and in many cases, with fact-checks added. Maybe. But provocative tweets will still allow Trump to set the agenda and tie up journalists' time.
Allcott and Gentzkow estimated that only 1.2 percent of people actually recalled seeing the average fake story, meaning the average American remembered about 0.92 pro-Trump fake stories and 0.23 pro-Clinton ones. Not only did the average American remember no more than one fake story, but even smaller fractions of them actually believed it. To sway a voter under these circumstances, the academics estimate that the story would need to be as persuasive as 36 campaign ads.
Whilst noting George Orwell's 1984 is currently the best-selling book of any genre at Amazon.com, The Atlantic points out it's always somewhere on the best seller list and argues the recent rise in popularity of other books seems more directly linked to the emergence of Trump as a political leader.
Sinclair Lewis's It Can't Happen Here, a 1935 novel about the rise of an authoritarian fascist leader in the U.S., is currently the 26th most-purchased book on Amazon, and its spike on Google Trends corresponds with the U.S. presidential election on November 8. 

John Steinbeck's The Winter of Our Discontent, a 1961 novel about a Long Islander grocery-store clerk who resolves to abandon personal ethics to increase his wealth and status, has also seen boosts in interest that correlate to Trump's de facto victory in the Republican presidential race in May, the Republican National Convention in July, and the election in November. 

If the links between the events of the recent year and Steinbeck's last book don't seem entirely clear, The Atlantic's review, published in 1961, is illuminating: "What is genuine, familiar, and identifiable [about the book] is the way Americans beat the game: the land-taking before the airport is built, the quick bucks, the plagiarism, the abuse of trust, the near theft, which, if it succeeds, can be glossed over—these are the guilts with which Ethan will have to live in his coming prosperity, and one wonders how happily."
9) "Please write your own plots and stop borrowing ours."
Karl Sharro, a Middle East commentator at Politico, has written a funny and entertaining article comparing America 2017 to an Arab country. Here's a flavour:
And by the way, speaking of the Army, while we were a little bit disappointed at first that the president doesn't have a military background, he quickly moved to remedy that by appointing a number of generals to high-level positions within the administration. We are hoping that they will attend Cabinet meetings in their uniforms; there's something quite reassuring about the leader of the nation being surrounded by military outfits—just consider Saddam Hussein. 

The moment at which we felt real solidarity with the American people, though, was when we started hearing BBC reporters talking to your citizens with the patronizing tone they normally reserve for the Middle East. Correspondents were sent to far-flung corners of the United States to talk to farmers and factory workers to try to understand how they feel and to ask condescending questions. I'm from the British Broadcasting Corporation, are you familiar with the BBC? Where do you get your news from? Do you feel angry? Does religion play a role in how you are voting?. (The only thing missing were pictures of people with blue ink on their thumbs; please consider introducing that practice in the future.) 

And the inauguration, what a spectacular show: protests, riots, tear gas—it had all the necessary ingredients of an Arab revolution. We saw pictures of broken windows at Bank of America, and a limo engulfed in flames. The Black Block apparently made an appearance. Someone burned an effigy of Mr. Trump and an American flag. (OK that was in Canada, but still). We look forward to more of those moments being captured on camera and turned into photo essays in the foreign press.
10) And here's the Dutch having some fun with Trump. Welcoming him in his own words.