Terry Baucher says nearly everyone gets something in Steven Joyce's election year Budget, but he's surprised the threshold for the top tax rate of 33% remains unchanged at $70,000
By Terry Baucher*
Rather like Oprah dishing out prizes, pretty much everyone gets something from this year's Budget. 
The big tease is over and the much-anticipated tax cuts are here, or they will be from 1 April next year once the small matter of a general election has been resolved. 
As had been indicated, the tax cuts are targeted at low to middle earners. Coupled with increases to working for families tax credits and the accommodation supplement, the total cost of the package is about $2 billion per annum. 
Tax rates remain unchanged but the big changes are to the thresholds for the 17.5% rate up $8,000 or 57% to $22,000, and the 30% rate, raised by $4,000, or 8.33%, to $52,000 (still well below the average wage of $58,900). It's worth noting that according to Treasury estimates 67% of all taxpayers, or over 2.4 million people, have annual income below $60,000. Very surprisingly, the threshold for the top rate of 33% remains unchanged at $70,000 where it has been since 2010. 
From 1 April 2018 the new thresholds will therefore be;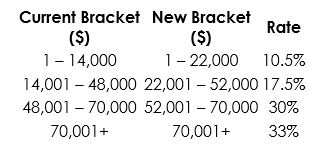 This year's sneaky tax adjustment is the withdrawal of the Independent Earner Tax Credit, currently worth a maximum of $520 a year. This is probably unsurprising given that this credit specifically targets those with taxable income between $24,000 and $48,000, part of the main group targeted by the overall package. Apart from the income limits, the credit is only available to those not eligible to receive benefits, New Zealand Superannuation or Working for Families tax credits. 
Very surprisingly, apparently only 32% of those eligible to claim the credit have done so. That means thousands, if not tens of thousands of taxpayers are missing out. It would be worthwhile for earners in the $24,000 to $48,000 zone to review their position not only for the current tax year for prior tax years to see if they're eligible. 
Elsewhere the Earthquake Commission's Natural Disaster Fund will be rebuilt with increased levies. From 1st November this year the rate homeowners will pay will increase from 15c per $100 of insurance cover to 20c with an annual cap of $276 (GST inclusive). This will mean an increase of up to $69 per homeowner. The intention is that the Natural Disaster Fund which has exhausted its reserves will be restored to the EQC's reinsurance excess of $1.75 billion within ten years. 
The changes to the working for families' tax credits and accommodation supplement are expected to benefit more than 1.3 million families by an average of $26 per week. Apart from increasing family tax credit rates, the number of rates applicable will be reduced from five to two. This is apparently the first stage of simplifying the complex interaction between tax and benefits (universal basic income anyone?). 
The increases in working for families come with a sting though: from 1 April, the annual income threshold at which abatement of benefits starts is reduced from $36,350 to $35,000 and the abatement rate will increase to 25 cents in the dollar. This change had been signalled in previous years but not until 2025. It means that the effective marginal tax rate for someone receiving working for families and earning $40,000 is a hefty 42.5 percent (17.5 percent income tax plus the abatement). Add in ACC of 1.7 percent and student loan repayments of 12 percent and that's an effective marginal tax rate of over 55 percent. This perhaps lies behind the review of the whole tax/benefits interaction. (Finance Minister Steven Joyce expressed some bewilderment at the plethora of tax refund companies currently operating, another by-product of the complexities in this area).  
Apart from the repeal of the independent earner tax credit, there were no other specific tax measures. This is a tribute to the stability of the generic tax policy process but it does make life a bit tame compared with an Australian or British budget which are full of tax surprises such as the special levy on banks in the recent Australian Budget. However, at the Budget Lockup Joyce commented that the tax revenue included an expected $250 million over the next three years from the Government's proposed changes to the taxation of multi-nationals announced in March. Joyce considered this a "conservative" estimate. It will be interesting to see how much will come out of the initiative. 
There was nothing in the Budget about the taxation of savings although when asked about this, Joyce kicked for touch and suggested a future review was possible. Perhaps he didn't want to admit how much of a nice little earner the current system is for the government. How long the present settings will remain is another story for another Budget.
-----------------------------------------
*Terry Baucher is an Auckland-based tax specialist and head of Baucher Consulting. You can contact him here »