A tongue in cheek look at the broken record of housing supply not meeting demand in Auckland; What the RBNZ says in its Financial Stability Report and what it's really thinking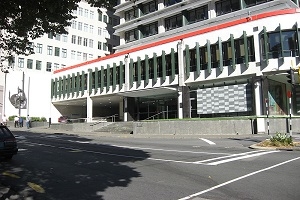 By Alex Tarrant
"What the @#$% is going on with housing supply!?!"
A Reserve Bank staffer throws hands in the air, gets up from computer, walks to the water cooler, kicks it, then goes for a cigarette out the back of the building.
"What's happened to economic fundamentals?" the staffer bellows across to a bemused porter from the Bolton Hotel.
"Demand rises, prices rise…supply doesn't."
Launches into a rant that makes passers-by scurry along to the Terrace a step faster.
"How about those Warriors?" porter offers up after his third lecture on general equilibrium theory that week starts to get a bit tedious.
"Not surprised one bit. They're an Auckland team, aren't they! They can't get anything right up there!"
Becalmed slightly, the staffer returns to their desk and puts the finishing touches on their portion of the May Financial Stability Report.
"Supply remains slow to respond to high prices"
"High house price and rental price growth reflects strong demand for housing relative to supply."
That's a fair start.
"This is, in part, driven by high levels of migration. Over 60,000 more people of working age moved to New Zealand than left in the year to April."
Also true. Keeping to the script.
"Supply has been slow to respond to population growth, particularly in Auckland where about half of new migrants have settled. Building activity has picked up over the past two years, but the level of consent issuance in Auckland is still likely to be insufficient to accommodate population growth and address existing housing shortages."
Try not to let the annoyance show through too much.
"The level of building activity may reflect a number of factors, including higher construction costs, capacity pressures in the construction industry and uncertainty around aspects of Auckland's Unitary Plan, which is only partly implemented."
They still haven't sorted it out up there.
"It may also reflect the tightening of credit availability for residential property developers. Major banks have become more selective in lending to developers and have tightened lending standards in response to slowing deposit growth and a perceived increase in risks in the sector."
Bit rough if I put all the blame on the Auckland Council.
"In the long term, an increase in housing supply is needed to address the underlying imbalance between demand and supply in many regions."
We've been saying this for how many years now?
"It is uncertain whether the current constraints on building activity will persist. It is possible that building activity in regions with the greatest demand and supply imbalances could pick up in the near term."
Got to pay some respect to economic fundamentals.
"The final form of the Auckland Unitary Plan is becoming clearer and several key appeals have been resolved in recent months. Also, construction sector resource constraints could ease as residential rebuild activity declines in Christchurch."
Always conclude with a diplomatic tone.