The government's 40% export goal, climate change, clean rivers and a case of augmented reality; With the goggles on, things look fine. But AgResearch reveals the cold, hard reality in our agriculture emissions efforts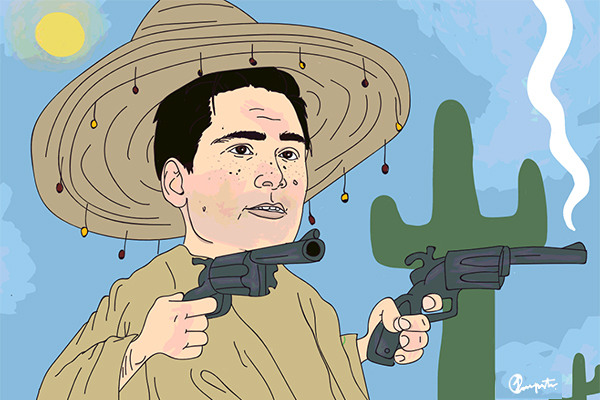 By Alex Tarrant
When a Cabinet Minister references the government's goal to boost exports as a proportion of the economy, and the rise of augmented reality within a few breaths, it's hard not to combine the two in a headline.
It's also hard not to cast an eye around to see which other goals set by the government might be suffering from a case of augmented reality. Climate change and the environment could be in there, given this week's events.
Let's get exports out of the way first. Economic Development Minister Simon Bridges and Finance Minister Steven Joyce last week announced a 'refresh' of the government's Business Growth Agenda (BGA).
This is a document that pulls together a bunch of Budget announcements and handily puts them in one place to indicate the government's 'business growth' plan over the next few years. It has encouraged Cabinet Ministers and senior officials to get around the same tables for more intensive and productive policy making.
The business community loves it. And Crown entities in their statements of intent have a handy reference to attach their own goals to. It was well-received by a Trans-Tasman business audience Thursday, despite a few hiccups including Joyce forgetting who provides 'Pacific' input in Ministerial BGA meetings.
The agenda includes the government's famous promise from 2012 that exports as a proportion of GDP should rise from 30% to 40% by 2025. It's famous because there hasn't been any movement – we've been stuck there. Bridges still sought to explain why we could "hold our head up" on that non-progress.
"In the face of the GFC, hostile global trading environment, actually exports have grown. What's also true, of course, is that the economy in general – the domestic economy – has grown, so we've stayed at around 30%, but we have held our own."
A 2012 Q&A on the goal had this to say about what was required: "Achieving our 40 per cent target will require a shift away from the production of goods and services for the domestic economy, and towards international markets. It will require investment to flow to opportunities in the export sector, as well as the ability of labour and skills to shift in response to changing demand."
A minute later, Bridges was on to augmented reality. That morning he had paid a visit to Weta's augmented reality team. In a room with a nice leather couch, Bridges was handed some goggles with a screen embedded which showed the exact same room.
"But what comes through the goggles is all these freaking spiders. And fortunately, I had a couple of guns, and I probably blew my foot off several times. But if you're looking up there and you start shooting these spiders and they splat, that's great but then there's all these other ones coming from the other side."
The message he was trying to get across: Weta are now world-leaders in augmented reality. It is a good news story. These goggles might replace cell-phones, augmented reality could help in the medical sphere, the gaming industry, you name it.
Augmented reality on climate change
But Bridges' anecdote helpfully segues into the more important news of the week. Speaking of augmented reality and shooting oneself in the foot, it looks like a pair of those goggles managed to end up in Climate Change Minister Paula Bennett's office.
Parliamentary Commissioner for the Environment Jan Wright on Thursday warned that climate change is the single biggest inter-generational issue facing New Zealand, smoking the superannuation debate.
To meet our 2015 Paris Agreement commitment of reducing emissions to 30% below 2005 levels by 2030, New Zealand's emissions need to stop growing right now, Wright warned. And on current policy settings, she can't see that happening.
As I wrote last week, most of our government's eggs seem to be in the basket of hoping we'll be able to sign up to a bunch of international carbon credit markets with other countries so our emitters can tap (cheap) overseas units. This will supposedly ensure a 'cost effective' way of meeting our Paris target by way of offsetting emissions rather than working too hard on reducing them.
But both Bennett and Wright said there was no guarantee of this international agreement happening. Talks are still early stage, and there's so much sensitivity around the discussions that our government is tweaking out any mention of them in reports released publicly.
To me, the situation looks like it could be a serious case of augmented reality.
Bennett was quick to disagree on the eggs-in-one-basket assertion. If we can't sign up to those international markets, she's confident we'll still be able to meet the goal.
"When I just look at what we're going to be doing as far as more renewable energy, the use of electric vehicles, technology and advances that are going on on-farm, there's just such a great range of things that we can do, and you'll see more of that as it's mapped out over the next year," she told me.
As agriculture accounts for roughly half our emissions, the government's work and track record on that part of the equation should be the canary in the coalmine then for how all that other work is progressing. Good fate then that Crown entity AgResearch recently released its statement of corporate intent for the next five years to tell us how things are coming along.
These guys and girls are a central cog in the machine producing the science that's supposed to help make our animals more productive, allowing for reduced herd sizes. This is important for the environment in terms of waterways, but it also applies to reducing emissions. You don't need to read further than the chairman and CEO's executive overview (see below) before you get the shakes.
Underfunding has meant investment in this scientific area has fallen well below the national need and consequently, the important national science capability at AgResearch and elsewhere is at risk, they said. A re-think on how we approach this area of our climate change research & development is needed.
This is goggles-off territory. It is cold, hard reality. It seems 2030 is closer than we think.
Against this exciting and progressive backdrop, we confront challenges about the retention and enhancement of scientific programmes that will tackle the interface between farm systems and environmental challenges this country faces.

Areas of on-farm and environmental science capability that we and our stakeholders believe are critical for New Zealand to achieve sustainable environmental improvements, are coming under significant funding pressure.

We believe that a re-think is required to consider how on-farm scientific innovation in New Zealand needs to drive the growth of our primary sector exports, while meeting the escalating aspirations of our communities for cleaner, more useable lakes and rivers, to ensure that these critical areas are financially supported and effectively executed.

Like citizens everywhere, New Zealanders want the benefits that flow from a prosperous economy – good health care, education, infrastructure and career opportunities for themselves and their children.

In New Zealand that prosperity over the next decade and beyond will be driven by the growth in value of exports from our primary sectors. Two relevant examples are the government's target to double the real value of exports from the primary sector by 2025, and investment towards achieving irrigation schemes and the Primary Growth Partnership programmes.

On the other hand, citizens of every country also identify sets of non-economic values that matter to them and this varies more widely between countries. In New Zealand, this most frequently relates to the quality of our environment and especially our ability to access and utilise those resources for recreation.

Combined, these challenges present a national conundrum. How do we grow the value of our primary sector exports while also meeting the escalating aspirations of our communities for cleaner, more useable lakes and rivers?

In our view, we are now at a point where we are concerned that the investment in this scientific area has fallen well below the national need and consequently, the important national science capability at AgResearch and elsewhere is at risk. We have elected to retain this capacity while we, Government and our sector work through how this on-farm research, which has significant private and public benefit, is resourced and completed.

It is a challenge that requires a holistic approach to answer, and that is why we at AgResearch have instigated the necessary conversations with the sector and the Government to reflect on solutions for what New Zealand needs, who will pay for that and how it is best carried out. This will allow AgResearch to make the necessary decisions to best position its science capability to meet the future needs of the sector in these areas.

Until we find the best solution with Government and key industry stakeholders, AgResearch will commit to maintaining our critical science capacity. This, in conjunction with one-off costs related to the new facilities development programme, will result in a forecast net loss before tax in FY18 of $11.4 million.

As we address these challenges, AgResearch will continue delivering its science excellence and remain focused on enhancing the value, productivity and profitability of New Zealand's agricultural sector.