The Election tax debate has entered silly territory, Alex Tarrant writes; Labour's exclusion of family homes and income tax change aversion isn't fit for a party wishing to fairly tax assets, wealth and income; Joyce's scaremongering is also OTT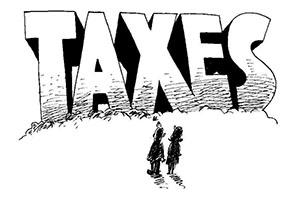 By Alex Tarrant
The Election 2017 tax debate is now getting into silly territory.
In this T-Rant I argue that: Labour needs to get over its stubbornness on arguing against changes to the bottom end of the income tax spectrum; that Jacinda Ardern should have ruled out a Capital Gains Tax next term because Labour's extension to the Bright Line Test effectively covers its desire to tax property investors while excluding two-thirds of a trillion dollars' worth of property assets from any form of taxation (given her new-found willingness to rule out a higher top personal income tax rate); and that Steven Joyce's scaremongering - while fun - is over the top.
On Wednesday both Labour and National made some interesting comments. The big news was Labour Party leader Jacinda Ardern ruling out a new top income tax rate. The reasoning given here was that Labour would be able to afford all its Election spending promises without it.
I'd actually been following the situation from the angle of Labour wanting the income tax system to be more progressive. There are essentially two ways to do this when looking just at the tax system: Raise the top tax rate, or reduce taxes at the bottom (lower income tax take, but a fairer system).
Ardern's response to my question of 'what would Labour do to ensure a more progressive system', was that proposals for extra Working for Families and child tax credits targeted at the bottom end of the income spectrum went some way to ensuring this – ie dealing with the situation through transfers.
Earlier, Finance Minister Steven Joyce said National wouldn't consider a second 'family incomes package' until 2020. And when that rolls around, Joyce said he would focus on easing the burden on lower-to-middle income earners, while simplifying the system in terms of tax credits. To me this indicated a desire to reduce the tax burden on lower income earners, perhaps with a tax free band.
Ardern's initial announcement that Labour would not raise the top income tax rate next term – no matter what - led us to believe that any changes to income tax settings were off the table for the Tax Working Group Labour wants to set up after the election to look into more fair taxation across assets, wealth and income.
That disappointed me because it appeared to rule out the possibility of a tax-free band being used to ensure greater progressivity. It's also something that would help in the fight against poverty. But there is a ray of sunlight; We might have all jumped the gun a bit.
I was told later that the message from Labour is this: they want the working group to look at structural issues and interaction between the parts of the tax system. In this context, it might be able to look how income is taxed in a broad sense. The message from Ardern on the top tax rate was more geared towards indicating the group isn't going to sit around figuring out what the top/middle/lower tax rates should actually be.
This cheered me up a bit. To me, this leaves open the possibility for moves like the introduction of a tax-free band at the bottom of the income tax spectrum as part of a suite of measures across New Zealand's asset, wealth and income bases.
Silly season
However, Labour still needs to get over a big hurdle. Grant Robertson's response to the Budget indicates he is opposed to income tax changes that make richer people better off, even if those changes make poorer people better off as well.
Steven Joyce's move to raise the bottom two thresholds affects pretty much every earner. Rather than accepting that people on low-to-middle incomes would be better off, as the Greens did, Labour's response focussed on the fact that high earners such as MPs would be $1,000 a year better off from Joyce's changes.
From this point of view, a tax-free band would be treated by Labour the same as the threshold changes. Yes, it would do a lot for beneficiaries and minimum wage earners, but you could also be giving about $1,000 a year back to high income earners as well.
In a perfect world, you could mitigate this by raising or introducing new tax rates at the top of the scale. We're told now that this can't happen – in a first term at least – due to Ardern's political aversion to a higher top tax rate.
This indicates that until Labour gets over the fact that doing something at the bottom end of the tax spectrum invariably makes the rich better off as well, the only way for Labour to make income tax more progressive is by fiddling around with tax credits – something Susan St John has said is getting very "confusing".
In fact, it is Finance Minister Steven Joyce who looks the most likely to foster a more progressive tax scale on New Zealanders with his comment that he wants to simplify things at the bottom. When National could conceivably come out of the next three years as a greater proponent of a progressive income tax system than Labour, then we really need to wonder how we've got there. One word: Stubbornness. By Labour.
The 'family home'
There's another thing that Labour is completely stubborn on. And it's hurting the party's credibility whenever it says it wants New Zealand's tax system to be fairer when it comes to treatment of assets, wealth and income: Talking about the need for a capital gains tax, while excluding 'the family home'.
On Three's The AM show on Thursday, Robertson was drawn into his views on whether New Zealand needs a better capital gains tax regime.
He began by reiterating Labour's current policy which is to expand the bright line test from two to five years. Labour's working group would be set up to figure out whether that was enough. Labour was being transparent, Robertson argued. "Our tax system is not fair, it's not balanced, we've got a housing crisis, we need to do things to address that. We're going to ask the experts and they'll come back to us."
"I don't believe our tax system is fair at the moment. If you want to know what's caused inequality to grow in New Zealand over the last few years, it's about asset inequality. It's the fact that we've got the lowest home ownership rate in 60 years and we've got to do something about that," he said.
"I personally support a better balance in our tax system and I'm going to wait till we see the expert working group. But I don't believe at the moment that someone who goes to work every single day, pays tax on every dollar that they earn, is being treated fairly compared to someone who flips an investment property and makes a profit on that."
Take Robertson's comment that the main cause of inequality growth in New Zealand over the past few years has been to do with asset inequality. Well, I'm sorry Grant, but New Zealand's housing stock is worth $1.03 trillion. It's the major component of our net worth. And about two-thirds of that housing stock is owner-occupied (which is the non-political way of saying 'family home').
If we want to ensure fairer tax treatment across assets, wealth and income, then you cannot just rule out capital gains or imputed rents made/unpaid on two-thirds of a trillion dollars' worth of residential property holdings from the debate.
Labour tries to soften the blow by having a go at "speculators". But you just can't ignore that the majority of wealth is tied up in owner-occupied assets which generate untaxed income when sold.
And for anyone thinking about it, don't try deflecting onto 'let's focus on other asset wealth'. The stock market is piddly compared to housing.
The Reserve Bank's Governors literally laughed at me during their August press conference when I asked if they were worried about the NZX hitting record highs (due to the Bank's mandate to take into consideration all asset prices). They said they were basically only ever worried about the housing market because that's our only asset market of note.
If we're talking "assets and wealth" then we're talking first and foremost owner-occupied residential property. You can't get away from that and any Tax Working Group that ignores such a large asset base will be a joke. (In some good news, Ardern also said the group would not be looking at GST – which hopefully means all that talk of exemptions disappears.)
The exact same criticism can be put at the Green Party. They're just as bad as Labour on this. Whenever the Greens put out a statement that they will sort things out by introducing a Comprehensive Capital Gains Tax, I get excited. But when you open the email they've always got that annoying addendum "(excluding the family home)" (as if putting it in brackets means people will think it must just be a miniscule portion of New Zealand's asset base).
If we're going to be talking about taxation of assets, wealth and income, then the body carrying out the review needs to be able to consider taxation of all assets, wealth and income. No exceptions.
A better way
There could have been a better way for Labour. If you are not going to consider a proper CGT that includes owner-occupier housing, then just stick with the policy to increase the Bright Line Test (excluding the family home, obviously) out to five years. It's basically the same thing, and will have the same effect for a term-and-a-half of you being in Government.
Promise that you will not impose a capital gains tax next term, no matter what the Group says. In fact, drop the notion of another Tax Working Group. For any policy impetus for changing the tax system, base it on the recommendations of the previous Tax Working Group, or the one before that, or the one before that. (Yes, their reports all contained lines on 'fairness' – more on that in another T-Rant).
Why? Well, that would not allow for Steven Joyce to go on the telly smiling like a Cheshire Cat and pulling out the scaremongering lines delivered after Robertson Thursday on the AM show:
"He's very careful not to rule out the thing that would really trouble people which is capital gains tax on small businesses and a capital gains tax on the farm," Joyce began with (he wasn't asked about small businesses or farms).
"If you've been working hard all your life and you're selling your farm and you've worked up the quality of the property then he's going to say he wants to tax it – probably about 30% - and similarly if you've run a good plumbing business or something…"
"For somebody's who's built up a plumbing business, got three or four vans going, then decides he or she wants to check out and sell it, then they could be in for a bit of a nasty shock."
This is manna from heaven for National. I would like to know the number of plumbers who set up their business with the intention of selling it at the end of the day for a capital gain. Actually, if they expressly set up their business for that purpose then IRD should tax them on it under current laws.
For those that didn't expect to sell their 'three-or-four vans' at the end then would they really be too thrown by paying a portion of whatever unexpected profit they make back to the government – just as their partner working a waged job in the city does every pay cheque? (And as they've done every year in terms of company tax…?)
"A capital gains tax on small businesses would be a real shock for thousands and thousands and thousands of small business owners, who actually build up a little business, and then they decide to sell it and make a bit of profit."
Joyce and National are absolutely loving it.