ACT's David Seymour looks to be fighting to stay relevant this election with National odds-on to need Winston Peters to govern; And could NZ First's personality mix put pressure on that 12 October decision deadline?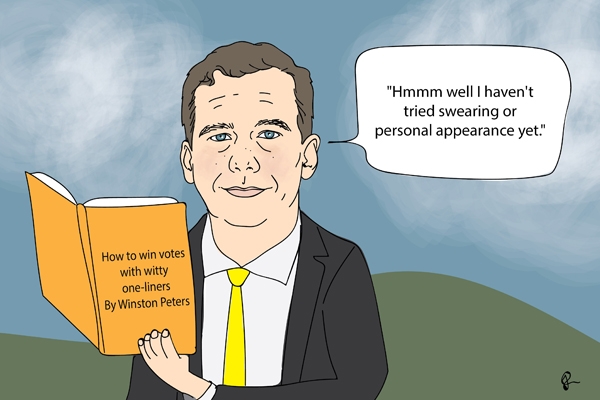 By Alex Tarrant
There may be only one thing more painful than Bill English's Twitter feed this election campaign: watching David Seymour try to stay relevant as the shadow of Winston Peters looms large.
With the polls heading the way they are, and Peter Dunne gone, it's looking ever more likely Bill English will have to turn to New Zealand First for support if National wants to lead a government after 23 September.
This will spell a term on the cross-benches for Seymour. If I had to highlight just one case of personal politics continuously on show during Question Time this year, it would be the Seymour-Peters love-to-hate relationship. This culminated in Seymour going as far as calling Peters "Mr Mussolini" in during Parliament's adjournment debate - not very classy.
Having a go at Richard Prosser's weight and appearance last week also went too far. And while I agree with the sentiment of Seymour's response to New Zealand First's SOE snatch-back policy, there were better ways to express this.
Seymour has found himself increasingly marginalised in the policy debate and has turned to the bandwagon of personality politics to get into the headlines for a bit. To be fair, we are debating policy a lot less than we should be.
ACT still has some valuable policy positions – whether on the RMA, the rural-urban boundary, congestion pricing or superannuation. Like any party there might be a few policies there you agree with even if you're not an ACT supporter. Some of these positions have been taken over by others though – perhaps the most surprising being Labour on urban limits.
Seymour needs to find a way to become relevant again above and beyond 'Epsom'. The best way to grab National's attention back would be to have another one or two list MPs come in on his coat-tails. But at 0.6% (ish) in the polls, Seymour needs to find a way of doubling ACT's support to just get one other in with him.
There is potential for this if Bill English's pandering to New Zealand First voters sends some more liberally minded National voters his way. But Seymour is also up against the attraction of Gareth Morgan for many of these swingers (I reckon Morgan's support is a real mix).
Seymour might well have seen the writing on the wall when National turned to the Maori Party to get its RMA legislation over the line back in March. Revision of the RMA was quite possibly the biggest policy platform for ACT over the past few years. And when push came to shove, he was ignored at the final push by National in favour of another coalition partner for the latest legislation.
As I've written before, I think some of this was down to National wanting to boost the Maori Party's image in the hope that Te Ururoa Flavell and Marama Fox can secure extra seats this election as a hedge against having to turn to Peters.
And very quickly on the Maori Party – I thought a boost in support had a greater chance of happening than now looks to be the case. When Andrew Little marginalised his party's Maori support by 'accepting' Labour's current Maori MPs would not appear on the party list, there was every chance of a boost for the Maori Party. But Kelvin Davis' ascension to the deputy role has cemented Labour's Maori support.
I for one am surprised that the Maori Party did not make a bigger deal over water when the royalty debate hit full flow. It's getting harder to see it with any clear-cut chances now of really boosting (doubling?) its party vote unless the Mike Hosking non-apology saga takes a life of its own.
What happens when Bill English on 24 September picks up the phone and calls Winston?
This has all increased the likelihood that National will need support from New Zealand First. So, what happens when Bill English on 24 September picks up the phone and calls Winston? Firstly, it's likely that Peters will have to decide on whether to answer this call or the one coming in at the same time from Jacinda Ardern.
A lot has been written about whether Peters will follow previous coalition negotiation 'rules'. The main one is that he'll talk to the largest party first. I wouldn't be so sure of it this time around. Would NZ First really stick with the principle of dealing with the largest party first when it's clear that a close-run second (looking to be Labour on current polls) had all the momentum while the largest party was on a downward trend?
Certainly, if there's potential for Peters to enter coalition with Labour on its own (ie Greens not in Parliament or not required), then I reckon the 'momentum' argument could well win out over the 'largest party' rule.
Another thing that's got a bit of attention is that Peters will make his Kingmaker decision by 12 October, which is the day we get the final election results. I think discussion around this has been a tad on the cute side. Yes, I'm sure it would be preferable, but don't go holding your breath.
New Zealand First was very careful to leave out of its constitution any mention of how the party should go about agreeing to coalition arrangements. While Peters holds a lot of sway – it's not all 'what Winston says, goes'.
There will be two bodies involved in the decision-making process at NZF – the caucus and the party's board. In theory, you'd assume the majority would win over. In practice, the feeling at the top of the party is that you'd want near-full agreement on which way you go – ie 95% of the caucus and board.
And this could certainly drag negotiations out longer than 12 October. I'm not saying it will. Just be prepared for that it might. Particularly now with the increased potential for personality clashes at the top of the party (Shane Jones and Ron Mark), which might take some time to resolve.
Lastly, it's looking like Labour and National are set to converge on the 40% mark (on current polling direction). One thing I haven't been able to make my mind up on is whether this increases the likelihood that NZF chooses to just sit on the cross benches and take audiences from both on individual policies/Budgets.
This would potentially give New Zealand First the greatest shot at the having the most influence it can next term – if coalition negotiations don't throw up a pot of gold. I'm interested in your views.