Bill English won't say who he wants as his successor – but there is a clear list of candidates who have emerged as front runners for the Opposition's top job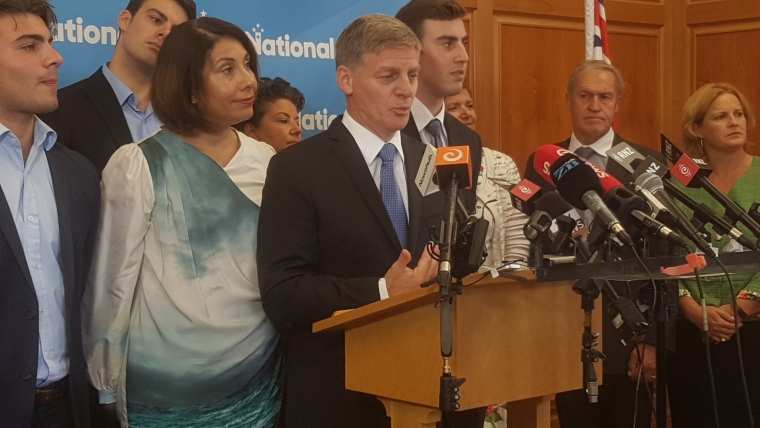 Outgoing National Party leader Bill English is staying mum on who he wants to take up the mantle as party leader.  
"I'll just have a vote, like everyone else in the process and I expect I might enjoy them coming to ask me for it, after years of having to go ask other people for their votes," English chuckled, to a chorus of laughter from National MPs behind him on Tuesday morning.
Over the coming weeks, the news cycle will be dominated by National MPs vying for the Opposition's top job.
Much will be going on behind closed doors – unlike Labour, National MPs choose their leader and there can be no doubt that the lobbying has already begun.
So, who are the front-runners?
Simon Bridges:
The Tauranga MP has been tipped by many to replace English. The former Crown Prosecutor held top portfolios in the previous National Led Government, including Labour, Economic Development, Transport, all while serving as Leader of the House.
In opposition he wasted little time familiarising himself with his new role, Shadow Leader of the House, embarrassing the Government over its lack of preparation when electing Speaker Trevor Mallard, forcing it to fork over more select committee seats to National.
He is a capable speaker in the House and his knowledge of the inner workings of government make him a formidable senior opposition member – and potentially leader.
Judith Collins:
Judith 'Crusher' Collins is one of National's old guard, and one of its most experienced MPs. Entering Parliament in 2002, she served in Opposition for seven years before being part of the Government. 'Crusher' – the unofficial nickname given to her after her bill allowing boy racers' cars to be crushed – has a reputation for being tough and unrelenting.
These aspects would play well in opposition, where it's critical for the leader to keep the Government under pressure and to make sure her caucus does not step out of line.
Amy Adams:
Adams is able to boast of one of the bluest seats in New Zealand. She has held Selwyn since 2008 and each election since has won it by a considerable margin. She was also seen as one of the most capable ministers in the previous National Government, presiding over the social investment portfolio as it underwent significant changes.
On the Opposition benches, she has taken the lead on one of National's biggest campaigns against the Government around its new employment laws and is expected to keep up the pressure as the year continues to unfold.
Nikki Kaye:
Kaye has done something her party was not able to do last election – beat Jacinda Ardern.
In 2008, she won the Auckland Central seat for National for the first time in its history. She then retained it in 2011 and 2014, beating the now Prime Minister both times.
Much of her focus during her time in Parliament has been on education. She started by chairing the Education and Science Select Committee in 2011 then, two years later, was made Associate Minister of Education and was promoted to Education Minister in 2017.
Now National's education spokeswoman, she has become a critical member of National's front bench.
Steven Joyce:
The former Finance Minister was not talking about a potential run at the top job on Tuesday afternoon, telling reporters who asked about his ambitions that it was "Bill's day."
But speculation has been mounting that Joyce might want the job for himself. Joyce is English's right-hand man – the numbers man for the numbers man. He has a deep understanding of the Party; he has chaired National' campaign committee for years and was National's first general manager in the early 2000s.