Gareth Vaughan looks at MBIE's latest plans to clean up NZ's problematic Financial Service Providers' Register & reiterates his earlier call for the Government to abolish it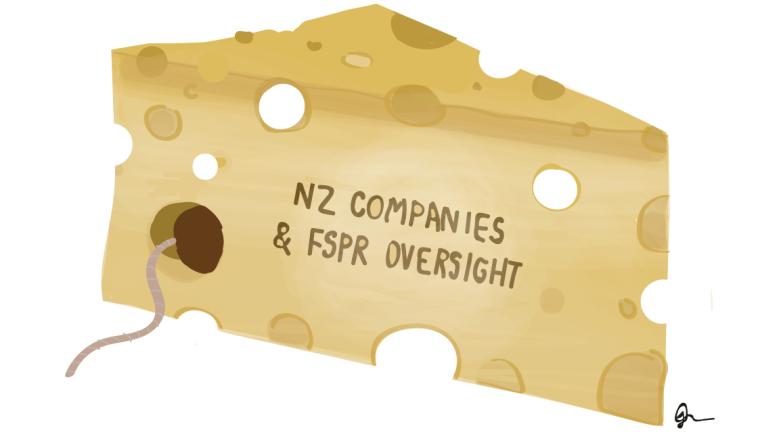 By Gareth Vaughan
So here we go again.
The Ministry of Business, Innovation & Employment (MBIE) this week issued a discussion paper entitled; Regulations to support measures to address the misuse of the Financial Service Providers' Register (FSPR). 
This heralds the Government's latest attempt to clean up the problematic entity known as the FSPR, with previous attempts having run on and off over the past few years.
Here's a simple explanation of the problem from Commerce and Consumer Affairs Minister Kris Faafoi; "Some mainly offshore-controlled entities have been 'free-riding' off New Zealand's reputation for sound financial markets regulation by using their registration to imply that they are actively regulated in New Zealand when that is not the case."
Regular interest.co.nz readers will know the FSPR is something I've written about ad nauseam. So rather than once again delving into the problems with, victims of and background to the FSPR in detail, there are a couple of articles outlining all this here and here.
In 2016, during a previous round of MBIE consultation on how to clean up the stain on New Zealand's name caused by the FSPR, I submitted that the Government should simply abolish it because NZ no longer needs it. 
Why we have it
In terms of the latest discussion paper, and for the purposes of this article, let's take a look at why, according to MBIE, we need the FSPR in 2018. Then I'll assess whether these are good enough reasons to keep it. 
Anyone who is in the business of providing a financial service is required to be registered on the FSPR. This means both individuals and companies.
The current purpose of requiring registration, according to MBIE, generally includes:
a) Allowing the identification of all those in the business of providing financial services in New Zealand. Identification assists the Financial Service Providers/Companies Registrar and other regulators with carrying out their regulatory functions. The public can also search the FSPR for a provider to see whether the entity is registered, what financial services they are registered for, any relevant licences they hold and the financial dispute resolution scheme they are a member of.
b) Assisting NZ meet its obligations under the Financial Action Task Force (FATF) recommendations. The FATF is a global anti-money laundering overseer. FATF's recommendations include requiring the licensing or registration of all financial institutions to ensure effective monitoring is in place to confirm financial institutions are meeting their anti-money laundering and countering financing of terrorism obligations.
c) Facilitating the financial dispute resolution system which provides an avenue for consumers who have a dispute with their provider to seek redress in a quick, efficient and cost-effective manner. While this is not an explicit purpose of registration as set out in the Financial Service Providers (Registration and Dispute Resolution) Act, or FSP Act, dispute resolution membership is linked to the registration system. Under the FSP Act, all financial service providers who provide services to retail clients are required to be members of an approved dispute resolution scheme (DRS). The DRSs will only accept members that are registered on the FSPR. Amongst other things, this allows the DRSs to rely on checks completed by the Registrar that the provider meets the minimum requirements to provide financial services in NZ.
Do the reasons we have it stack up?
Let's now go through a), b) and c) one by one and see if they are worthy reasons for having the FSPR. Whilst doing this it's important to keep in mind that being registered on the FSPR doesn't mean a business or individual is licensed, monitored or supervised by regulators in NZ or anywhere else. This unfortunately hasn't prevented confusion from overseas investors, and exploitation by the nefariously minded in the four corners of the world claiming registration does in fact mean regulation in NZ. For the avoidance of confusion it's best to think of the FSPR as merely a phone directory for financial service providers.
In terms of a), I don't believe this is a good enough reason to have the FSPR. The key regulator is the Financial Markets Authority (FMA). The FMA was granted powers by the Government in 2014 to direct the Registrar, currently Ross van der Schyff, to deregister companies or prevent companies from registering on the FSPR. This, I believe, is a waste of FMA staff time and taxpayers' money, which helps fund the FMA. I'd rather FMA staff spend their time overseeing the likes of KiwiSaver, superannuation schemes, the sharemarket and property investments. Areas that actually matter for New Zealanders and their money.
MBIE's new consultation paper sets out that anyone in the business of providing financial services will be required to register on the FSPR if their financial services are provided to persons in NZ. Currently the requirement is for anyone in the business of providing financial services to register on the FSPR if they live in NZ or have a place of business in NZ, regardless of where in the world their financial services are offered.
The new plan is to change the scope of registration to those who provide financial services to people in NZ from those who provide financial services from NZ. This removes the need for NZ regulators to, in theory at least, keep an eye on NZ registered entities offering financial services overseas in a language(s) of their choosing.
MBIE is also proposing threshold levels of financial services with registration requirements not applying to those who provide services below the threshold, with a de minimis level of services proposed, and exempting certain classes of providers. This looks to me like a set of loopholes ripe for exploitation, and a way for NZ regulators to waste their time and taxpayers' money trying to enforce them.
In the days of the FMA and the Financial Markets Conduct Act, most areas of financial services are now licensed. We don't need a phone directory from a regulatory perspective. And nor, in 2018, do we need one from the public's perspective when we have things called the internet, Google and social media.
On to b). The FSPR was introduced in 2010. Subsequent to that, in 2013, the Anti-Money Laundering and Countering Financing of Terrorism Act came into force. This Act is currently being extended to incorporate the likes of real estate agents, lawyers and accountants. Surely this now meets NZ's FATF responsibilities.
Next is c). The paragraph on c) from the MBIE consultation paper that I included above contains one key sentence that negates the need for the FSPR to exist to meet the requirement detailed by c). It is; "Under the FSP Act, all financial service providers who provide services to retail clients are required to be members of an approved dispute resolution scheme."
This means that by law financial service providers must register with a dispute resolution scheme when they have "ma and pa" investors. Thus retail investors don't need the FSPR. For their part dispute resolution schemes could adopt a rule that they accept members who can show they have NZ retail customers.
So rather than use taxpayers' money and our regulators' time to oversee and enforce something we don't need, and has been exploited from China to Malaysia to Poland to the United Kingdom and numerous countries in between, let's abolish the FSPR and put the taxpayers' money and regulators' time currently policing it to better use for New Zealanders, their savings and New Zealand Inc.
(You can see all our FSPR related articles here).
*This article was first published in our email for paying subscribers early on Friday morning. See here for more details and how to subscribe.