Rezoning to allow more intensive development brought windfall profits for some property owners, not so much for others, says Ryan Greenaway-McGrevy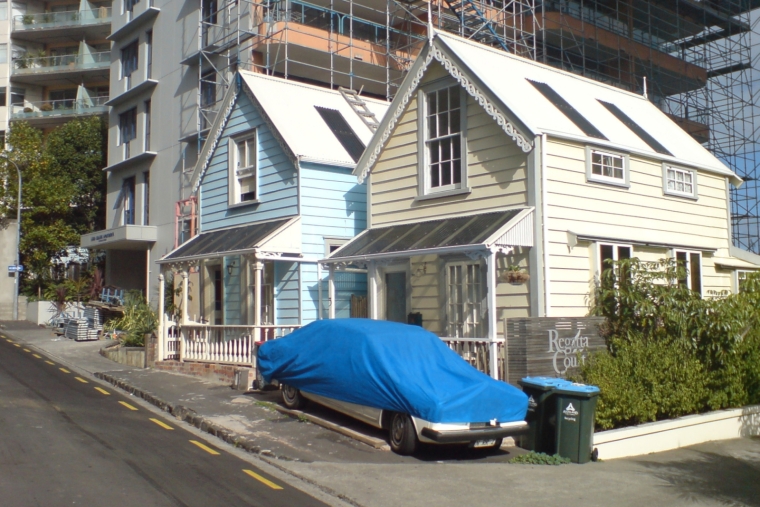 By Ryan Greenaway-McGrevy*
A small three-bedroom, one-bathroom, former state house in my neighbourhood sold for just under $2 million in 2016. Even by Auckland standards, that is a lot of money.
But it makes a lot of sense once you realise that the house sits on over a fifth of an acre of land, and that the land has been re-zoned under the Auckland Unitary Plan (AUP). The land underneath the house has become much more valuable because it has been 'upzoned' to support additional dwellings. Now that small house can be bulldozed and replaced by several terraced houses, flats, or perhaps apartments.
The right to augment or teardown and replace a residential structure can carry a significant positive premium. And as my anecdote suggests, land use regulations can have a big effect on this so-called redevelopment premium.
In a recent Centre for Applied Research in Economics working paper, Gail Pacheco, Kade Sorensen and I set out to measure the effect of the AUP on the redevelopment premium, and house prices more generally in Auckland.
We show that the announcement of the plan has significantly increased the redevelopment premium in many properties around the city. This has translated into some big windfalls for some homeowners – at least on paper.
But not all properties that were upzoned increased in value – and some have in fact declined when compared to the Auckland property market as a whole.
The redevelopment premium depends on more than just land use regulation
Perhaps it makes sense that the small state house sitting on a big piece of land skyrocketed in value after being upzoned. After all, regulations tend to restrict what you can build on that land, and those restrictions have just been relaxed.
But not every house in Auckland is a small state house on a big piece of land. Take a walk around the established suburbs and it is clear that land use regulations were not always as restrictive as they have been in recent memory.
There is plenty of relatively intensive housing – such as units, flats and even apartment buildings – distributed throughout the suburbs, much of which was built prior to the 1980s. And up until the 1990s, cheap cross-leasing led to a boom in compact free-standing houses on postage-stamp sections.
Land use regulation was subsequently tightened, which prevented these more intensive forms of housing proliferating further.
Suppose, then, that some flats next-door to the state house in my neighbourhood have also been upzoned. Should we expect the flats to appreciate as well?  
Perhaps, but not by nearly as much. The key difference is that the flats are already an intensive form of housing, whereas a small house on a fifth of an acre is not. It makes little sense to teardown a block of units just to replace them with another form of high density housing. In terms of forgone rent, the opportunity cost of tearing down a block of flats far exceeds the opportunity cost of tearing down a small house.
Thus the existing extent of site development tells us something about the opportunity cost – and thus the profitability – of redevelopment. Urban economists often use site intensity – or the ratio of the value of improvements to the total value of a property – to measure the existing extent of site development.
All else equal, a property with a low site intensity ratio should be more profitable to redevelop than one with a high ratio. And the former state house on a fifth of an acre is going to have a lower ratio than the block of flats next-door.
Under-developed properties increased in relative value after upzoning
It is unsurprising that a small house with a lot of land appreciates in value after regulations are relaxed to permit more development on the site.
But by how much? Well, our work suggests that a house with a site intensity ratio of zero – equivalent to vacant land – appreciated by about 23%, on average, after being re-zoned to terraced housing and apartments – the residential zone in the AUP that permits the most site development.
As you might expect, a house with a site intensity ratio of zero is rare in practice. But our work suggests that a house with a ratio of 0.2 (i.e., 80% land value) appreciated by 15.3%, on average, after being rezoned to terraced housing and apartments.
We document similar, albeit smaller, effects for houses upzoned to mixed use urban and mixed use suburban in the AUP. These zones permit more development than the single house zone, but less than terraced housing and apartments.
Intensively-developed properties declined in relative value
Now let's revisit the block of flats next-door to that state house. What happens when an intensively-developed property such as this is upzoned?
Interestingly, our findings suggest that intensive housing has underperformed the Auckland property market after being upzoned.
When compared to houses that were not upzoned, a house that had a site intensity ratio greater than approximately 0.6 (or 40% land value) depreciated in value after being rezoned to terraced housing and apartments.
We find similar effects in the mixed use urban and mixed use suburban zones: If a property's intensity ratio surpasses a sufficiently high threshold, the property depreciated in relative value.
We suspect that these effects reflect anticipated construction of high density housing in the immediate neighbourhood. The price of high-intensity housing such as flats and apartments should decline as the supply of these kinds of dwellings increases. But if markets are forward-looking, prices will decline before the new construction comes online.
These effects may also reflect an anticipated reduction in amenities from crowding as the immediate neighbourhood is expected to become more densely populated.
Correlation versus causation
Can we be sure that these documented correlations between house prices, zoning changes and site intensity reflect the effect of the AUP on house prices? 
Claims of causality should be held to a high degree of scrutiny in empirical work, and unfortunately the observational data we must use in applied social sciences is a far cry from the 'gold standard' of randomized experiments used in the medical sciences.
This is certainly true in our upzoning dataset. Planners put careful consideration into which areas of Auckland were best-suited to upzoning, and any one of their reasons could be driving the correlation between house prices and upzoning that we observe in the data.
We can, however, control for these confounding factors if they are observable. It appears important, for example, to control for the distance to the CBD because (a) properties closer to downtown tend to appreciate by more; and (b) there is a clear geographic pattern in where the different zones are located in the city. The single house zone, for example, predominates in the inner suburbs of Ponsonby, Grey Lynn, Remuera and Devonport, as well as on the fringes of the city.
We also control for other observables, including (but not limited to) the number of bedrooms and bathrooms in the property, the floor size of the structure, land area, and neighbourhood income levels.
But it is likely that there are unobservable factors that also need to be controlled for. The effect of these variables is mitigated to some extent by the fact that we exploit variation in site intensity within each residential zone to measure the change in the redevelopment premium.
Suppose that increasing traffic congestion has generated a premium in housing that is located close to good public transportation options. It is also clear that high density zones have been located close to main arterials and train lines, and so it may be that this 'proximity-to-transport premium' is driving the observed correlation between house prices and residential zones.
That may very well be the case. But unless you add additional detail to the hypothesis, it does not explain why houses with different site intensities have experienced different appreciation rates within each residential zone. That transportation premium should, more or less, apply equally to the state house and to the block of flats next-door, but we still find a substantial difference in the effect of upzoning on the two properties.
Will the Unitary Plan bring affordability to Auckland?
That is the million dollar question. It is too early to tell whether the AUP will bring the increase in housing supply that is needed to Auckland. What is clear is that it will take a lot of time.
---
*Ryan Greenaway-McGrevy is a Senior Lecturer in Economics and the Director of the Centre for Applied Research in Economics at the University of Auckland.