ASB Chief Economist Nick Tuffley examines the 'neutral' interest rate limbo dance, what history tells us about interest rates, the new neutral in NZ, the real limbo record, the struggle to be green & more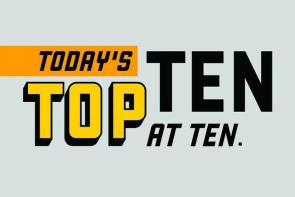 Today's Top 10 is from Nick Tuffley, Chief Economist at ASB, taking a close and very 'neutral' look at interest rates and various other matters, including why being green is not quite in the bag.
As always, we welcome your additions in the comments below or via email to david.chaston@interest.co.nz.
We are keen to find some new Top 10 contributors so if you're interested in contributing, contact gareth.vaughan@interest.co.nz.
1. The neutral interest rate limbo dance competition is 25 years strong.
Interest rates have been noticeably lower since the Global Financial Crisis.  But a working paper from the Federal Reserve Bank of San Francisco ("Measuring the Natural Rate of Interest: International Trends and Determinants") concludes that the natural (or neutral or equilibrium) interest rate has been in decline for a much longer period in the US, Euro Area, UK and Canada.  The findings also suggest global factors have played a role:
We find that large declines in trend GDP growth and natural rates of interest have occurred over the past 25 years in all four economies.  These country-by-country estimates are found to display a substantial amount of co-movement over time, suggesting an important role for global factors in shaping trend growth and natural rates of interest.
Think of the neutral/natural/equilibrium interest rate as the Goldilocks interest rate: not too hot and not too cold for the economy.  It is an important concept in helping guide both monetary policy settings and to where benchmark investment rates of return are likely to sit in the long term.  Unfortunately, the extent of economic change globally over the past decade makes observing this unobservable variable even more challenging.
Image source: Tradecharting
2. Interest rates are low within NZ's relatively short data history.
The RBNZ provides a long-term history of NZ interest rates, available amongst its growing array of available financial statistics.  The past 30 years' trend decline in various NZ interest rates broadly matches up with the San Francisco Fed's findings in the above paper.
For many of us in NZ with long memories, the current level of interest rates seem low.  NZ had very high interest rates in the 1980s compared with other developed economies, courtesy of our more rampant inflation experience of the time.  I have fond memories of earning upwards of 20% interest on term deposits from the proceeds of my milk round job, though less fond memories of how fast the price of my obligatory bottle of Coke went up.  And back then I wasn't calculating what my real after tax return was – or I might have simply spent all my money on Coke.
But those with even longer memories will have a bit more perspective.  The post-GFC interest rate environment is more akin to the 1960s period, which pre-dates the period of high inflation and then the 1990s bedding-in of low inflation.
Chart Source: ASB
3. Global history tells us that low – not high – interest rates are more normal.
Bank of England Chief Economist Andy Haldane went back in time (figuratively speaking) in his 2015 speech "Growing, fast and slow".  Although the speech might seemed a little dated, ancient history hasn't changed over the past three years – and the speech has some fascinating insights into human progress over the last few millennia.
Focusing narrowly on interest rates in the speech:
Interest rates proxy society's willingness to save or stick. The less willing they are to do so – the greater their impatience - the higher the compensation they require….

Chart 12 plots a measure of short and long-term interest rates back to 3000 BC. Though the data are patchy, they suggest interest rates fell secularly in the run-up to the Industrial Revolution….  One interpretation of these trends is that they reflect society's evolving time preferences. In the run-up to the Industrial Revolution, society became more willing to wait than in the past. That, in turn, enabled saving, investment and ultimately growth.
There are two things that stand out in the chart (below) from the speech. One is, the 1970s-1980s period of high interest rates was unusual – you have to go back to Babylonian times for equivalent rates.  The second is that the recent period of low interest rates is low by the standards of the past 5,000 years.
As an aside, the speech's historical insights into human progress are well worth reading thoroughly.  And for those who prefer pictures, the many charts in the appendix (from Page 25) give an easy overview of per-capita GDP over 3 millennia, various long-term measures of socio-economic progress – and skeletons – amongst others.
Source: Bank of England "Growing, fast and slow"
4. NZ's interest rate limbo dance towards greater patience.
The neutral interest rate in NZ has also fallen, in keeping with the experiences elsewhere in the world and the eyeballing of the earlier NZ rate chart.
We have just gone through and re-estimated where we think the neutral Official Cash Rate sits:
There are two key findings from local and overseas evidence. First, neutral interest rates are now much lower than what they were before the onset of the Global Financial Crisis (GFC), a decade or so ago. Second, it is likely that the neutral interest rate is not constant, but trends over time.  Evidence suggests that the neutral interest rate has been on a downward trend since the late 1980s.

Our updated estimates for New Zealand largely corroborate these findings. We now estimate that the neutral nominal Official Cash Rate (OCR) is just below 3%, as opposed to around 5% at the start of the decade. New Zealand neutral interest rates also look to have continued their downward trend.
Our earlier estimation work in 2010 didn't make any allowance for potential behavioural shifts, such as a renewed shift to being more patient that Andy Haldane delved into in great depth.  And back in 2010 we didn't have much post-GFC data from which to make broader insights into economic factors that could be driving NZ neutral interest rates down.
Chart Source: ASB
5. Greater risk aversion is one potential influence.
Blackrock has flagged that a greater focus on saving in liquid assets for a rainy day is one downward drag on neutral interest rates, with evolving global risk aversion getting magnified by the GFC.
From Blackrock's paper "The safety premium driving low rates":
The outlook for historically low interest rates is a top issue for investors. Low rates stem from tepid potential growth (ageing populations, poor productivity) and central bank success in achieving predictable, stable inflation. Yet another critical factor is often overlooked: a structural rise in risk aversion over the past two decades. This risk aversion intensifies the hunger for perceived safety in highly liquid sovereign bonds. Such a safety premium magnifies the drop in interest rates and compresses bond term premia.
Changed savings behaviour in NZ following the GFC suggests risk aversion has been a factor here.  Lower potential growth through an ageing population and low productivity will also be factors.  NZ's productivity growth has been low over the past decade.  Aside from potentially influencing the neutral interest rate, productivity is the vehicle for delivering growing prosperity over the long term – and an area where we urgently need to do better as a nation.
Chart Source: ASB
6. RBNZ needs to limber up to drop its neutral OCR estimate.
It is very important that the RBNZ has a relevant view of where the neutral OCR is – given the neutral rate's role in benchmarking OCR decisions.
The most recently-published RBNZ estimate was in the August 2017 Monetary Policy Statement, on Page 6:
Relative to estimates of the neutral interest rate, the current level of the OCR implies that monetary policy remains stimulatory. Estimates of the neutral interest rate have been declining slowly for some time. The Bank uses a range of models to estimate neutral and regularly communicates its updated estimates.  The mean estimate from the Bank's suite of indicators suggests a neutral rate of around 3.5 percent at present.
Our latest work points to neutral being on the low side of the RBNZ's estimate above, though the Bank may have a more up-to-date internal figure that it is calibrating its OCR decisions against.
That internal figure matters.  Arguably, the speed of the RBNZ's ill-fated 2014 tightening cycle was predicated on its view back then that the neutral rate was substantially higher than the prevailing 2.5% OCR setting.  The RBNZ ripped through the first 100bp of a signalled 260 bp of tightening (see the 90day track on Page 25) in 4 months.
However, the new Governor, new Policy Targets Agreement, and the message from the August 2018 MPS suggests the chances of making a similar mistakejudgement any time soon is small.  The RBNZ appears far more flexible now for the neutral interest rate limbo.
Chart Source: ASB
7. Is it a lower limbo bar for asset yields as well?
A key implication for lower neutral interest rates is that benchmarks for asset yields are likely to remain structurally lower than we were accustomed to in the 'old' normal of pre-GFC returns.  But structurally lower on average is different from saying NZ (and global) interest rates won't rise from current below-neutral levels.
Guy Debelle – Reserve Bank of Australia Deputy Governor – sounded a note of caution in his Financial Risk Day speech "Risk and Return in a Low Rate Environment":
One of the main points I would like to make is that the low interest rate structure underpins many asset prices. That is, asset prices which might look expensive are more reasonably priced given that the rate structure currently is at historically low levels. So in my view, a fundamental question that you need to think about as an investor is: will the current rate structure remain at these levels, or will it return to the higher levels we have seen in the past? If the rate structure remains near historic

lows, then valuations can persist. But if it rises, then asset valuations need to be  reassessed. The second and related question is: what is the risk that such a shift in the rate structure occurs and am I being adequately compensated for that risk?
For investors there are some important considerations from lower neutral interest rates, overlayed with Guy Debelle's cautions:
Income yields from term deposits, bonds, shares and property are likely to remain low compared to what prevailed in the decades up to the GFC.  But yields are likely to rise a little over coming years as extraordinarily easy monetary policy returns interest rates closer to their new – albeit low- neutral levels.
A significant portion of the lift in global asset values over the past 9+ years can be attributed to a structural adjustment to lower neutral and risk-free interest rates.  But any future increases in benchmark yields, such for as government bonds, to reverse the current undershoot of neutral rates, will put some acid on assets to demonstrate earnings growth potential to help support valuations.   
Image source: Investing.com
And if you want to know what a real life limbo dance record is, according to the World Record Academy the women's record is 21.5 cm set by a New York State-based Trinidadian woman.  It is probably best not to try this one at home unless you have professional medical staff in attendance (this record was set on the US morning programme "Live!").
Shemika [Charles] said it took a lot of training to get to this point. She practiced four times a day during the summer.

"It's very different and people are more willing to accept something they haven't seen before. I would like to limbo as long as I can but you can only limbo for so long. I can't limbo when I'm 50 or 60 but I'd like to limbo for as long as I can," Charles said.
Image Source: World Record Academy
9. Hard being green when the environment is in the bag.
One of my first reactions when reading the details of the Ministry for the Environment's (MFE) consultation paper on banning single-use plastic bags is that Kermit the Frog is so right: it's not easy being green – the choices are not as straightforward as they seem on the surface.  This topic has become very relevant to me now that my local supermarket has just phased out single-use bags at the check-out (although the shop-worn bags in the back of my car already get a lot of use).  A lot of the focus within the consultation is the marine impacts of plastic products in general.  And people who have travelled to populous developing economies have probably been dismayed by how many plastic bags litter streets and fields.
Given these bags look set to disappear one way or another from a shop near you, that leaves consumers faced with figuring out appropriate alternatives.  And that is where Kermit might go a little green. The MFE paper cited the following on Pages 40-41:
For example, a Danish study of embodied life-cycle impacts over 14 measures found that people had to reuse paper and biodegradable plastic bags 42 or 43 times before those bags had less impact than a single-use plastic shopping bag; for multiple-use polypropylene shopping bags the reuse rate was 45 to 52 times, and for cotton shopping bags it was 7100 times.
The single-use plastic bag is of a differing construction to what we use here and refuse treatment differs, so the results may not translate directly.  But, sobering in the Danish context at least, was what you would think is the pinnacle of environmental caring – a bag made from organic cotton – has a huge environmental footprint.  You'd need to use it 20,000 times before it had less of an environmental impact than using single-use plastic bags – 384 years of weekly shopping trips (not counting the impact of some inevitable darning) and an inter-generational heirloom.
10. Understanding 'whole of life' on the drive to environmental change.
Another (related) reaction to the report was the importance of doing 'whole of life' assessments of the costs and benefits of varying environmental policies or individual actions to ensure that not only is the intended objective being achieved, but that it is being achieved in a manner that minimises costs.  And costs extend beyond the financial to include factors such as environmental, quality of life, and the value of people's time.  How does economics fit a shift to environmental sustainability?  Economics is all about making the most out of finite resources and enabling desired outcomes.  Rigorous cost/benefit analysis helps assessments of the whole of life measurements of policies and activities. Markets, pricing, and internalising the positive and negative externalities all play roles.  Capital markets, for example, allocate capital based on expected returns, seeking out the most likely viable technologies.
And technology itself plays an incredible role in (literally) driving better environmental outcomes.  Tesla booster site teslarati.com examines the whole-of-life greenhouse gas emissions from internal combustion cars and electric vehicles:
These emissions include everything from raw material extraction, to vehicle manufacturing, through operation, and finally to end of life.  It's clear that the reductions from driving [electric vehicles] far exceed any emissions from vehicle production.  The savings are huge.  
And the article also looks ahead at how the those four life-cycle stages are likely to get even smaller environmental footprints over time for electric vehicles, including considerations of how some of the needed metals are sourced (which in itself has raised environmental concerns in the past).