Peter Dunne argues the Wellington bureaucracy will be a good gauge of whether the Government is likely to be re-elected next year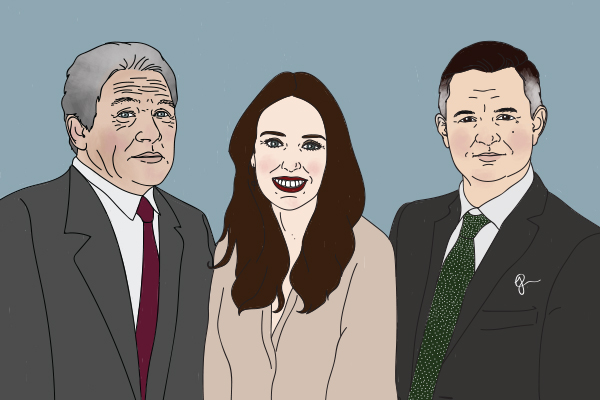 The Wellington public service bureaucracy still maintains an aura of political neutrality about its operations. Public servants are, as tradition expects, generally loyal to their Ministers and the government of the day, and do not seek to cause them any embarrassment, if that can be avoided.
Successive governments have been able to rely on the tact, discretion and continuity of the public service to guide and advise them on their policies as appropriate. All that is as it should be. Indeed, the neutrality of the public service is a core feature of our system of government. The government of the day has to be able to rely on the public sector to make its policies work, and deliver them to the public, as well as offering free and frank advice to Ministers on the real likely impact of their policies and how difficult or otherwise they might be to implement.
It cannot do so, or becomes severely limited in its ability to do so, without the support of the public service, or if there is any hint that the public sector is not in step with the government's agenda. 
However, none of this overlooks the reality that public servants are individuals like the rest of us, with the same prejudices and viewpoints. And, like the rest of us, they express these informally from time to time - to colleagues, friends, family and other associates, sometimes discreetly, other times less so. (Intelligence sector agents have long said that the best source to find out information about what is really going on in government is the loud conversations in the Koru Lounge on a Friday evening!)
The present government's term is approaching its midpoint, and government officials will be starting to assess whether or not it is likely to re-elected, not so much from a party political perspective, but more from the perspective of future policy development and implementation, and its likely longevity. After all, why dedicate too many resources to a government policy project that may well not survive a change of government, if that seems on the cards?
Much of that consideration will be based on an informal assessment by the public sector and its leaders of the performance of individual Ministers as they see them interacting with the various government departments on a day to day basis. After the initial flurry following the change of government in 2017 when bureaucrats had to get used to, and then house-train, a bunch of inexperienced new Ministers, many of whom appeared somewhat shocked to be in the role at all, there has been a settling down period where the worth of their political masters can be assessed more dispassionately.
As always, there have been surprises - some Ministers have performed far better than expected, and others less so. Soundings around the public service suggest that the current government sits very much on the cusp at present. The initial view that this government was likely to be in office for a minimum of two terms has waned somewhat, although it has not yet evaporated. Now, the coalition government's re-election prospects are rated about 50/50, a position not too out of step with public opinion polls, and probably not too bad at this stage of the electoral cycle, but one from which it cannot afford any slippage. 
Nevertheless, with half its term nearly over, and no significant policy runs on the board as yet, the government is facing a significant, although not yet insurmountable challenge, to make the Prime Minister's "year of delivery" a reality. If doubts about the government's re-election prospects remain, or even intensify, the enthusiasm for implementing new policies will diminish, especially if it is felt those policies could have only a brief life-span. 
Much of the view about the government's longer term chances hinges upon the perception of the performance and competence of individual Ministers. While most still seem to be considered in the nonentity category, two names crop up constantly as just not up to the job - Housing Minister Twyford and Health Minister Clark. The worrying thing for the government is that both are in high-profile areas, which the government has identified as central to its agenda.
And here is the rub: officials are generally unlikely to go the extra mile for Ministers and policies that do not inspire their confidence, so things are likely to get worse in these areas before they get better, and all the while the electoral clock will be ticking. Amongst other Ministers, Foreign Minister Peters is now seen as increasingly harmless; Police Minister Nash brittle and erratic, and Defence Minister Mark still too strutting.
On the other hand, Education Minister Hipkins seems highly regarded, but overworked; Finance Minster Robertson is seen as a safe pair of hands; Trade Minister Parker and Justice Minister Little generally on top of things. There is growing admiration for Energy and Technology Minister Woods, and increasing puzzlement that Civil Defence Minister Faafoi remains so underutilised. 
At the same time, there does not appear to be much enthusiasm for the National Party, more a sense of resignation that its return to office still remains a possibility. This should hardly be too much of a surprise - Wellington is after all a Labour city, and public servants form a large component of its voting population. Their professionalism means they usually separate their personal political preferences from their official roles.
However, a good yardstick of a government on the way out is when the number of leaks from the public service to the media or the Opposition increases. That does not appear to be happening as yet. Of course, the Wellington bureaucracy gossip will not determine the outcome of the next election, but it is worth noting nonetheless. It is after all a gathering of the views of those who work most closely on a regular basis with Ministers. And it will all be being passed on to others, innocently and in casual conversation. Although it is informal, and unscientific, a wise government would be foolish to ignore it. 
---
*Peter Dunne is the former leader of UnitedFuture, an ex-Labour Party MP, and a former cabinet minister. This article first ran here and is used with permission.