David Chaston on an existential crisis, how to save capitalism from itself, the challenge and what others, including billionaires are saying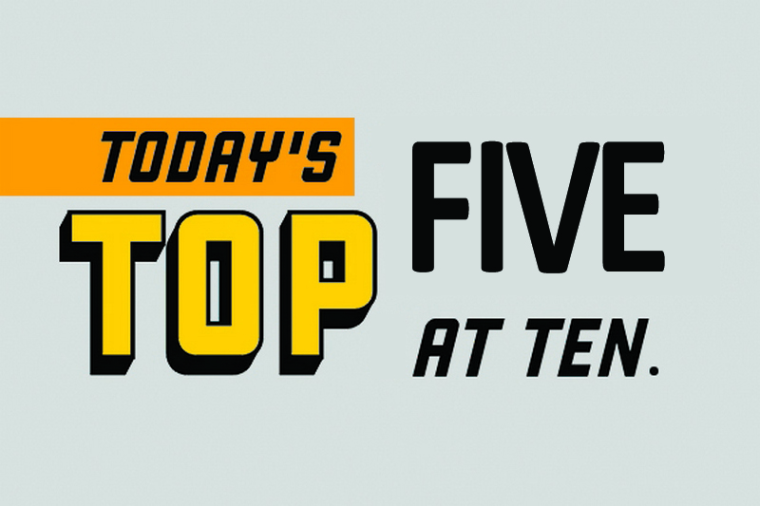 This week's Top 5 is from David Chaston who has been watching fast changes, with new technology eating up the assumptions behind competitive capitalism and its place in a democratic society.
As always, we welcome your additions in the comments below or via email to david.chaston@interest.co.nz.
And if you're interested in contributing the occasional Top 10 yourself, contact gareth.vaughan@interest.co.nz.

1. An existential crisis.
In the US especially, but also here, the words 'socialist' and 'capitalist' are used as epithets. To be sure, many other bumper-sticker words are used the same way, especially "neo-liberalism". The primary use is to negatively brand another's view and shut down rational consideration of ideas.
I am certainly a 'capitalist' and even a fan of 'liberalism' (neo or otherwise). But the reasons aren't readily explained in a brief sentence. And, it is quite clear that both 'isms' have their issues, some serious, some very serious.
However, one thing is not clear and that is whether either will survive, at least survive in the form that made them attractive in the first place. Many people, including me, have increasing doubts. And that is making for a re-examination of what should try to be saved in capitalism and liberalism. The forces lined up to bury (or buy) the concepts are powerful, and driven out of Eastern Europe, Asia, and increasingly the US. The primary attack comes from oligarchs and strong-man politics. But the seeds of failure are in capitalism itself. Rising unrestrained by sensible competition policy, competitive capitalism is morphing into oligopoly. Just about every economic activity you can think of is now dominated by five or less large commercial enterprises.
And the shift is fast.
In New Zealand, the icon impact is the four large Aussie banks. But there are many more examples; insurance; groceries; fuel; electricity; building materials; etc. etc. etc.
The immediate commercial imperative to retain the status quo is strong. Only companies with scale can deliver low unit costs that consumers expect. And if they don't, they will lose out to the huge multinationals that can cherry-pick here (and usually without paying any tax - think Visa, Mastercard, but also the big tech companies). It is hard to see an alternative (TINA) which just reinforces the dominance.
But around the world the debate is growing.
In fact, savvy billionaires who owe their wealth and position to the current system are worried about its sustainability too.
I recently added this very old cartoon to a story and got my share of criticism for doing that. One even called it 'hateful' and 'disgusting' because he/she thought it held rich people up to ridicule.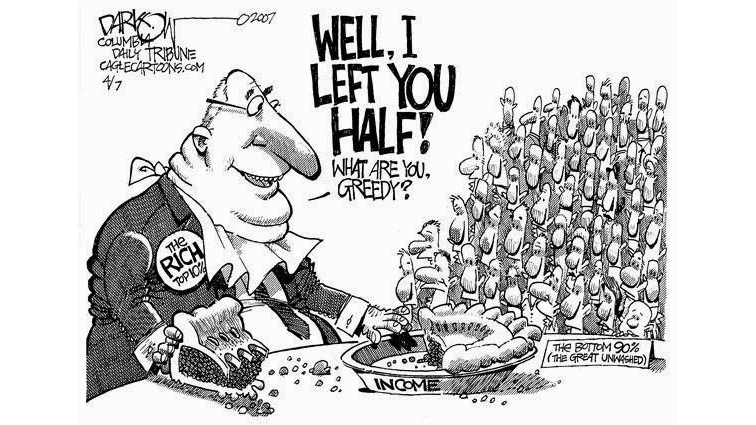 But I think it does illustrate, in a pointed way, just how distorted the current version of capitalism has become.
In my view, real capitalism is all about commercial competition for the consumer's decisions - many sellers and many buyers - and not about building high walls (scale?) that prevents competition.
2. How to save capitalism from itself.
In my view, competition regulation has failed us, big time. And not only in New Zealand, but in almost every Western democracy. Bring back aggressive "anti-trust" laws and enforcement, I say, with real sanctions for market abuse. It is the only way capitalism - even liberalism - can be saved. Put some market responsibility back into the market.
The goal is not to make everyone equal, nor to remove painful consequences for making poor choices. But cosy monopolies (whether in the private or state sectors, or even in labour markets) naturally work to benefit the few by 'closing the shop' at the expense of the many. But buyers or sellers should have proper choices available, even if they make bad ones. In fact, market consequences for making bad decisions should be obvious, and painful. Otherwise how will others learn? And we just don't need an army of bureaucrats trying to protect us from ourselves. We have far too much of that now - but some of that is because capitalism and liberalism hasn't been nurtured. It has been abused by public policy of both the left and the right.
Actually, banking is a useful place to start a debate on competition because it has a regulator whose sole job it is to make sure the large incumbents never fail. Cosy market shares built on excessive leverage makes everyone vulnerable if one fails, reinforcing the imperative to protect the incumbents. And that situation only exists because the regulator allowed it to happen; they opened the regulatory door and of course the regulated walked right in. The primary fault lies with the Bank for International Settlements in 2006, but the RBNZ went along with the anti-competitive approach and now we are stuck with it. Even the very modest, slow and feeble attempt to get bank shareholders to back their own investments with proper capital levels is getting immense pushback and there is no certainty that the regulator won't cave before it is implemented in five years or so. To protect their sky-high returns, bank shareholders are fighting hard to ensure it is the taxpayers, and not them, who will be the ones hurt the most in a bank failure.
This is emblematic of the competition problem world-wide, and in most commercial corners of our life. Most of those corners don't even have proper competition regulation. Think insurance especially, where two large Aussie companies control 70%+ of our consumer insurance market, a position gifted to them by our own regulator (heck, even IAG didn't think it would get approval to roll-up a majority of the NZ insurance market when they applied with its CEO openly talking about what they would do with a first rejection - one that never came).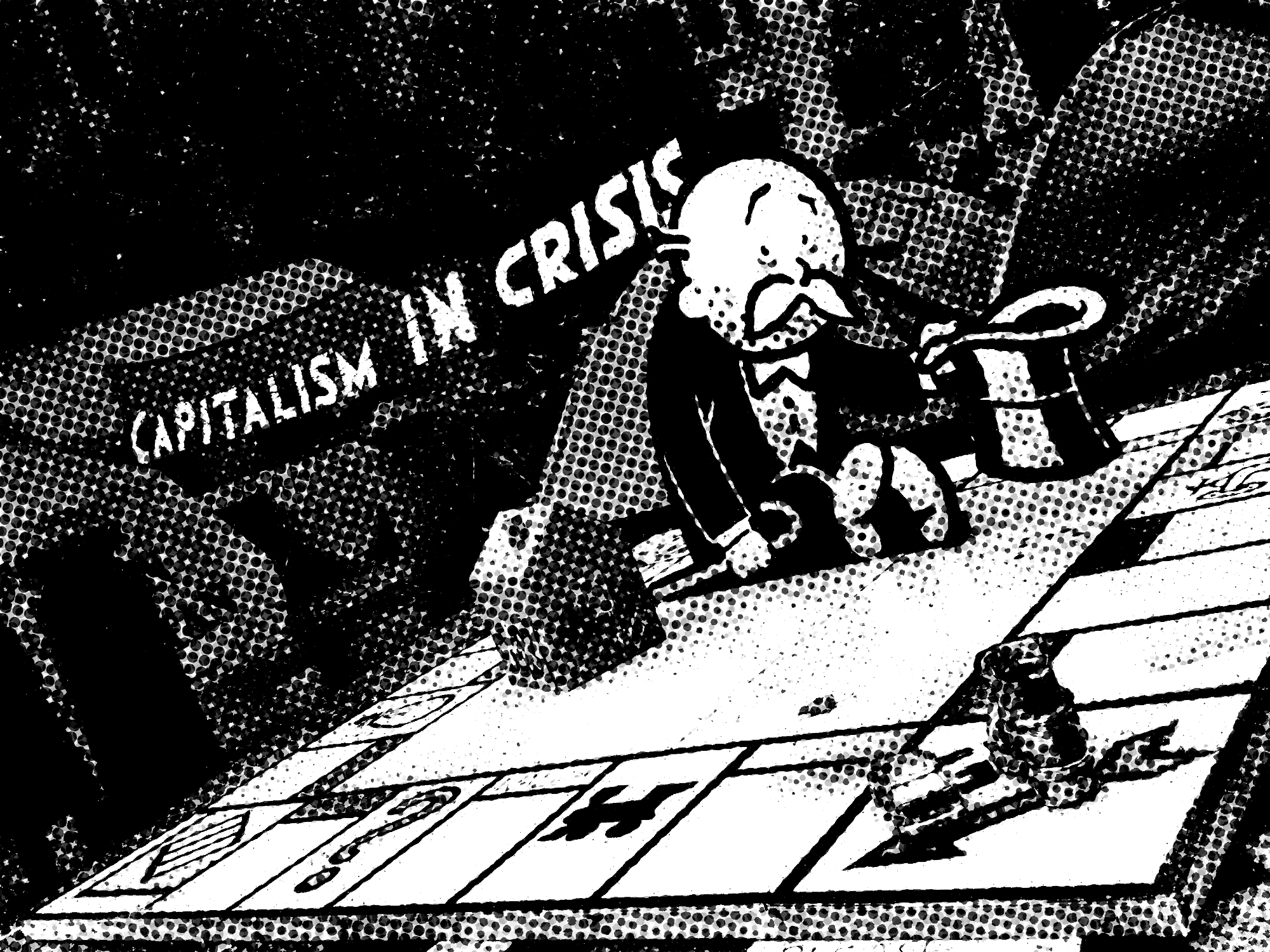 3. What others are saying.
I keep a reading eye out for people with all sorts of varying views (and of course not just on this topic). Here is what Joseph Stiglitz thinks should be done.
The prescription follows from the diagnosis: It begins by recognizing the vital role that the state plays in making markets serve society. We need regulations that ensure strong competition without abusive exploitation, realigning the relationship between corporations and the workers they employ and the customers they are supposed to serve. We must be as resolute in combating market power as the corporate sector is in increasing it.

...

Progressive capitalism is based on a new social contract between voters and elected officials, between workers and corporations, between rich and poor, and between those with jobs and those who are un- or underemployed.

Part of this new social contract is an expanded public option for many programs now provided by private entities or not at all. It was a mistake not to include the public option in Obamacare: It would have enriched choice and enhanced competition, lowering prices. But one can design public options in other arenas as well, for instance for retirement and mortgages. This new social contract will enable most Americans to once again have a middle-class life.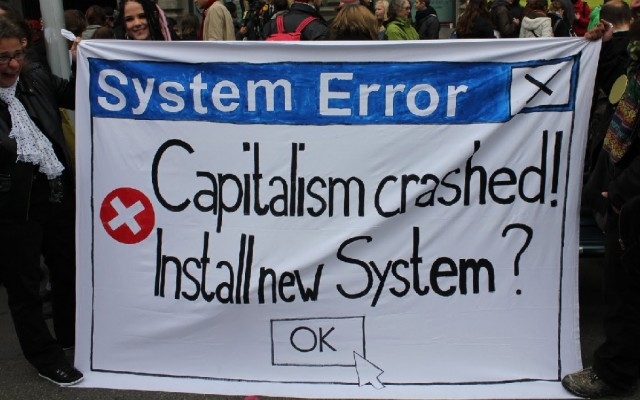 4. What some billionaires are saying.
Increasingly, this same diagnosis (that unrestrained capitalism is morphing into a dangerous place) is being accepted by those who benefited most from capitalism. This story gives the sense of dread some wealthy investors are feeling, sensing the same concerns American political hopefuls are channelling:
For the first time in decades, capitalism's future is a subject of debate among presidential hopefuls and a source of growing angst for America's business elite. In places such as Silicon Valley, the slopes of Davos, Switzerland, and the halls of Harvard Business School, there is a sense that the kind of capitalism that once made America an economic envy is responsible for the growing inequality and anger that is tearing the country apart.
And here is another, legendary investor Ray Dalio who has been writing specifically on the matter:
I think that most capitalists don't know how to divide the economic pie well and most socialists don't know how to grow it well, yet we are now at a juncture in which either a) people of different ideological inclinations will work together to skillfully re-engineer the system so that the pie is both divided and grown well or b) we will have great conflict and some form of revolution that will hurt most everyone and will shrink the pie.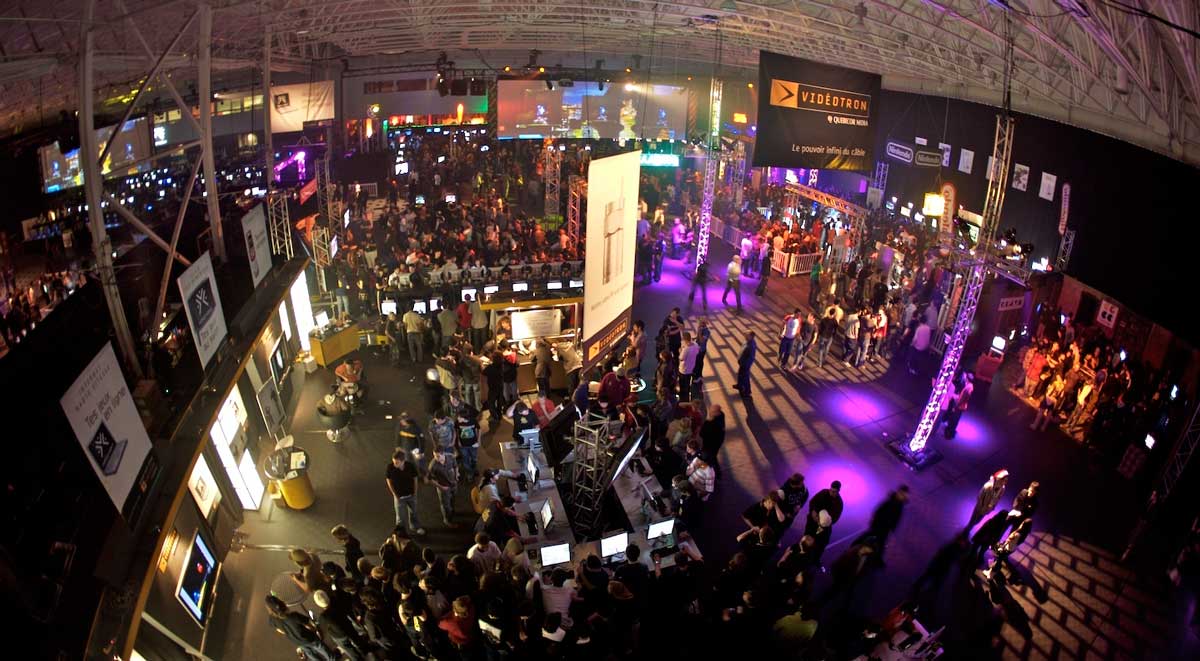 5. The challenge.
I am not trying to suggest that a coherent modern competition policy is an easy thing - it isn't. Dominant firms cross-subsidise, they acquire competitors, and they have cross-platform activities (services to both consumers and merchants, for example). No jurisdiction has got it right yet.
But doing nothing, or worse, not adapting to the modern competitive landscape, is just not helping. Doing something aggressively may be a better way to see how to control the perverse incentives oligopoly capitalism can unleash. What is needed is a regulator with flexible powers - and sufficient funding to be able to analyse and move fast. Underfunding undermines well-intentioned policy.
In the end we need competitive markets to ensure we get the benefits of productivity spread for the benefit of all society. What we don't need is prescriptive regulation. We can have it with a principles-based update to our competition policy and its enforcement.
6. Lighter afterthoughts.
This Top 5 has been pretty dense stuff. My bonus sixth item is a collection of aphorisms:
♦ I read that 24,069 people got married last year. Not to cause any trouble, but shouldn't that be an even number?
♦ I find it ironic that the colours red, white, and blue stand for freedom - until they are flashing behind you.
♦ When wearing a bikini, women reveal 90% of their body. Men are so polite they only look at the covered parts.
♦ Relationships are a lot like algebra. Have you ever looked at your X and wondered Y?
♦ America is a country which produces citizens who will cross the ocean to fight for democracy but won't cross the street to vote.
♦ You know that tingly little feeling you get when you love someone? That's your common sense leaving your body.
♦ My therapist says I have a preoccupation with vengeance. Well, we'll see about that!
♦ I think my neighbour is stalking me as she's been Googling my name on her computer. I saw it through my telescope last night.
♦ Money talks ... but all mine ever says is good-bye.
♦ You're not fat, you're just easier to see - and harder to kidnap
♦ If you think nobody cares whether you're alive, try missing a couple of payments.
♦ Denny's has a slogan, "If it's your birthday, the meal is on us." If you're in Denny's and it's your birthday, your life sucks!
♦ Money can't buy happiness, but it keeps the kids in touch!