Buy now pay later schemes could end in an unseemly crash as credit card capacity jumps to accommodate settlement obligations, and shoppers recoil as jobs are lost and these unregulated scheme plans can't be changed, David Chaston argues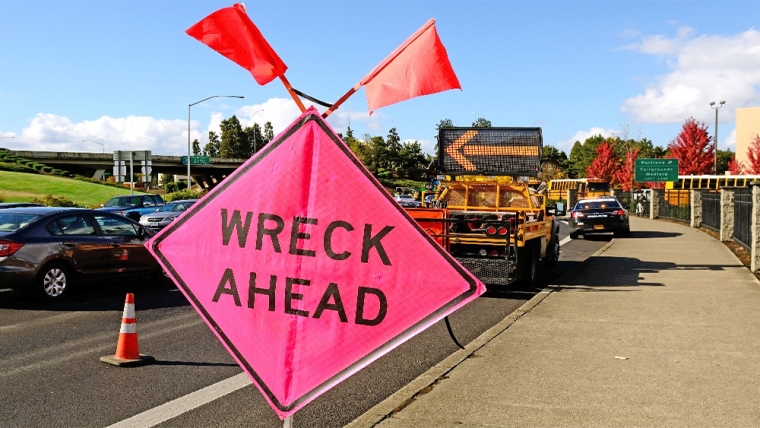 By David Chaston
There are reports that already more than 500,000 Kiwis are on the emergency government wage subsidy scheme. And the Ministry of Social Development (MSD) is facing a huge increase in unemployment claims.
At the end of December 2019 there were 112,000 people in the workforce without a job plus another 90,000 in part-time jobs looking for more work. 147,464 were on the JobSeeker benefit, or 4.9% of the labour force.
When the end of March labour force data is released on May 6, these levels will be very much higher and of course they will have probably grown again sharply in April too.
The main feature of the rise is that the newly unemployed were employed previously. They had jobs, and income, and probably consumer debt. And that may well be very different to the 2019 cohort without jobs and on benefits - those probably had little access to consumer debt.
So we are expecting a very sharp rise in consumer debt stress.
The Government has an agreement with banks on how mortgage debt stress should be handled. It is likely that homeowners will actively work to mitigate their mortgage debt issues.
But credit card and personal loan debt will be the first place we are likely to see real household debt stress. And it could explode as fast as job losses.
Making things worse will be Buy-Now, Pay-Later (BNPL) schemes. They have been allowed to mushroom without regulatory oversight so how much is at risk here is unknown.
But these BNPL schemes work via a credit card settlement system. So we will be closely watching credit card debt data. And personal loan debt levels.
Banks have approved $23.4 bln in credit card limits covering $7.4 bln in actual credit card balances outstanding at the end of February. BNPL schemes fall due to credit cards on a two-weekly payment basis, either in four payments (like AfterPay) or ten payments (like Genoapay).
With sharply increased job and income losses, we expect to see card holders letting their credit card balances rise sharply, not only to settle BNPL debt but also just make household living purchases.
Even though we don't have any specific data yet, we would not be surprised if credit card balances alone ballooned by an extra +$1 bln by June 30. It could prove an under guess.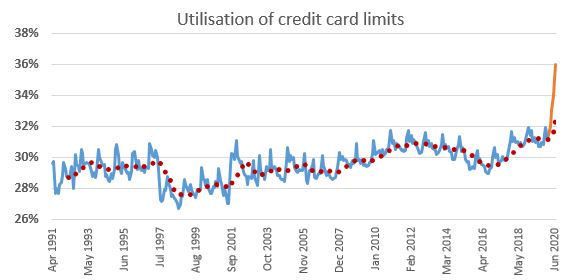 Source: RBNZ C12. The orange data are our projections.
Such a shift would be unprecedented. In the Global Financial Crisis the long run credit card utilisation rate (the red dots) rose from about 29% of the overall credit limits to 31%. Improving prosperity saw that gradually fall back to about 29% until the end of 2017 and then it has risen to a record level in the past two years. But that is likely to be completely eclipsed in the next few months as sudden, severe household budget stress bites very hard.
One of the ironies of the rise in BNPL was that "millennials didn't like debt and the interest that came with it". But these schemes suggested you could still get stuff on credit without having a financial interest rate penalty to pay. It has of course been too good to be true. These bills become due now as default payment systems will kick in. It will hurt.
And worse, having had BNPL debt will be a black mark on your credit history. Banks will not look kindly on a surge of these obligations appearing on their books. In fact, it will be very easy for them to identify these flows and their accumulation - and to insist that household budgets are changed to deal with unpaid obligations as a priority. Watch Trade Me sales activity as some people are forced to liquidate 'stuff' to resolve this unsecured personal debt surge.
Expect no help from the buy-now-pay-later schemes themselves as they will be fighting for their very survival as retail throughput dives. You can see more on the buy now pay later sector here.