Here's how over 250,000 students are using and abusing over NZ$2.1 billion of interest free loans and allowances. Your experience?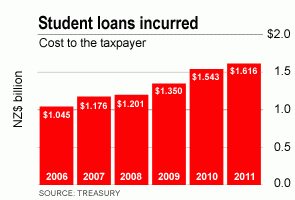 By Hannah Lynch
Last year over 250,000 students borrowed over NZ$1.6 billion interest free from the taxpayer and were paid NZ$570 million in living allowances.
A quick Facebook status update and a Tweet prompted a deluge of anecdotes and comments detailing how students and their families are using and abusing these payments, which have been described as middle class welfare.
Interest free loans are being reinvested in interest earning deposits or used to repay interest bearing loans, while allowances are being used for holidays and gadgets.
Wealthy families are also structuring their assets in family trusts so children can claim means-tested allowances. Some families falsely claim relationship breakdowns so children aged under 24 can claim extra independent living allowances.
Here's a few other examples:
Students on facebook stated they enrolled in papers and then dropped them in order to get their fees refunded while still receiving living costs.
A student loan is made up of three parts – compulsory fees, course-related costs and living costs. It is not uncommon for the annual NZ$1,000 course-related costs to be used to pay for international airline tickets.
Students explained how they provide the Ministry of Social Development's studylink service for student finances with a quote for a laptop in exchange for NZ$1,000 used to fund tickets to Asia or Fiji - a great interest-free OE starter.
The unwritten rule among students is that you apply for the maximum amount of living costs. This is up to NZ$169.51 a week while you are studying, or on a study break of three weeks or less, like a mid-semester break. 
Students detailed how they then invested the money in high interest bank accounts while working a part-time job to fund their lifestyle. The loan and student allowance is then repaid at the end of their study. The interest gained means students are profit from their loan repayments.
Students also cited examples where they had claimed relationship breakdowns with one or more of their parents. Students must present Studylink with evidence from a psychologist that the relationship between them and their parents was detrimental to their psychological wellbeing. A student who lives at home while studying can only apply for an allowance if their parents' combined annual income is less than NZ$82,953. If a student lives away from home their parents' combined annual income must be less than NZ$89,936.  These rates vary if your parents live together or in separate households or if the parent supports other full-time dependent students aged 16 to 23 years. Several students admitted to getting their mail redirected to a different address while continuing to live at home.
Finally, students recommended visiting all the banks during the universities orientation weeks and receiving a free NZ$20 for simply opening an account.
Pros and cons
Student representatives acknowledged some students abused the system, but said the majority were responsible. ACT said the decision to offer interest free loans was a Labour election bribe that invited abuse.
New Zealand Union of Student Association Co-President David Do said a vast majority of students borrowed to pay their fees and this was "perfectly appropriate." 
Do said "there have always been anecdotes of abuse but we not not condone it. The loan system is there to assist people with the cost of living and a vast majority of students are using it responsibly."
"The loan system is there to assist people with the cost of living," he said
ACT MP Heather Roy said reapplying interest to student loans would not only encourage students to think more clearly about what they wanted to study, but would also help the tax payer who currently subsidises at least two-thirds of tertiary students' fees. 
Interest free student loans have increased 50% over the last five years with more than NZ$12 billion of student loans still outstanding. For every dollar the government lends, it expects to receive back around 55 cents in 2011 dollar terms by the time it is repaid.  Of the NZ$12 billion of loans outstanding, the government has a book value on those loans of NZ$7.3 billion, implying losses already of NZ$4.7 billion including forgone interest.
The government announced changes in Budget 2011 on May 19 to restrict eligiblity to those already in default, to stop those aged over 55 from borrowing for course-related costs and to shorten the repayment holiday for overseas based borrowers. See full details here at Beehive.govt.nz
Tertiary Education Minister Steven Joyce told Q&A in April that 85,000 students were living overseas and owed NZ$2 billion, with 35,000 of those behind on their payments. The loans of students who emigrate start incurring interest after a six month 'holiday'.
The Inland Revenue Department declined to comment on how students were abusing student loans and allowances. Studylink also declined comment.
'Not their fault. It's 'free money'
ACT Roy said students were just responding to incentives.
"Students, like everyone, will always respond to incentives and when there is no incentive to borrow wisely this sort of behaviour is inevitable. While many students may be rorting the interest-free loan scheme, the blame really lies with the politicians who created the system."
"Since being implemented student debt has risen hugely. Because loans are interest-free students have no incentive to minimise their borrowing or to repay their debt any faster than they have to. They are effectively being given free money," Roy said via email.