David Chaston investigates food price increases, does the math and finds a basket of items bought in NZ is in fact cheaper than OZ. Your view?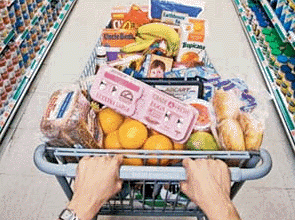 By David Chaston
Food prices are supposedly rising fast.
According to Statistics NZ, food prices have increased 6.6% over the year to August 2011. This is not only much higher than overall CPI inflation, it also correlates well with what people say they are experiencing when they shop. People "know" food prices are rising quickly and are worried about that pressure on their weekly pay packet. 
But there is some technical scepticism about the 'basket' of goods that Statistics NZ monitors. Those who look at this scratch their head and wonder – if that basket does not really reflect an average shopping list, then perhaps real food price inflation is actually even higher?
It is an issue we have wondered about. And we are in a good position to test the matter. 
We have the analysts, we have the time to do it, and we have access to on-line shopping data to source current prices.
It has taken us a number of months to work through the details but the results of this survey have surprised us – what we found is quite different to what we expected. It will no doubt surprise you too – although it is unlikely to count as 'news' because it is not 'bad'.
Popular opinion may be wrong; food prices aren't going up; in fact in our survey they have gone down.
How we survey
To start, we redefined our survey as 'grocery prices' – they are still food prices, but now represent a consistent shopping list as used at a supermarket.
Secondly, we used a 'healthy food' shopping list prepared by the Healthy Food Guide magazine. Their list was built around a weekly menu plan, and done in conjunction with food nutritionists at Otago University.
There are a number of 'healthy food' lists – for families, for couples, and for singles – and we are following the 'singles' list on the basis that the larger lists are scaled up versions of it.
You can find the lists, tips, menus and recipes at www.healthyfood.co.nz
Thirdly, we entered this independent shopping list into the Countdown online shopping system, and have been tracking it weekly for the past three months.
Fourthly, we chose the lowest-priced option, mainly choosing store-brand and/or specials when available.
We believe this more accurately reflects how Kiwis actually shop and differs from the Statistics NZ approach. We stuck to the list.
And finally, we realised that as Countdown is owned by Aussie giant Woolworths, we could also check how much that same shopping list would cost in Australia.
What we discovered
1. In the three months we have been tracking food costs, we have not found any grocery price inflation at all yet.
Our weekly monitoring suggests prices are not rising.
True, our sampling is over a relatively short period – and we will continue to track this over the years to come – but the result surprised us. There have been price rises for some items, but there are also price declines for others and, overall, they essentially are cancelling each other out.
You can inspect our list and the pricing tracks in detail here.
We are monitoring another list supplied by a reader – a real list, but not a full one and not one specifically targeted to healthy eating, nor related to an integrated menu plan. And yet, that list also does not show rising prices either. It has been monitored for a longer period, about half a year, and it does not support the 'rising prices' narrative either.
2. Prices are cheaper in New Zealand than for exactly the same items in Australia. We were even more surprised by this finding. (You can inspect our detailed pricing comparison here.)
Remember, the list has 15% GST included when bought in NZ and only 10% GST when bought in Australia. That makes the result even more surprising.
It is true that we have had to make some assumptions and adjustments to the Aussie list because it can't be exactly duplicated. But those changes are set out in the comparison, and in fact turn out to be very minor.
If these are the facts, how come we 'believe' otherwise ?
Fact or fiction?
This is the worrying bit – because it might just be evidence that we are whingers. We readily believe negative stories, backed up by noticing price rises in specific cases, and are wilfully blind about positive outcomes.
It also might be that our shopping choices are a) not healthy, or b) include too much eating-out or eating-lazy, or c) are sloppy thinking – usually by comparing the costs of different lists (that is, "this week's list cost me much more than last week's list" while ignoring the fact that I bought more items this week).
Notice that our consistent list does not include things like beer, wine, chocolate, or bacon. These are things that would be on many lists. But they don't have to be to eat healthy. How can you complain about price rises if your basic food choices are crap? You need to live with your choices and pay the costs.
But a healthy food grocery list is not rising in price* and it is cheaper to buy that list in New Zealand than Australia.
Who would have guessed that ? In fact, guessing may lead us to a wrong conclusion.
-------------------
* yet. Remember this is an early result based on only 16 weeks monitoring. Who knows how it might change in the future.