The savings from buying groceries for six weeks in New Zealand gives you a free week, compared with buying them in Australia. Your view?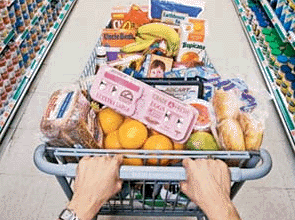 By David Chaston
Readers may recall that we survey grocery prices weekly, and that we run the same 'healthy eating' grocery list in both New Zealand and Australia.
This note updates our previous story.
We now have 23-weeks pricing history in New Zealand, and ten weeks pricing history in Australia.
The results show that the cost of our list continues to trend down in both countries.
Remember, our lists use house brands when available, and take advantage of specials when available - very much like a real shopper does (and unlike the official 'baskets' of each country's statistics departments).
In the four weeks to November 21, New Zealand costs fell 2.7% in NZ dollars; Australian costs fell 2.0% over the same period.
What is really interesting, however, is that despite the NZ currency weakening against the Australian dollar, it is still significantly better to buy this basket in New Zealand than Australia.
If you are a New Zealander, you save NZ$27.41 per week by buying in New Zealand. If you are an Australian, you save AU$20.76 by buying this list in New Zealand.
And remember, all New Zealand items attract a 15% GST whereas GST is only 10% in Australia for most items and some attract zero GST.
It is impressive that Kiwis are getting a much better deal than Aussies. A NZ$27.41 (AU$20.76) weekly advantage is not trivial - it represents a 15% better deal, every week.
In fact, if you are an Australian shopper you may be justifiably concerned at the poor deal you are getting - even though prices seem to be falling. Part of the price Australians pay is the cost of support for local farmers and local manufacturers.
On an annualised basis, Kiwis are saving NZ$1,370 per year by buying this weekly list in New Zealand.
On an annualised basis, Aussies are paying AU$1,063 per year too much by buying this weekly list in Australia.
And that is not chump-change.