In part one of a two part series on quantitative easing contributor Michael Coote explains how central banks play games with investment risk premia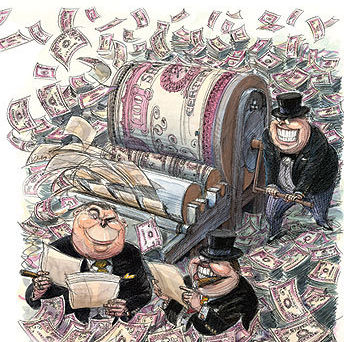 By Michael Coote*

Ever since the US Federal Reserve committed itself to quantitative easing (QE) in the aftermath of the global financial crisis, a high stakes game has been played by the major central banks, including the Fed, the European Central Bank, the Bank of England, and the Bank of Japan, all of whom have rolled out their particular versions of QE.
Making up money as you go along
QE occurs when a central bank "prints money" at its discretion in order to buy debt securities from the fixed interest marketplace.
QE is possible because central banks no longer back up – and thereby limit - their cash issuance with matching gold reserves, but nowadays issue "fiat money" by decree in any quantity they care to invent.
The transaction value of this fiat money is simply based on the good faith and credit of the government to which the central bank belongs.
In other words, cash today is backed up by no more than a solemn promise that it is legal tender within its issuing government's sovereign jurisdiction.
QE does not involve actually printing physical banknotes, but instead "virtual cash" is created by the central bank making electronic transfers of newly created funds to the sellers of the debt securities being purchased under the QE programme.
Quite literally, QE money appears out of thin air, or at least cyberspace.
Strictly speaking, the debt securities bought with QE electronic cash must be sovereign bonds originally issued by a central bank's own government treasury.
An indirect money-go-round occurs whereby the government Treasury sells its newly issued bonds to the marketplace in return for receiving existing "old" cash to pay for them, and then the buyers of these bonds then onsell them to the government's central bank, which issues brand new cash as payment.
As a result of the government printing bonds and printing money more-or-less simultaneously, the central bank ends up owning its own government's Treasury debt, with a net increase in cash circulating in the economy as a consequence.
A variant of QE is credit easing (CE) in which other kinds of debt securities are bought by the central bank, such as bonds issued by the government's agencies, entities the government guarantees debts for, and even corporate bonds issued by the private sector that the government has nothing to do with.
The effect of the central bank buying up these various types of debt securities is to remove bonds from the marketplace and replace them instead with newly minted cash.
This extra cash is supposed to be recycled into the economy, stimulating demand, and thus production and consumption, at least in theory.
Another important, indeed critical, QE effect is "portfolio substitution", in which the new cash issued by the central bank to hoover up bonds is deployed by the recipients to buy other, riskier, higher-yielding assets, such as corporate bonds and shares.
This portfolio substitution effect is the consequence of the peculiar circumstances under which QE is used of which more below.
The secret is zero interest rates
QE is classified as an "extraordinary" monetary policy, as it is imposed only after overnight cash interest rates controlled by the central bank have been driven down to at or near zero percent per annum, at which point these overnight rates have reached "effective lower bound" (ELB).
ELB is itself deemed to be an extraordinary monetary policy, as normally a central bank would never drop its official cash rate to zero.
The reason for avoiding ELB if at all possible is that the official cash rate is a nominal interest rate (ie., not adjusted for inflation) and cannot become negative as otherwise it would operate as a de facto tax on cash deposits.
Once ELB is reached, a central bank cannot additionally stimulate the economy it oversees with any further cash interest rate cuts.
If ELB doesn't stimulate the economy, only then will the central bank consider proceeding to QE, as otherwise "printing money" - even if electronically – would cause inflation to take off.
The initial impact of QE is to lower longer-term interest rates and thereby the yields earned on bonds through the demand pressure exerted by the central bank as a massive purchaser of debt securities.
In a QE economy, not only are overnight cash interests rates at ELB, but longer-dated bonds yields fall to very low levels not far off zero as well.
Cheap credit
Money becomes cheap to borrow right across the term spectrum – assuming anyone wants to lend it – and supposedly the economy can pick itself up off the floor and get moving again on the basis of extension of artificially low cost credit.
Accordingly, QE is a type of shock therapy for an economy that is in serious trouble, and when economies have gotten into such bad shape, ordinarily there would be an associated bear market in corporate bonds and shares, because firms would be expected to suffer in such an unfavourable business environment.
In part two next week, Michael will explain portfolio substitution and the broader implications of further QE.
*Michael Coote is a freelance financial journalist whose publication list includes interest.co.nz, the National Business Review, New Zealand Investor, The Press, and the New Zealand Centre for Political Research.