$650 billion under-insurance gap; Finance the world you want; The anti-Jones; Late savings bloomers; It's a family affair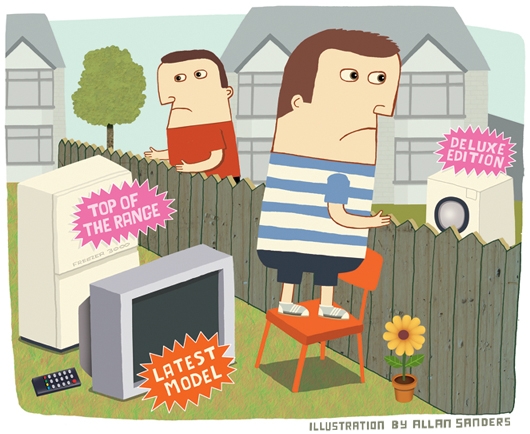 1) Under insurance extreme
The Financial Services Council (FSC) released a rather shocking insurance report this morning. According to a two-year long research project studying insurance cover across a range of categories, New Zealanders are under-insured by around $650 billion.
This is how it broke down in terms of levels of under-insurance.
$195 bln life
$58 bln for trauma
$351 bln permanent disability 
$2.9 bln for income protection, or $44.b for average 15 month serious illness
Peter Neilson, the chief executive of the FSC said the research painted a serious financial risk for New Zealanders and their families should either the main or secondary income earners or both have their earnings impaired.
For the first time in years, my life insurer has been in touch seeking a "review" of my circumstances. I will report back to you after that conversation as I'm curious to know how it will go.
2) Financing the world you want
Several studies have found that women make great investors (they're more conservative, they take time to understand what they are investing in and establish a level of trust first before blindly handing their money over to a manager) and yet the majority are painted as shoe loving fools who are going to be poor in retirement because their knowledge of money doesn't not go beyond the domestic level.
This is an issue I have tackled in my book as well. I guess I know a lot of clever gals because most of the ones I know are excellent money managers and not just at budgeting for the household. 
The Harvard Business Review has some interesting insights and stats on this topic and some solid advice about conquering fears in finance to achieve your dreams and goals.
3) The anti-Jones
You've all heard of it before I'm sure: The Keeping Up with the Jone's Syndrome, a financially debilitating consumer disease that has so many people bent over a barrel with their money because they keep buying stuff their neighbour does to satisfy the ego and create the illusion of wealth. It's also been called Affluenza.
Funny enough, I have this friend who has developed a rather acute case of what I have diagnosed as the Anti-Jones syndrome. While they have all the trappings of wealth, they have become completely disillusioned by them. I've been thinking of a way to capture the virus and create a minor epidemic.
A blogger by the name of beatingbroke contemplates a cure to the disease in a more sensible fashion.
4) Never too late to save
Early savers will have a major advantage over their late saving counterparts because of the magic of compound interest. For those late bloomers, it can be hard to know where to start particularly if you've left it until your 40s. The key is just starting. Here's some thoughts from FinanciallyPoor.com. (Note I do not necessarily endorse the views and recommendations contained in some of these blogs. Just food for thought to get you thinking about your own personal circumstances.)
5) A family affair
For several people I know 2013 is a year of new beginnings. New relationships, rebuilds, new businesses, new jobs, goals. For those start-ups out there, this one is for you. Inc.com looks at the importance of treating your employees as a family for optimal productivity, and profit. 
To read other Take Fives by Amanda Morrall click here. You can also follow Amanda on Twitter @amandamorrall or at www.amandamorrall.com