NZ banks and government have no plans to cull the 'sunset product' of cheques

By Gareth Vaughan
In the age of smartphone banking cheques may seem like something from the dinosaur age. Despite this they'll be with us in New Zealand for some years yet.
Martin Quin, senior payments advisor at Payments NZ, told interest.co.nz Payments NZ has graphs projecting cheque volumes out as far as 2021. And a Treasury spokesman says Treasury's not aware of any government wide plans to phase out the use of cheques. The Government is one of the big cheque users and governments in some other countries including the United States, Canada and Ireland have, or are, ending the use of cheques in favour of electronic payments.
Quin says the New Zealand banking industry has no plans to stop using cheques, even if - to reduce costs - they might want to.
"We're not looking to abolish cheques. We're just trying to manage their decline and as part of that management process as an industry it's (about) identifying who uses them. The majority are aged (people), charities, government, councils," says Quin.
"We've got graphs that project cheque volumes out to 2021. They're still declining and there will come a point when that decline stops and usage flattens. And it's at that point, whenever that might be, that we'd start looking at – we might consider it further."
"But at this point we're just trying to make them as efficient as possible and educate customers on other payment methods," says Quin.
Payments NZ is owned by ANZ, ASB, BNZ, Kiwibank, Westpac, TSB, HSBC and Citibank.
Electronic cheques?
Nor are there plans afoot in New Zealand to do what Britain's doing, which is letting customers pay cheques into their bank account by photographing cheques on their smartphones and sending them in electronically to the bank, says Quin. This idea has emerged after the UK Payments Council was forced to back down from plans to abolish all cheque payments by 2018 following public opposition.
"Cheque processing in New Zealand is very efficient anyway. The banks have centralised cheque processing to help reduce cost, in what is effectively a sunset product, to keep the cost down so you can extend the product life," says Quin.
Meanwhile, the Treasury spokesman notes that the so-called "Result 10" in the Government's Better Public Services initiative is that New Zealanders can complete their transactions with government easily in a digital environment. This has as a key target that an average of 70% of New Zealanders' most common transactions with government will be completed in a digital environment by 2017.
It makes financial sense, for taxpayers, for the government to end cheque payments. An ABC story from 2010 on the US government ending cheque payments estimated doing so would save US$303 million over the first five years and about US$120 million each year after that.
The Treasury spokesman says each government department has some autonomy about how they make payments, with Treasury "moving towards" electronic payments as this is the efficient way to go.
Meanwhile, an Inland Revenue Department spokesman says IRD is working to issue more tax refunds electronically as part of its commitment to the Government's Better Public Services programme, and to make it easier for the public to do business with IRD.
"We issue around 2.8 million refunds a year, of which, 1.1 million are paid by cheque. By developing faster and improved electronic services, and issuing refunds directly into customers' bank accounts, more people will have their refunds paid within two days,' the IRD spokesman says.
Cheque usage halves
The summary of a report on the use of cheques in New Zealand by Ernst & Young, commissioned by Payments NZ in 2012, notes between 2004 and 2010 cheque usage in New Zealand halved. The number of cheques used has declined 10% year on year and continues to do so, the report says. Over the same period, electronic transactions more than doubled.
The Ernst& Young report also outlines that organisations issue 56% of all cheques, and individuals 44%. It also says the top 100 issuers are organisations in industries making a large number of irregular payments such as government, insurance, retail, and utilities. However, this group only issues 7% of all cheques, compared to 48% from small and medium sized businesses.

Payments NZ says 95% of payments by New Zealanders are made through non-cheque means, and 93% of people still using cheques use them as a second or third alternative payment, meaning they're also using some other payment method.
 "This means that very few consumers are wholly reliant on cheques, and most people are comfortable with other payment methods," says Payments NZ.
Quin says whilst there's nothing stopping individual banks from issuing or accepting cheques, he doesn't expect any to do so at this stage.
"I don't think they would do it primarily because those sorts of things are marketing decisions, and how they position and differentiate themselves within the market. I'm sure if you're a bank that turned around and said 'we're not issuing cheques and we're not accepting cheques', then they'd have a few customers who would say 'we'll go somewhere else where they do'," Quin says.
He also says he doesn't know how much cheques cost New Zealand banks annually, but notes as the volume falls the unit cost will rise.
"While much of the industry processing is centralised, each bank will have their own arrangement for that which is commercially sensitive between them and the processor.  There are obviously opportunities to renegotiate aspects of the pricing, based on current and projected volumes, each time that contract is renewed," says Quin.
The charts below are taken from Payments NZ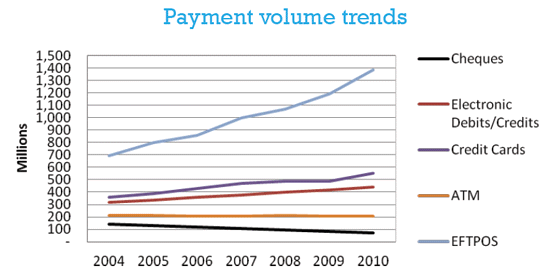 *From the Ernst & Young 2012 report on the use of cheques in NZ.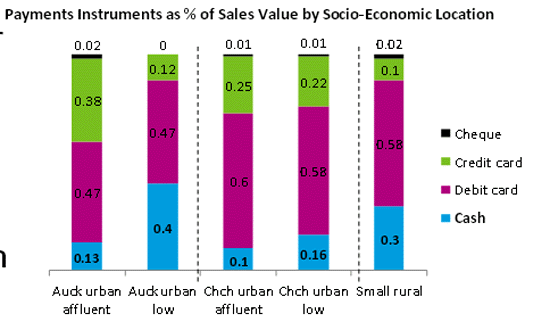 * From a Payments NZ 2014 report on what's really happening with cash in NZ.
This article was first published in our email for paying subscribers. See here for more details and to subscribe.