Cash contributions 'the currency expected in a home loan offer,' Co-operative Bank boss says as his bank 'meets the market'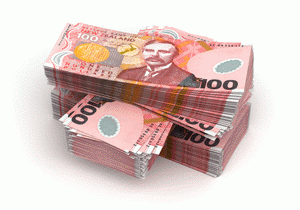 The Co-operative Bank has become the last bank, bar HSBC, to advertise cash incentives with its home loan offers in what its CEO describes as a temporary meet the market pricing change.
Co-operative Bank says it'll now "give away" cash of up to $1,500 for loans of between $100,000 and $250,000, and $3,000 for loans of $250,000 or more.
"This is not so much an initiative, as a temporary 'meet the market' pricing change," Co-operative Bank CEO Bruce McLachlan told interest.co.nz.
"We have been the last bank (we think) to formally make cash contributions a core component of our mortgage offer. We have preferred to have a very competitive rate card, rather than offer cash incentives," McLachlan said.
"However, we cannot deny that very quickly cash contributions have become the currency expected in a home loan offer, and customers have trended towards preferring cash now, rather than margin reduction over the life of a fixed term."
"At current bank margins these cash contributions are affordable. (But) we do think that there is very good reason why most banks advise these contributions are 'for a limited time,' as it would be wrong to assume that current margins remain at this level, and what is affordable today may look exceptionally expensive in a year's time. Markets are not always rational however, and swap rates/funding costs are bouncing around by the day," McLachlan added.
Co-operative Bank's move matches the advertised cash offers from ANZ, ASB, BNZ, Westpac and SBS, with Kiwibank and TSB offering up to $2,000 cash with their home loans.
The banks are also offering other non-interest rate incentives, but do have conditions attached to their offers.
In Co-operative Bank's case these include that the cash is only available with new mortgage security where the home loan is equivalent to less than 80% of the property's value.
It's also not available with other special offers, bridging finance, specialty loans or Welcome Home loans.
At the same time as the introduction of its cash incentives the Co-operative Bank has withdrawn its offer of up to $1,000 for legal and administrative costs.