Elizabeth Kerr suggests categorising your 'non-negotiable needs' and 'everything else' will help with money management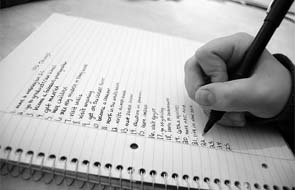 By Elizabeth Kerr
A sincere welcome if you are new to joining me this week.
There is a lot to cover off together today so it might pay to read the ground rules first and brush up on the previous posts and their comments if you want to keep up.
I am writing about smart lifestyle design which allows you to leave paid employment well before you reach 65 if you want to.
For those people who achieve this state of being it is largely because they take some pleasure from saving as well as spending.
In their minds they do not have a half-life devoid of any fun or nice possessions, in fact they would say their lives are full of more pleasure now that they have the freedom to pursue that which makes them happy each day.
They already know that happiness does not come from owning big cars, fancy houses, large screen tvs or a hummingbird rug and so they don't waste their money buying these things. They don't feel deprived.
There is an entire lifestyle that goes hand in hand with being this successful and they are tapped into it.
How did they get there?– they just changed their mind and decided that creating their own money machine was going to be more important than anything else they could buy with their earnings.
For some this is just going to be too hard. In your mind going without some things is akin to depravation and brings you sadness. For you I only hope that you receive a giant windfall somewhere along your journey which will continue to fund your every desire once you do stop working.
Because if you don't change your perception on deprivation and spending now while you have the earning capacity to do so, then you will have it forced on you when you don't.
When you don't have to work to pay for things that you don't really need, then you get to live your life as uniquely and exactly as you want to.
For me right now this means having my husband at home to help smooth the hard edges of motherhood when the boys are home and to share adventures with me when they are not.
For others it may mean being able to travel wherever they want to without having to limit it to just 4 weeks annual leave a year; start a new business or be available to your community or church  ... all the while knowing that your non negotiable needs are provided for by your money machine.
I'm talking about retirement well before you are too old to enjoy it properly. I'm talking about using the best physical years of your life to be the best self you can be.
None of this sounds like depravation to me. In fact it segways nicely to this week's topic ...
Your needs are non-negotiable
So, last week I introduced the idea of spending less than you earn and investing the difference to create a money machine to support yourself.
Okay let's start where it matters. How are you going to afford what you need and have enough left over for your early retirement – aka your money machine?
Budget. Eeewww even writing that word makes me want to puke.   Budget  *puke…cough...spit*….
This word in my opinion is actually the root of what I think is all that is wrong with our modern approach to spending and living. Alas, I write it here because I'm yet to invent a word that is better.
However living according to your money machine is not budgeting as you may understand it to be. It's so stunningly simple you can understand everything you need to know about how to manage your money for the rest of your entire life in this one post.
It takes a pen and a piece of paper - a calculator if you must.  That's all.
After that I'm going to explain quickly why this approach is better than the traditional budgeting that we are taught to believe is the way from rags to riches.
On your piece of paper write two columns.  Title one column "Non-Negotiable" and the second column "Everything Else". Not too hard so far is it?
Under the column "Non-Negotiable" list all of the expenses that you have which you need to exist physically and/or to keep your family safe and healthy.
The easiest way to do this is to imagine that you have suddenly lost your job and you can't work.Someone is going to come and give you just enough money for just the minimum you need, but you have to show them your list of what it is for.
If they think that you are asking for more than you need then they will walk away without giving you a cent; so you had better be sure that what you are asking for is only that which you really truly need to be safe and healthy.
With this in mind your non-negotiable list might look something like this:
Roof (rent or mortgage payments per week)
Food.  Basic food items only.  Meat, fruit, vegetables, oats, milk, eggs.  (Chippies, pesto, beer and blue cheese are not basic food items!!).
Insurances
Minimum costs for essential transport.
One communication device (I advocate for the mobile phone over the home landline.)
Power
Of course you haven't lost your job so anything else that you currently spend your money on goes in the "Everything Else" column.
Most people I meet generally understand the difference between a need and a want. But when we start looking at the "Everything Else" column things can start to get a little murky and the line between need and want starts to wobble.   (Sometimes they even start to cry)
With this list in mind you now understand how much you need to survive, and more importantly how much you would need to be earning at a minimum passively to continue to survive without having to go to work each day.
I'm not going to be tactful here I'm just going to stab you with some hard truth - It is all the items in your "everything else" list that is holding you back from achieving your own early retirement.
This list is the one that holds the majority of your power.
If you can delete the expenses on this list and instead save and invest that money then you have some real money machine magic starting my friend.