Elizabeth Kerr thinks the rich get richer because the poor are paying off their car loans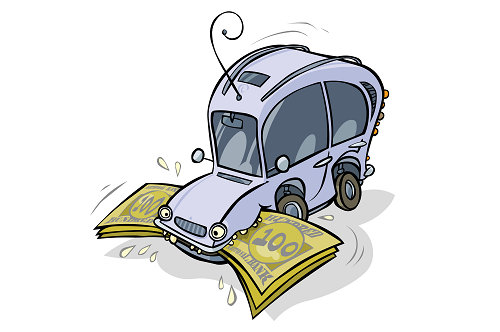 By Elizabeth Kerr

This week I want to add to the list of stupid things that the middle squeeze do to stay poor, with a column about our completely insane, but socially accepted, practice of car ownership using debt.
In the last quarter of 2014, 84% of people in America who bought a car did so using finance at an average of  US$26k. It's a bit harder to capture that information in NZ as there is no one source that records it, but by my own investigation up to 75% of car yard sales involve some sort of finance; so for argument's sake let's just say more often than not people are borrowing money to purchase their cars.  
In a country where we bleat about the widening inequality between the rich and poor, no one has stopped to call out that the rich get richer because the poor are paying off their car loans.
I want to start by taking the emotion away and reminding ourselves of what a car actually is. It is a chunk of parts attached to four wheels that have the ability to transport you to your desired destination at speeds quicker than crawling on all fours.
A car has the benefit of protecting you from the elements. In turn you have to pour your money into them in the form of fuel, registrations and taxes.
A car may be a large part of the reason your bum is getting bigger, you are always rushing, and your kids can't walk 50 metres without whingeing.
Cars are NOT outward symbols of your success, a storage locker, or a tool for courtship.
Advertisers work very hard to convince us that we will appear more attractive and accomplished if we drive their vehicles, but that's just not true. A new car can't hide the fact you might be a narcissist.
I find it ironic how doing something stupid like buying a car one can't afford gets everyone's admiration: "Look at her, isn't she doing well; those years at uni must have been worth it because look at the car she is driving"! If only they could see the financial hole hiding under the bonnet.
We need to work hard on ourselves to push past our feelings of entitlement for a new car and remind ourselves that we are entitled to buy that which we can afford to purchase with our own money!!!
If you are broke and you can't buy the car you want, then you have to either do without whilst you save some more, or settle for what you can afford right now.
Being able to afford the monthly finance payments on a new car is not affording the car.  
If you want to buy a vehicle but have only saved $1500 that is not a respectable deposit on a late model Mazda 3, it is a second-hand Honda Civic/Toyota Corolla – which will get you from A to B just like your more expensive model would, but without strapping you to monthly payments for the next five years.
So what's the Alternative?
Car payments are "not just a way of life".  It is our shallow and entitled emotions that have endorsed this behaviour; but there is another way!!!
What if I said you could use those car payments that you would have been giving to the finance company, and instead have a new car AND a healthy savings account at the same time? When it comes to car ownership you can have you cake and eat it too!
Let's go car shopping...
Katie, my favourite fictional friend, wants to buy her first car. She wants something new and sporty looking but she has only saved $1500. She has an imaginary income that would allow her to meet the car payments if she financed a car.
The column on the left describes what may happen if she finances her dream sporty new car today; and the column on the right if she uses her money machine mind and exercises some patience and self control. (The cars were sourced on Trade Me and the calculations on sorted.org.nz).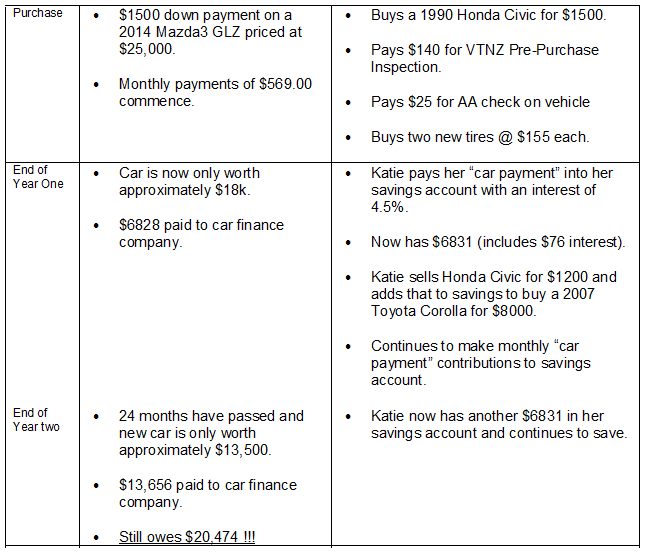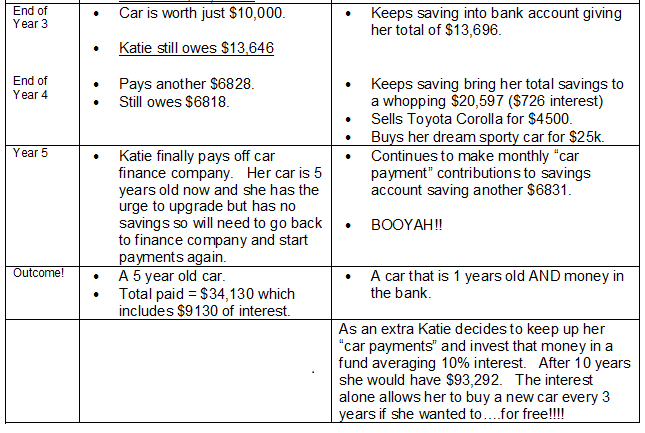 Oh oh – I've already brought my car on finance… What do I do?
Okay you have a few options here – but the story isn't great for the short term.   Firstly, you look after it as best you can, because it is a risk machine for as long as you are making payments on it. Writing it off while boy-racing does not mean the debt on it will be forgiven.  
Secondly, look to see if you can refinance the car at a lesser interest rate than you are currently paying. Be careful for loan establishment and transfer fees, which might make this not worth the hassle depending on how far through the payment plan you are.
It is unlikely, because of depreciation, that you will be able to sell your vehicle for more than the balance on your loan unless you are most of the way through the payment plan. If you did sell it and pay off the loan then you are essentially starting at the beginning again and it could be three years before you can afford a new car. So, it makes sense just to hold the one you have been paying for as it should have at least another 10 years of life if you look after it well; and this gives you time to save your money and get on the front foot to buy cash next time.
But I NEED a car like this for the kids...
No you don't!!!
Kids need you to be smart with your money. They don't need a certain car. Cars these days are way more comfortable than we had as kids - and I'm not sure that it's doing anyone any favours.
Conclusion
As I have said, most of us buy stuff we don't need to impress people we don't know - and cars are great examples of this.  
I want us all to break up with our car fetish and start thinking with our money machine minds instead.  
Let's work hard on our own egos and stop celebrating cars as expressions of ourselves and remember them for what they are – large chunks of parts that inefficiently transport us around.  
We need to discourage car ownership using debt and be more supportive of our family and friends saving up for a new car the same way one should for any expensive purchase.  
If you have an opinion on today's column, or want to share your idea of a great cheap reliable car suitable for those working their way up to their dream purchase – please comment below or email me at Elizabeth.kerr@interest.co.nz.