Competition among banks for airpoints credit cardholders heats up as Westpac replaces BNZ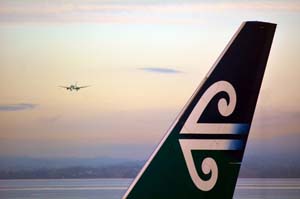 ANZ, Westpac and Kiwibank are swooping in, targeting a share of the about 100,000 BNZ customers who will no longer be able to earn airpoints via their credit cards.
BNZ last week announced its contract with Air New Zealand wasn't being renewed. The bank's airpoints deal will end at midnight on April 30 and it's already stopped issuing new GlobalPlus credit cards with airpoints.
From May 1 BNZ customers will be offered a cash back offer, where they will receive $1 for every airpoint they would have earned under the airpoints scheme.
Other Air NZ existing airpoints partners, ANZ and Kiwibank as well as BNZ's replacement Westpac, are launching competitive new deals on their airpoints credit cards in an attempt to snatch customers from BNZ.
ANZ's welcoming new customers to its Airpoints Visa Platinum card with 200 bonus airpoints dollars if they spend at least $1000 over three months. Normally, they would have to spend at least $15,000 on their cards to accumulate this many points.
Similarly, new customers to ANZ's Airpoints Visa Classic card will receive 100 bonus points if they spend at least $1000 over three months. Normally, they'd have to spend at least $12,000 to get this many points.
ANZ says it's also waiving the annual card fee for the first year.
As for holding on to its existing customers, ANZ is changing the rate at which they will earn airpoints.
From April 1, platinum cardholders will have to spent $75, rather than $90 to earn an airpoint. Classic cardholders will have to spend $120, rather than $150.
Furthermore, ANZ says it's recently signed a deal with Air NZ to ensure customers can keep earning airpoints for the next five years.
Both ANZ and Kiwibank say they've received a number of inquiries about their airpoint credit cards since BNZ announced it'd be dropping the scheme.
Within the last week Kiwibank has launched similar deals to ANZ, which end on May 10.
For customers who sign up for a new Air NZ Airpoints Credit Card, it will waive their annual account fee for the first year.
If they spent $500 in the first three months, it will also give them bonus airpoints dollars - $125 for the Platinum Card, $100 for the Standard Card and $75 for the Low Fee Card.
Kiwibank won't specify exactly when its contract with Air NZ expires, but says it's happy with its association and has no plans to change or terminate it.
It is about to ramp up its advertising of its airpoints credit cards.
Westpac's advertising is already in full swing.
It's signed a 10-year deal with Air NZ and from May 1 will be offering airpoints with four MasterCard credit cards, plus an airpoints earning mortgage. 
Westpac says it will triple the amount of airpoints its customers earns by spending on their cards, from May 1 until July 31.
For a limited time it's waiving the annual credit card account fee for 12 months from card approval on three of its credit cards.
Furthermore, Westpac says those who have an outstanding balance on an existing credit card, can apply to transfer it to any of its airpoints credit cards at a special rate of 0% p.a. for 12 months from the date the balance is transferred.