Elizabeth Kerr says you don't have to be Gordon Gekko to make money from shares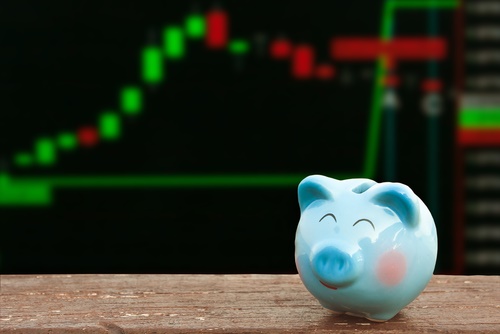 By Elizabeth Kerr

I know what you're thinking... Property investments you understand.
'Bricks and mortar' - you buy and people pay you rent and in it's simplest form it's win-win for everyone.
 But shares? They give you the heebie-jeebies. 
There are no reality TV shows about the NZX. You can't touch them and show them off to your friends. And everyone seems to know someone who knows someone who lost their life savings (cue 1987 stock market crash, tech wreck, GFC, etc). 
Raise your hand if you are too scared to invest in shares for fear you make the wrong investment decision and be left with nothing.
Right, I thought so – let's get into it then! 
I apologise up front if you personally feel I'm giving swimming lessons to fish; congratulations you are obviously not my target audience this week.  
Now where was I?... aahh yes….
Where is the NZ Stock Exchange and What are shares?
As a topic you might think this is a bit dry, but don't worry the New Zealand Stock Exchange (known officially these days as NZX) have thought of everything and located an office right next to the St Johns Bar on Cable St in Wellington and another on Queen Street in Auckland.  Both are easily visible given the neon numbers that dance around the outside of the buildings. (Those numbers do have a purpose).
Basically the NZX is a trading place where companies can list in order to raise money for themselves. In doing so the owners of those companies are giving up a portion of the company, which they call shares, in exchange for your money.
For example, let's say I own a paleo pizza company, with stores dotted all throughout the South Island, worth $10 million (yes my cooking is that good!) and I want to expand into the North Island.
To do that I think I need $2.5 million, so, I agree to list 25% of my company on the NZX for you, Joe Public to purchase. Each share is worth $1.50, which means I only need people to buy about 1.6 million shares in order to have the money I need for my expansion plans. Let's pretend you like my pizza so much, and you're sure my company will succeed, so you exchange $105 of your hard earned money for 70 shares. ($105 / $1.50 = 70 shares).
In summary the NZX is a place for companies to raise money in the form of shares, which means a share in the company, in exchange for your money. Sometimes the word "equity" is used in place of "share" and the share market may be referred to as the 'equity market'. This is not intended to trip you up – they essentially mean the same thing.
How do you make money from shares?
If a company can increase its profits, then in theory the value of the shares also increases. Following my hypothetical example above, now that my paleo pizza company has several stores in the North Island, the company now earns an extra 30% in profits, which means the value of my company has increased, and so does the values of the shares you brought – awesome, eh?!  Your 70 shares are now worth $1.95 each.   If you sold those shares you could walk away with $136.50 (before brokerage etc).  Not bad for no real effort huh?
Of course what goes up can come down. If a company has some poor performance, no one wants to buy its products anymore, a competitor comes out with something better, maybe even a rumour starts going around about how bad the company is doing, then it might have difficulty making money and thus the value of its shares will go down.
Taking the example above, lets say everyone jumps off the paleo bandwagon and decides to embrace veganism instead, then chances are my pizza company, flush with all it's animal products for ingredients, will go down in value... and so too will your share. What was once a $10 million company might have to close down stores that aren't getting enough customers, and then before we know it, it's just an $8 million company and your share went from $1.50 down to $1.13.
Man that sucks!!! You invested $105 at the start and now you only have $79.10 to show for it. ($1.50 buy -$1.13 sell x 70 shares = $79.10)
What is a speculative share bubble?
When someone speculates in the share market they are making a prediction on what the value of a company will be in the future. No one can tell for certain if a company is going to do well or totally tank and I think you should be mindful of anyone who says they can.
Sometimes a new company will list on the share market with a new idea  that people think is going to be amazing and totally revolutionise the world, so heaps of people want to buy shares in that company, pushing the demand for them up, and consequently the value. This gives the owners of that company plenty of cash to expand their business and hopefully the business will live up to the hype surrounding it. But if it doesn't, and people start to realise this, then the value of that company will drop and so will that share price. 
So how does the share market help my money machine?
Well I'm so glad you asked.
A money machine is something that spits cash out, which you can use to fund your incredibly well designed lifestyle without having to go to work each day (unless you wanted to). You could sit back and watch re-runs of Oprah while imagining that your dollars are working their butts off in a variety of productive companies.
When you own a share in a company you are entitled to a piece of its profits as well.
Some of the company profits are distributed to investors in the form of a dividend. When a company pays a dividend you can request that these dividends be deposited into your bank account for you to spend. Some companies provide a dividend reinvestment plan (DRP) as an alternative to receiving the cash, so you can keep reinvesting your free cash back into the company's shares.
"But I'm no Wolf of Wall Street..."
If you're thinking that this might be something you'd like to explore, don't think that you have to have humungous sums of money to afford it.
Depending on how you buy the shares will depend on how much money initially you will need to have.  (I will go into this more next week).
Shares can be brought for as little as $1 (sometimes even less) and sometimes you can buy them directly from the company selling them (but this is rare).
Most of the times you need to work with an NZX Market Participant, who you can find here. Just call them up, tell them what your goals are and they can help you from there.
Expect to be charged a fee, which can vary depending on what you buy and who you use.
A popular (and often cheaper) way to buy and sell shares is by using an online platform such as ANZ or ASB Securities. ASB have put together some 'how to' videos on YouTube to help you get started.
With the online trading option you may save a few dollars in fees, but you are on your own... So, you either need to be A) well educated on your chosen companies and thus what their shares will do, B) be slightly narcissistic or C) prepared to lose the lot.
In my opinion, one of the biggest advantages of starting off in shares in the first place is the cheap education you get as you figure your way through the jargon and company reports you will have access to.
As an investor you may be invited to attend a company AGM (yearly meeting where all matters of interesting business things and corporate egos are thrown about) and may even be able to vote on particular ideas being proposed for the company. At the very least there might be some decent sausage-rolls, club sandwiches and a decent cuppa tea on offer.
Being able to peek into NZ's largest companies by owning just a few shares I think is incredibly educational, fun and really interesting. As a company owner you have the right to be there - no one at these meetings knows how much or how little shares in the company you might own, so why not go along to see what you can learn?
The last word is often a cross word...
Almost everyone I meet knows very little about NZX, the products they offer and how to buy and sell shares.
I think this is a real shame because it can be really interesting and a fantastic way to participate in the growth of some of NZ's favourite companies, while getting exactly what you need back to boost your personal money machine. 
Next week...
I know what you want to know now... "What shares should I buy"?
Tune in next week, same bat-time, same bat-channel.