Elizabeth Kerr questions the morality of using the same manipulative tactics as used by one-day-deal websites to sell her old stuff on Trade Me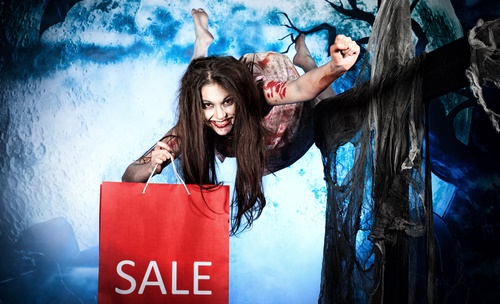 By Elizabeth Kerr

I confess that I've been a bad girl this week.
Under the guise of "research" I've been experimenting with people's brains, or more to the point people's purchasing impulses on Trade Me, which I'm pretty sure has netted me more profit than if I just listed things traditionally.
Before you attack my personal morality I can assure you I wasn't doing anything that those companies who generate those One-Day Coupons Deals sites or those stores with the humongous once a year sales don't use on all of their unsuspecting customers.
This week's column is dedicated to everyone who has ever brought something they weren't looking for and didn't need - just because it was on sale.
Spending because of a Saving = Spaving.
 When you do this something strange happens to your brain – it thinks you are making a financial gain as though a deposit just went into your savings account when actually all you did was spend. "Yes that top may have only cost $25, down from $60, but it's still $25 that you no longer have anymore – you didn't just put $35 into your savings account – there was NO SAVINGS, ONLY SPENDINGS going on there Luv"!!!
Groupon, Daily Deals, GrabOne, Firstin, etc… those emails that bombard your inbox with coupons for goods and services specific to your region in NZ play on this very real need to make you feel like you are making a financial saving.
These emails invite you to save on everything from house cleaning services, restaurant meals, cheap entertainment, beauty services or makeup, car tune-ups and often at prices which seem outrageously cheap. What these sites do is take a small margin off every coupon voucher sold to their email database and in order to do that they use some very clever tricks to make you buy.
The first thing I need to emphasise here is that these "offers" are always for things that you don't really need and would add little value to your lifestyle design. Lets look at a few from today – we have emails offering a manicure, possum socks or gloves, a foldaway tea-tray, fleece leggings, a garage organiser and hair colour.
You see, none of this stuff is going to make a measurable difference to your life and if you don't have one of each of these already then you obviously don't need them. But once you've seen the coupon deal your brain will store it and the next cold day you'll desire fleece leggings and possum gloves as you peruse your garage organiser for the screwdriver to your foldaway table. Suddenly you've adapted to not being able to do life without these things. And therein lies the first problem. These daily deal sites steal your brain and turn you into a purchasing zombie!
Tip #1
Even if you don't purchase the coupon they set your brain up for recognising a future need. The easiest way to make any financial gain would be to stop the emails from getting into your inbox. It is illegal for these emails not to have a unsubscribe button, so make sure you use it!!! Don't be a wimp and tell yourself: "Well, I'm not buying anything, so what's the harm in receiving them?" Just unsubscribe and you'll never have to wait to find out.
Tip #2
They grossly over-exaggerate your potential savings. For example, that manicure I mentioned above that came out today was discounted from $75 to just $25. That sounds awesome right – a 66.6% savings? Wrong!!! A basic manicure should only cost $45 in the first place, so they've increased their original price to make you feel like you are getting a better savings. This trick gives them access to the little part in our brains that gives way to rational thoughts and makes us justifying a purchase on the basis it would be a crime not to take advantage of such a big savings. They rely on the fact that you have no real idea how much the product was originally worth in the first place.  
Tip #3
They secretly hope that you don't redeem your coupon voucher at all. The idea is that you'll buy it and run out of time to use it before it expires.  Oh well….sucks to be you!  (Kind of like a gym membership, they don't want you to actually use the gym just pay the monthly payments because if everyone who used the gym actually turned up they would need crowd control).
Tip#4
If they can control your inbox they can control your wallet. Yes that's right, most sites won't let you buy your coupon unless you sign up to their daily newsletter, so they can sucker you into more things you don't really need at prices that aren't really true.  
Tip#5
They want you to feel pressure to purchase. They want it to be easier to say "yes" and willingly complete at least five more steps before your purchase is complete; then just click on the red X at the top right of the screen and close the page. They do this by either limiting the quantity of vouchers available or limiting the time you have to take advantage of the deal, or both. Remember both of these things are just perceptions playing with your mind.  
So, how does all this relate to my Trade Me experiment you ask? Well, given that I know we humans have a deep-seated desire to make a savings and feel a rush when we are perceived to get a bargain (i.e. we are generally quite dumb and lack rational independent thought), I thought I'd try manufacturing my Trade Me adverts to use the same tricks that these companies on the daily-deals sites do.
I had an old suit jacket I wanted to sell.
I initially listed it at $25, which I thought was a fair price. But after a week it was still not sold.
So, I tried again but this time I added a Buy Now of $300 which was completely inappropriate. But what I was betting on was that the Buy Now would fool people into thinking that was what the jacket might have been worth (tip #2) Did the jacket sell this time? You betcha…. It got a full $50.
Conscious that this could have just been a lucky fluke because someone really wanted my jacket and thought $50 was a good price, I decided to try it with something less desirable… a plain white photo frame. It was probably worth new about $12 but with a Buy Now of $75 I think it was perceived to be worth more than it was… and it sold well too. A pair of old suitcases sold well and quickly when I added a $350 Buy Now price and reduced the time my auction was available to just 24 hours (tip #5). I can just see someone thinking "Ohhh… $300 suitcases for $1 reserve –what a bargain"!!!  Like I said above, this trick gives way to rational thoughts…..
Now before you harp on about how mean I am, let me point out that these purchasing tricks are being used everywhere, that this was done as an experiment, and this week's column should be a reminder to really look at a product and decide for yourself what you think it is worth, and what value it will bring to your lifestyle design regardless of what the retailer or one-day-deal is discounting it for.