Govt seeks feedback on what tough disclosure requirements to curb conflicted advice should look like in the absence of a ban of commissions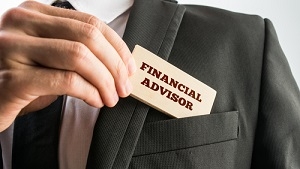 After years of discussion about preventing financial advisers on commission from providing conflicted advice, the Government has released a detailed proposal on exactly how it would like advisers to be more transparent.
The Ministry of Business Innovation and Employment (MBIE) has released a discussion document outlining what information it wants advisers to disclose, and how it wants them to disclose it.
The proposed regulations, which the public have until May 25 to provide feedback on, support the Financial Services Legislation Amendment Bill currently before Parliament.
The Labour-led Government has adopted the previous government's view that imposing stronger disclosure requirements is the best way of "overcoming information asymmetries and improving transparency of, and confidence in, financial advice", as opposed to capping or banning commissions as UK and Australian authorities have done.
MBIE suggests advisers make the existence of any commissions, incentives or conflicts of interest public from the get-go; providing clients more detailed information further down the track.
What this would actually look like
A firm might stipulate on its website that its advisers receive commission payments.
When an adviser engages with a prospective client and finds out the "nature and scope" of services they're after, they'd be required to detail any commissions or incentives.
For example, explain that if the client chooses to take out insurance from Insurer A, the adviser would receive a commission of 200% of the first year premium, whereas if the client goes for Insurer B, they would receive a commission of 150% of the first year premium followed by annual commission of 5% of the premium.
If the client progresses things and the adviser recommends they go with Insurer A, the adviser would have to confirm they would receive that  200% commission. They would also have to detail things like if the they write X number more policies with Insurer A that quarter, they would receive free tickets to the annual conference in Hawaii.
At this point the adviser would also have to disclose information like a requirement for the client to pay them for any lost commission should they cancel the policy within the first three years.
Striking the right balance
In the discussion paper MBIE asks submitters to consider how prescriptive regulations should be. 
Its view is that "regulations set out what information needs to be disclosed at certain points in the financial advice process, but provide flexibility in terms of precisely how this information is provided".
MBIE also says: "To reduce the likelihood of disclosure becoming overly complex, we think that only those commissions and incentives which might be perceived to materially influence the financial advice should be disclosed."
While it provides detailed case studies of the disclosures that would have to be made in different scenarios, it doesn't define what "material" is.  
A staged approach for other disclosures 
The discussion paper goes beyond commissions. It details the other disclosures MBIE proposes advisers make at different stages of the advice process.
It says firms/advisers should publicly provide a "general description of the limitations in the nature and scope of the advice that can be given".
For example, on their website they say they only weigh up products from Insurers A, B, C and D.
Then when they find out what sort of service a client is after, they should make clear which insurers they will consider in their assessment. IE Only Insurers A and B, as Insurers C and D don't provide the type of insurance the client is after.
MBIE also takes this staged approach to proposing how advisers disclose information about the fees they charge, any relevant insolvency, bankruptcy or disciplinary history they have, and the dispute resolution scheme of which they are a member.
Here's a summary of its proposal: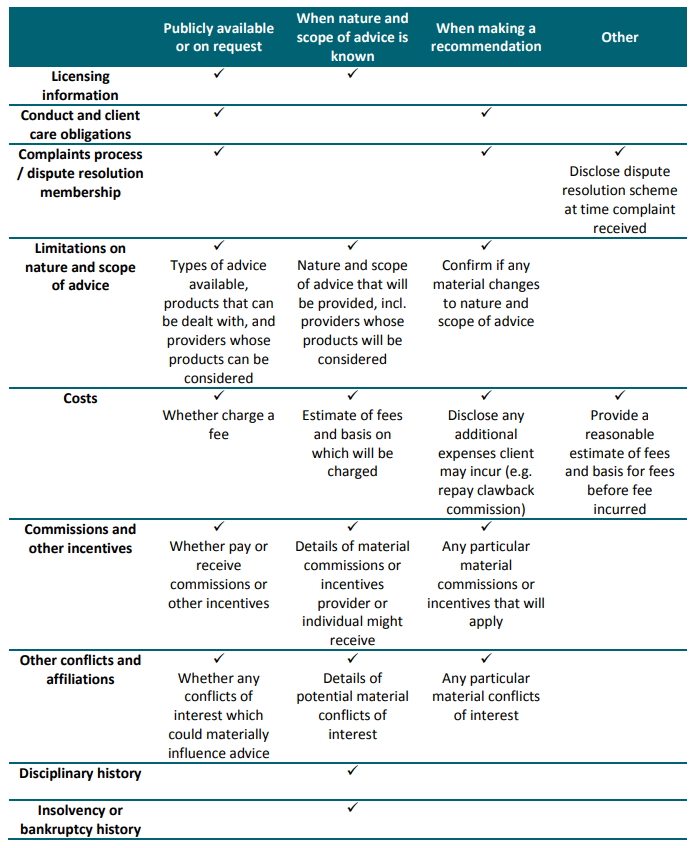 Additional options 
MBIE is also considering the following:
- Requiring advisers to provide clients with a prescribed notification, warning them of the risks of replacing financial products. IE, that they won't be covered for a pre-existing medical condition they are currently covered for if they change insurers. 
- Requiring advisers to use a set template to detail what disclosures clients can expect them to make through the advice process. 
- Introducing separate requirements for when advice is given via a robo-advice platform or over the phone. For example, requiring financial advice providers to disclose how a robo-advice platform works. IE that the advice is automatically generated by an algorithm based on information provided by the consumer.
- Requiring any disclosures made verbally to be supported in writing.