Australian consumers are getting an inquiry into 'excessive' foreign currency conversion fees, so could their New Zealand counterparts also get one?
By Gareth Vaughan
Australian Treasurer Josh Frydenberg last week rubber-stamped an Australian Competition and Consumer Commission (ACCC) inquiry into foreign currency conversion fees, citing evidence these fees are higher in Australia than other countries.
Frydenberg says Australians are charged A$2 billion of foreign transaction fees every year for converting money into a foreign currency, transferring money overseas, the use of debit and credit cards overseas, using debit or credit cards online to make purchases in a foreign currency, and transferring money to a foreign currency on a prepaid travel card.
"Evidence from the Productivity Commission suggests these fees are higher than other countries, costing Australians hundreds of dollars more than in other countries per year. As a result, the 10.5 million Australians who travel abroad every year and the individuals and businesses who send money internationally every day deserve a better deal. At the request of the Coalition Government, the Australian Competition and Consumer Commission will put these excessive fees under the microscope," Frydenberg says.
How do Kiwi consumers fare? We know that the cost of currency conversion services varies significantly between different providers. So what are the prospects of us getting an inquiry into foreign currency conversion fees on this side of the Tasman?
Interest.co.nz put questions to the Commerce Commission, Financial Markets Authority (FMA) and Reserve Bank. And much as it was in 2015 when Australian authorities were probing high credit card interest rates and NZ authorities couldn't and wouldn't do the same, so it appears with foreign currency conversion fees in 2018.
"The Commerce Commission does not have the same market studies powers that the Australian Competition and Consumer Commission is using to look into foreign currency fees," a spokeswoman for the consumer watchdog told interest.co.nz
"Whether or not a fee is reasonable would only come under our remit if it was a credit fee, that is a fee payable under a credit contract. This could include fees charged under credit card contracts. Credit fees can only recover the creditor's costs in association with providing the service. We are not currently investigating this issue but we did look at overseas transaction fees charged by banks on credit cards in 2011 and issued banks with compliance advice."
"The issue you raised is about the fee being too high but if there were any disclosure issues then that is covered by the Fair Trading Act (FTA). The FMA [Financial Markets Authority] has primary jurisdiction for misleading and deceptive behaviour under the FTA for financial products that aren't consumer credit products," the Commerce Commission spokeswoman added.
So over to the FMA.
"The FMA licenses large financial institutions for financial advice, as a QFE [Qualified Financial Entity], not for foreign exchange. Companies providing foreign exchange services are not licensed by the FMA, but must be registered on the Financial Service Providers Register. Where foreign currency exchange fits into our remit is through our fair dealing powers, which are broad. These powers essentially cover deceptive or misleading conduct," an FMA spokesman said.
So what about the Reserve Bank, which since Adrian Orr took over as Governor in late March has started taking an interest in consumer issues, even though these are technically outside its remit. 
"As you know, the Reserve Bank's prudential objectives concern a sound and efficient financial system. Matters relating to product pricing and fees charged by individual firms is not an area that we focus on. Other government agencies may be better placed to comment," a Reserve Bank spokesman said.
'Fees should be fairly shared between NZ business and consumers'
So what about Commerce and Consumer Affairs Minister Kris Faafoi, what does he think? Faafoi was overseas, thus interest.co.nz received a response to its questions from a spokeswoman for Finance Minister Grant Robertson. She said the Government's expectation is any fees should be fairly shared between NZ business and consumers, with the Government keen to see that consumers are getting a fair deal.
"It is also worth noting that these currency conversion services are subject to New Zealand's fair trading and competition laws. This means that currency conversion services should be provided on a competitive basis and the fees must not be misleading. In 2007, the Commerce Commission reached settlement with a number of banks and credit card companies for inadequate disclosure of currency conversion fees," she said.
"There are some fintech providers other than banks emerging in this market and offering innovative new products."
"Some credit card fees are subject to controls under the Credit Contracts and Consumer Finance Act 2003. For instance credit fees cannot be unreasonable, i.e. the fee must be connected to the creditor's reasonable costs. However, this would not apply to charges for an optional service. The Minister [Faafoi] has signalled previously that he does not want to see further increases in interchange fees or merchant service fees for credit cards and debit cards in general," the spokeswoman added.
In 2007 Commerce Commission prosecutions of ANZ National Bank, BNZ, Westpac, Kiwibank, ASB, Diners Club, TSB, The Warehouse Financial Services and American Express International resulted in them paying more than $29,214,305 in compensation to customers, fines and costs. The total compensation for customers, after the companies pleaded guilty to breaching the Fair Trading Act, was $24 million, with the prosecutions due to inadequate disclosure of currency conversion fees.
ACCC inquiry follows Budget funding boost
The ACCC inquiry is into the supply of foreign currency conversion services to consumers and small businesses in Australia by authorised deposit-taking institutions and remittance service providers. It's under subsection 95H(2) of the Competition and Consumer Act 2010. The inquiry comes after the Australian Government announced A$13.2 million of funding in its 2017-18 Budget over four years for a Financial Services Unit to facilitate greater and more consistent scrutiny of competition. An additional A$1.2 million funding was provided for the Unit's first inquiry, which is into residential mortgage pricing and is due for completion next month.
The ACCC's FX Inquiry Issues Paper notes Australian sent about A$8.8 billion overseas in 2016, and that prices for foreign currency conversion services are consistently high by international standards, as the chart below demonstrates.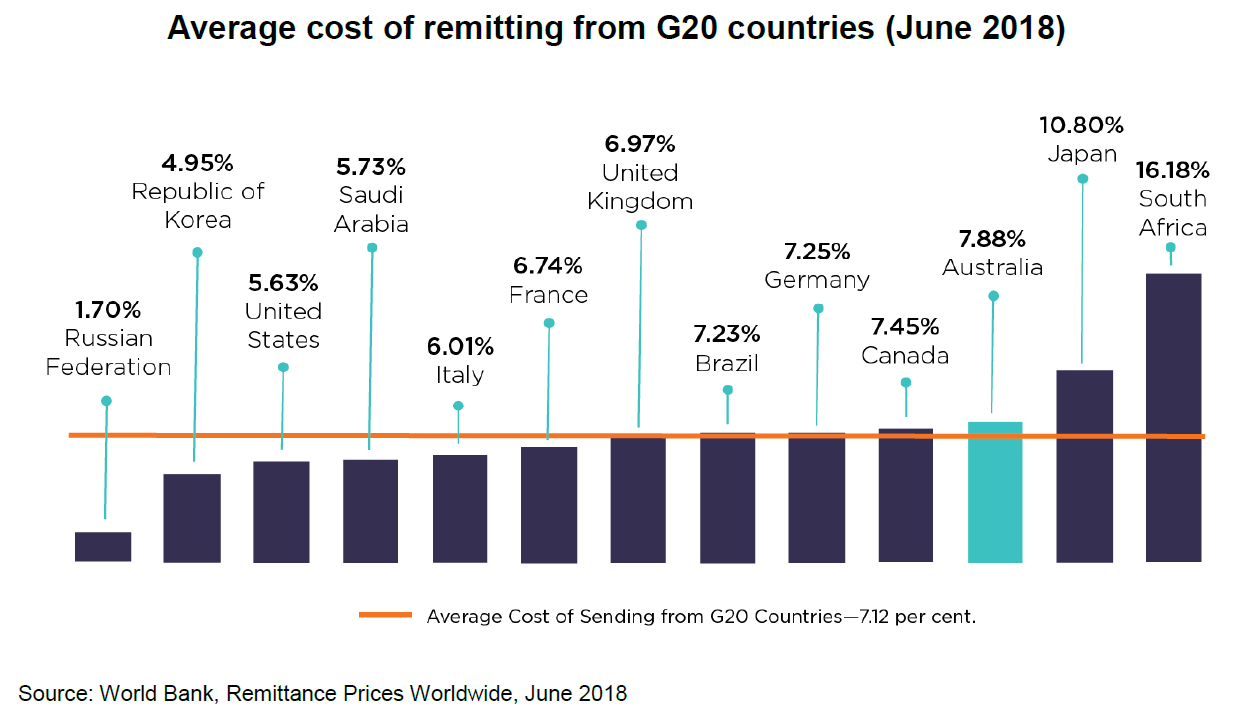 The ACCC also says the inquiry comes after it has received consumer complaints over the past few years. Matters to be taken into consideration by the inquiry include;
- The pricing of and costs associated with supplying foreign currency conversion services;
- The nature and extent of competition between existing suppliers of the services;
- The existence and extent of any barriers to entry and/or expansion, and;
- Whether there are factors limiting the ability of consumers to effectively compare services and prices.
The ACCC's final report is due with Frydenberg by May 31 next year.
*This article was first published in our email for paying subscribers early on Monday morning. See here for more details and how to subscribe.