January tax collections show individuals paying 11% more in income taxes this year than last, but less for GST. Company taxes dip as well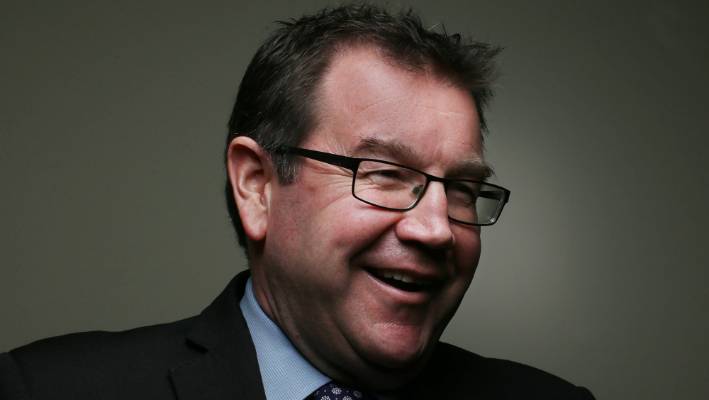 Yesterday (Thursday), Treasury reported the Crown Accounts for the seven months to January.
It posted a surplus of $1.9 billion for the period. This was half a billion better than forecast in December.
Net core crown debt fell to 20.7% of GDP, just above the Government's 2012/22 target of 20%.
But the "better than forecast" is all about higher taxes collected from individuals. In fact, sharply higher.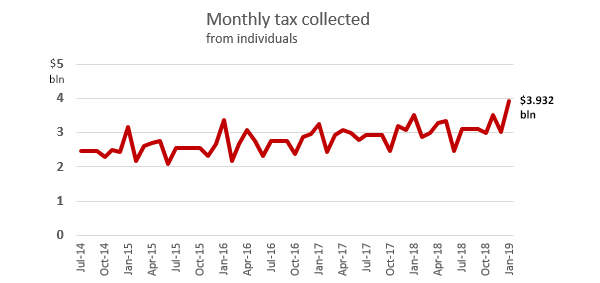 That is a significant +11.5% more collected in January 2019 than the same month a year ago. For the full year to January, the rises is +8.2%. Both rises in taxes paid by individuals far exceed inflation or wage gains.
These same individuals are not spending more.
Collections from GST are in fact declining, indicating consumer spending is down. Perhaps household budgets are now under pressure.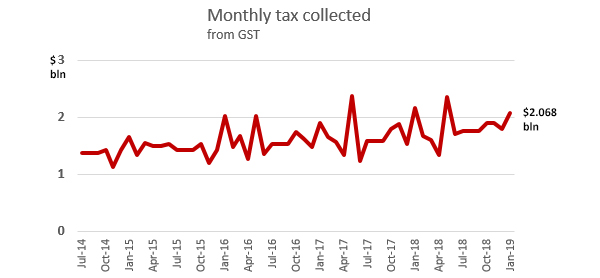 January 2019 GST tax collections are in fact -4.5% lower than the same month a year ago. On a year to January basis, households spent +6.4% more on GST-related goods and services, indicating that the recent drop may reflect a new restraint in household spending.
And it is not as though company profitability, and therefore company income taxes, are rising.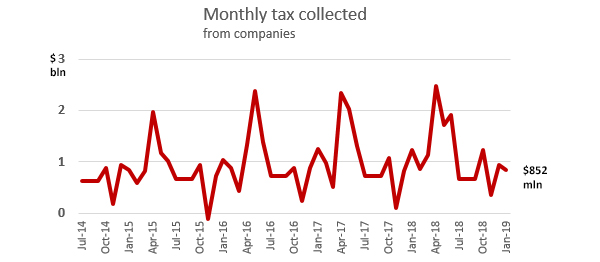 January 2019 taxes collected from company profits are down -30%. But because most company tax payments are made on a provisional and final basis involving four separate large remittances, monthly changes are not as revealing. On an annual basis, taxes collected from company profits are in fact +7% higher in the year to January than in the equivalent previous period.