Research shows a net loss of Aucklanders to the rest of the country of 33,000 during the last Auckland housing boom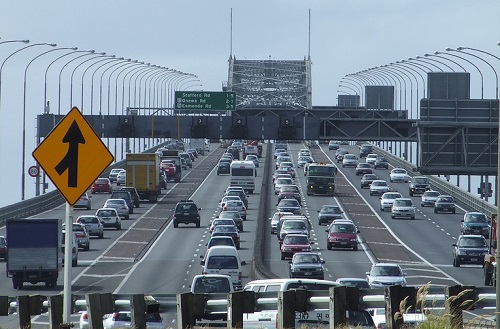 There was a net loss of Aucklanders to other parts of the country of nearly 33,000 during the last Auckland housing boom, according to new research.
The population of Auckland continued to grow strongly during that period - but this was mainly due to large numbers of migrants (a net 141,000) entering Auckland during that period.
Internally, however, there was a large and increasing exodus of people from Auckland to other parts of the country.
Economist Benjie Patterson has crunched information from the Integrated Data Infrastructure (IDI) for the period 2014-17. The IDI is a large administrative dataset that links together several government sources into a centralised database about people and households. The data in IDI is being used by Statistics NZ to patch up Census 2018.
He's found that in the 2014-17 period the exodus from Auckland was increasing. In 2014 the net loss was 2,727, increasing to 6,924 in 2015, 10,332 in 2016 and 12,942 in 2017.
The figures coincide with the period in which Auckland house prices were rocketing and becoming increasingly unaffordable.
"Auckland's regional migration losses are not surprising when one considers the deterioration to housing affordability that occurred in Auckland over that period," Patterson said.
"Net regional migration out of Auckland is characterised by high net outflows of people in their late twenties and through their thirties with children."
Patterson said he was concerned that the exodus of productive workers to other parts of New Zealand during the peak years of their working life exacerbates skills shortages in Auckland's labour market.
"These gaps have been partly filled by international migrants, but as international migration policy settings tighten, an increased focus on retaining youth and attracting young families to Auckland will be needed."
The common view is that most of those leaving Auckland go to Bay of Plenty, Waikato and Northland. And sure enough the research shows 68% of those leaving between 2013 and 2017 went to those regions. But there were some more surprising destinations favoured too.
Patterson's analysis shows that Dunedin and Queenstown-Lakes have each experienced total net population gains from Auckland of more than 1,100 residents over the four years to June 2017.
Patterson said this evidence supports anecdotal media reports that have been partly attributing Dunedin's renaissance to Aucklanders choosing the city as a place to work, live, and do business.
"Queenstown's gain also highlights that the resort's overheated property market has in part been driven by cashed-up Auckland buyers – one of the few areas where housing equity is generally enough to enter the local market," he said.
Patterson says these regional migrants from Auckland have benefited other parts of New Zealand, initially by pushing up local spending, but then longer-term through adding to these areas' productive workforces.
Patterson says the only age grouping for which Auckland gains residents from other parts of New Zealand is the 20-24 year age group.
"However, the inward trend reverses once these young adults begin to have families."
Net regional migration outflows also accelerate as people reach retirement, he says.
"The allure of selling an Auckland home to free up equity for a cheaper house in the regions is proving too difficult to resist for many people."